KMT event boosted questionable candidates: DPP
Democratic Progressive Party (DPP) Legislator Lin Ching-yi (林靜儀) on Friday said that touting "woman power" to elect more female Chinese Nationalist Party (KMT) politicians would support corruption and nepotism in politics, adding to mismanagement and corruption in local governments.
She made the comment after Taichung Mayor Lu Shiow-yen (盧秀燕) hosted the KMT's "Perfect Ten" event in her city on Friday, a joint campaign rally held at Taichung's Taiping Sports Stadium, attended by party chairman Eric Chu (朱立倫).
The KMT's leaders hosted the event to showcase the party's female candidates running in next month's local elections, and to address a perception that it is a male-dominated party.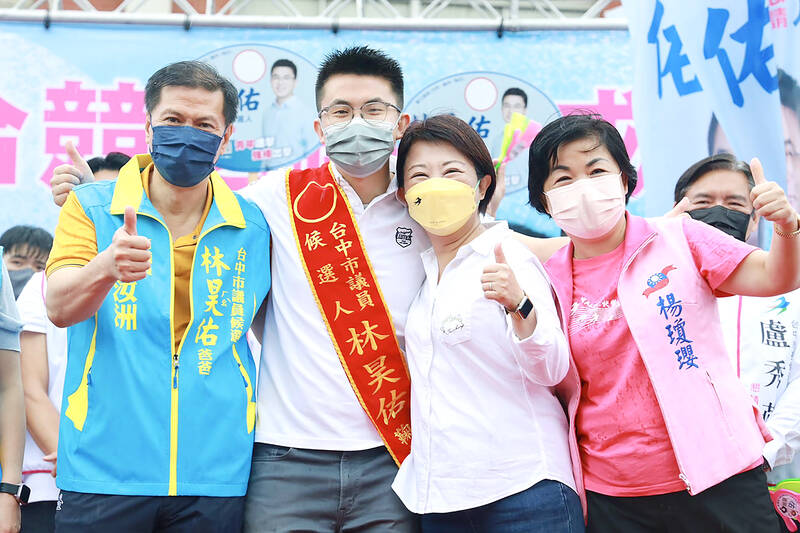 Taichung Mayor Lu Shiow-yen, second right, yesterday attends a campaign event for independent Taichung city councilor candidate Lin Hao-yu, second left, in Taichung.
Photo: CNA
Featured at the event were 10 candidates in city mayor and county commissioner elections, with seven incumbents seeking a second term, including Lu, Changhua County Commissioner Wang Hui-mei (王惠美), Yunlin County Commissioner Chang Li-shan (張麗善) and Chiayi City Mayor Huang Hui-min (黃敏惠).
Also at the event were incumbent commissioners Lin Zi-miao (林姿妙), Hsu Chen-wei (徐榛蔚) and Yao Ching-ling (饒慶鈴) of the Yilan, Hualien and Taitung county governments.
Joining the incumbents were current and former legislators running for local seats, including Kaohsiung mayoral candidate Ko Chih-en (柯志恩), along with Hsu Shu-hua (許淑華) and Alicia Wang (王育敏), in the commissioner races for Nantou County and Chiayi County respectively.
"The KMT is fielding 10 women in the local elections to help govern Taiwan's 20 counties and cities. This shows a rising tide of women in our party," Lu said.
"The seven incumbents have done great jobs in protecting people in their cities and counties during the COVID-19 pandemic," she added.
Lin Ching-yi, who is also a DPP spokeswoman, said that most of the incumbents have performed their jobs with mismanagement and negligence.
If they are elected, their cities and counties would regress by at least 30 years, she said.
She also said that several of the candidates presented at the event are either being investigated for or have been accused of corruption.
She cited Yilan County Commissioner Lin Zi-miao who, along with family members and associates, has been indicted over a series of questionable land deals, and accused of money laundering and forgery, while her daughter reportedly used Yilan government offices and an official residence for alleged illegal transactions.
"Lu was questioned by Taichung councilors on allegations of her government altering planned routes and stations of the city's new Mass Rapid Transit system for the financial benefit of powerful local families who profited from the land transactions," Lin Ching-yi said.
"In Nantou County, KMT Legislator Hsu is running for the commissioner's job, while her family has been accused of illegal appropriation of public land to build a private club with a guest house and recreational facilities," she said.
She also said that local politicians and residents have long criticized Hsu's family connections to criminal gangs.
Lin Ching-yi added that Yunlin County Commissioner Chang Li-shan (張麗善) and her family earlier this year were embroiled in allegations of illegal construction and use of public land.
"Chang's family has long been accused of having ties to criminal syndicates, and have used their positions in Yunlin in corrupt ways," she said.
Comments will be moderated. Keep comments relevant to the article. Remarks containing abusive and obscene language, personal attacks of any kind or promotion will be removed and the user banned. Final decision will be at the discretion of the Taipei Times.