TPP's Tsai Pi-ru resigns despite denying plagiarism
DEGREE REVOKED: The outgoing lawmaker said she was unable to adhere to academic standards when she cited Facebook posts in her master's thesis
Taiwan People's Party (TPP) Legislator Tsai Pi-ru (蔡壁如) yesterday resigned after her alma mater found that her master's thesis contained plagiarized sections.
Takming University of Science and Technology — where Tsai obtained a master's degree in 2019 — on Thursday revoked the degree after a committee found she had plagiarized material for her thesis.
According to the TPP's legislator-at-large nominee list from 2020, Shin Kong Life Insurance Co deputy chief executive Cynthia Wu (吳欣盈) is to replace Tsai.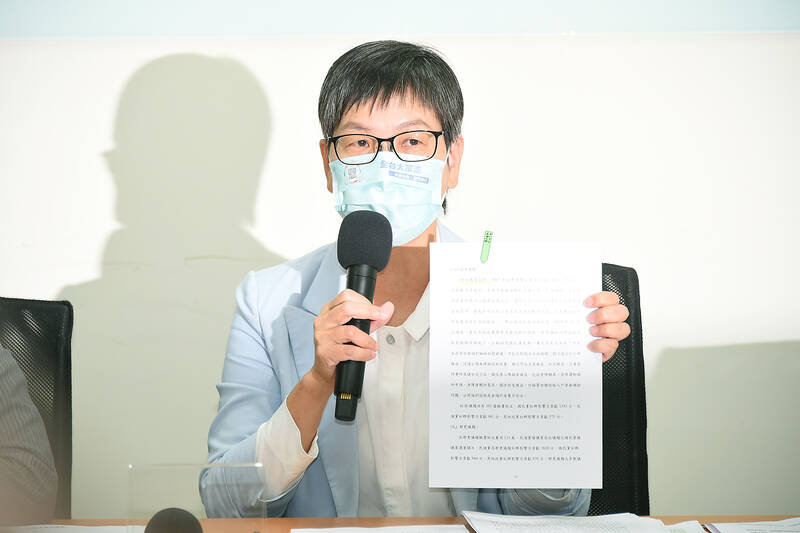 Taiwan People's Party Legislator Tsai Pi-ru yesterday defends herself against allegations of plagiarism at a news conference in Taipei.
Photo: Tu Chien-jung, Taipei Times
Earlier yesterday, Tsai denied the accusations, telling a news conference that the thesis was her own work.
She said she would wait for the full review report from the university, but was "willing to resign as legislator if flaws are found."
"When I entered the master's program it was not to make my educational background look better on paper, it was to fulfill work requirements, as I was new to public office," she said. "I wanted to improve my understanding of how social media are used in politics, the types of things politicians post about and how social media affect results at the polls."
Tsai's thesis was about the attention given to municipal issues on social media, which required her to collect a large amount of data and to cite many sources, she said.
"If in that process I accidentally made omissions, I am willing to own up to my mistake," she said. "I hope the committee will make its findings public so that they can serve as an example for improvement, for myself and others."
PUBLIC ATTENTION
National Chengchi University professor Tsai Tseng-chia (蔡增家) said the case is expected to garner more public attention.
"The public is going to be watching this, so the review committee should publish its findings and let the public be part of the review process," he said. "Otherwise, it will be impossible for anyone to have any substantive discussion on whether Tsai Pi-ru was at fault. The situation will only result in people attacking each other."
Echoing similar comments from Tsai Pi-ru, Tsai Tseng-chia said making the committee's findings public would help her make improvements to her academic writing and better equip her to defend herself against the allegations.
Tsai Pi-ru said she believes the parts of the thesis on daycare and the aging population was deemed problematic.
"[Takming] university said I had not included a source. I told them the source was a Facebook post by a city councilor, but as there is no way to search for specific posts on Facebook, I could not go back and make a proper citation," she said.
Comments will be moderated. Keep comments relevant to the article. Remarks containing abusive and obscene language, personal attacks of any kind or promotion will be removed and the user banned. Final decision will be at the discretion of the Taipei Times.