Drones tested on tea plantations in Hualien County
Uncrewed quadcopters are being tested as dusters on tea farms in the Wuhe (舞鶴) area of Haulien County's Ruisui Township (瑞穗), the Council of Agriculture said on Wednesday.
It is cooperating on the pilot project with the Corporate Synergy Development Center, the council said.
The project is part of the government's effort to facilitate the upgrade of tea plantations to produce black oolong tea in middle and low-altitude regions in eastern Taiwan, the Taitung branch of the Soil and Water Conservation Bureau said.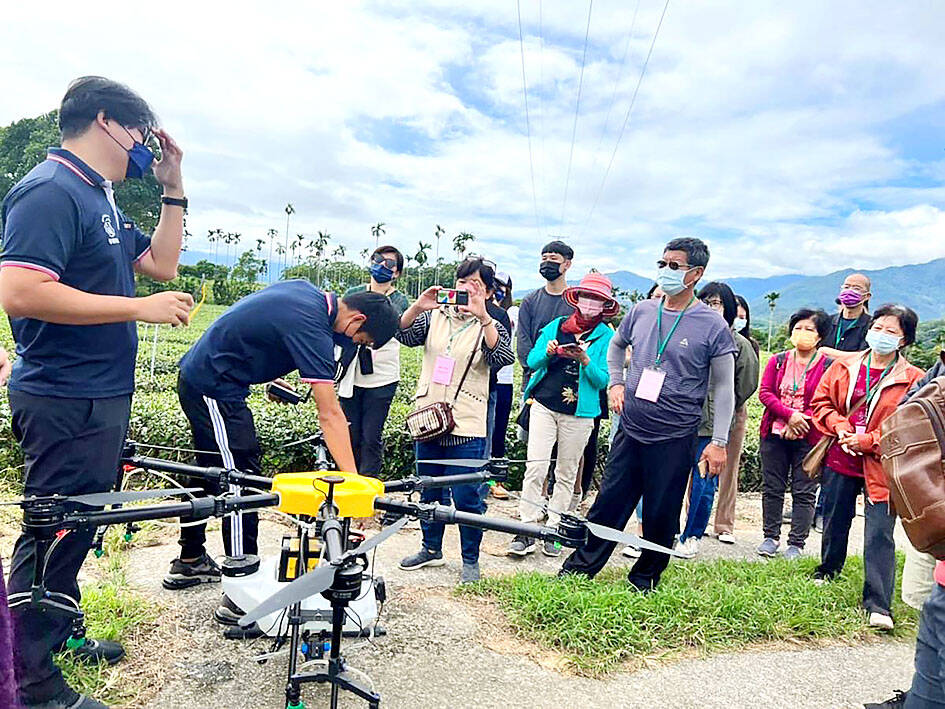 Council of Agriculture officials talk with farmers about drone applications in Hualien's Ruisui Township on Wednesday.
Photo: CNA
The statement came after workers demonstrated the use of drones in Wuhe to 34 local farmers earlier that day.
To fly the drones, farmers would have to obtain aviation and agrochemical use certifications, Hualien Uncrewed Aircraft Systems Development Association president Huang Ye-ping (黃冶平) said.
The government is providing subsidies for agricultural drones through a program that seeks to encourage farmers to use labor-saving technology, Agriculture and Food Agency Eastern District Deputy Director Chen Chi-tsun (陳吉村) said.
So far, only three such drones are in use in the district, which encompasses Yilan, Hualien and Taitung counties, he said, urging better promotion of the subsidies.
Eligible for subsidies are members of registered farmer's cooperatives who use drones that meet performance requirements and are made in a country other than China, he said.
The subsidy covers one-third of their drones' buying price or NT$200,000 in cash, Chen said, adding that some township offices in eastern Taiwan top up the subsidy with another 10 percent of the drones' buying price or NT$220,000 in cash.
Gao Chao-hsu (高肇昫), whose farm covers 30 hectares, said that farm hands are hard to find in the current economy.
Drones can be of great help, especially if they are utilized to apply fertilizers and for dew removal, Gao added.
Planters would probably need a transition period to be able to afford the drones, which cost about NT$100,000 per unit, Gao added.
Drones produced by Taiwanese companies have better aftermarket support and do not threaten Taiwan's national security, said Hsu jung-yu (徐榮域), a local farmer who recently obtained a certificate to operate uncrewed aerial vehicles.
Comments will be moderated. Keep comments relevant to the article. Remarks containing abusive and obscene language, personal attacks of any kind or promotion will be removed and the user banned. Final decision will be at the discretion of the Taipei Times.