Chung Tung-chin urged to withdraw
MIAOLI RACE: The former KMT official, who is running as an independent, was involved in four severe crimes — three more than previously reported, legislators of the DPP said
Independent Miaoli County commissioner candidate Chung Tung-chin (鍾東錦) must withdraw from the race, after claims have emerged that, on top of a 30-year old murder conviction, he was allegedly involved in the attempted killing of another man, adultery and gang-related crimes, politicians across party lines including rival candidates for Miaoli County commissioner said yesterday.
Chung, a long-time member of the Chinese Nationalist Party (KMT), was elected as a Miaoli councilor in 2014, then assumed the council speaker's office in 2018. After losing a bid for the party's nomination this year, Chung registered independently in June.
Chung is backed by incumbent KMT Miaoli County Commissioner Hsu Yao-chang (徐耀昌), who made several appearances at campaign events to rally support.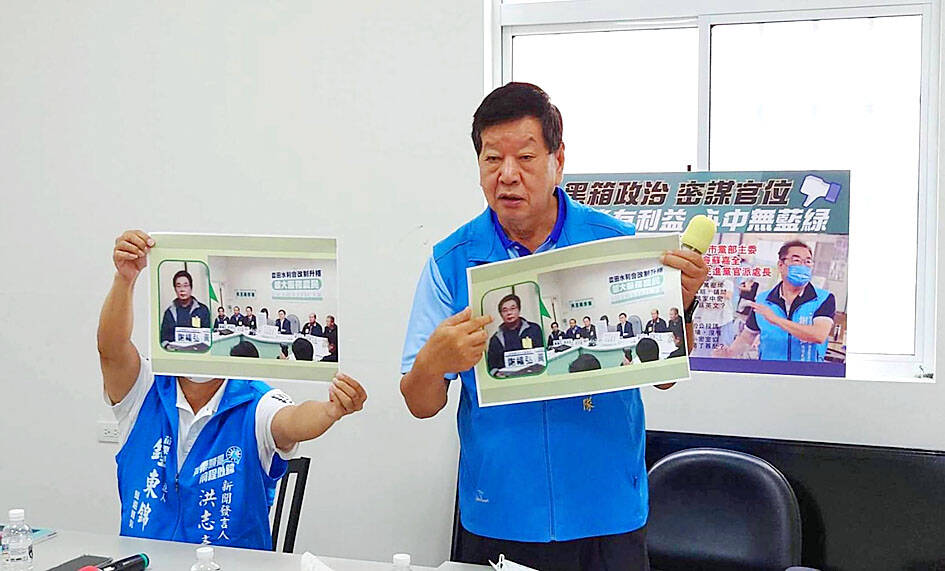 Independent Miaoli County commissioner candidate Chung Tung-chin, right, holds a news conference at his campaign office in the county on Friday last week.
Photo: CNA
Hsieh Fu-hung (謝福弘), who defeated Chung in a KMT primary to represent the party in the commissioner race, has on the campaign trail stressed that he is the party's only candidate in the race.
With the two candidates potentially splitting the vote of the pan-blue camp, political commentators say that the Democratic Progressive Party might for the first time have a chance to win a countywide election in Miaoli.
DPP legislators yesterday held a news conference at which they presented material that they said would implicate Chung in additional crimes.
DPP Legislator Wu Yu-chin (吳玉琴) said that Chung is linked to four major crimes, including the previously reported killing of a man surnamed Hu (胡) in May 1987.
Chung has described the incident as an "accidental killing."
Court filings and news reports show that Chung and six associates beat Hu to death in a restaurant in Taipei, Wu said, adding that Chung was convicted of assault with the intent to injure and leading to death.
He served a three-year, eight-month term in prison for the killing, Wu added.
However, Chung was allegedly also involved in the attempted killing of a person when he was in school, Wu said.
He was also charged with offenses "against marriage and family" and contravening the Anti-Hoodlum Law (檢肅流氓條例), Wu said.
"Miaoli residents do not deserve a killer in the commissioner's office," DPP Legislator Lo Chih-cheng (羅致政) said.
The sentiment was echoed by the KMT's candidate.
"Chung has a long criminal record, which is well-known to most people," Hsieh said. "He keeps on lying to voters and does not clarify for what and how many crimes he has been convicted. Chung has no credibility, and he cannot be Miaoli County councilor."
Sung Kuo-ting (宋國鼎), the New Power Party's Miaoli County commissioner candidate, said that Chung has evaded questions about his past, which hurts the feelings of his victims.
"I believe Miaoli residents cannot accept that," Sung said.
Chung's campaign spokeswoman, Chen Yi-hua (陳怡樺), did not respond to questions about the allegations, but said that Chung had "paid a heavy price for what he has done."
Now that he has to face these allegations, his campaign's focus has become "defending self-respect and human rights," Chen said.
"We urge all voters in Miaoli to rally behind Chung to safeguard this pure land, our home, Miaoli County," Chen said.
Comments will be moderated. Keep comments relevant to the article. Remarks containing abusive and obscene language, personal attacks of any kind or promotion will be removed and the user banned. Final decision will be at the discretion of the Taipei Times.