Robert Tsao pans Ma Ying-jeou ahead of National Day
Business tycoon Robert Tsao (曹興誠) on Friday chided former president Ma Ying-jeou (馬英九) for opposing the use of the term "Taiwan National Day" in material promoting Double Ten National Day celebrations.
Tsao said the former president, of the Chinese Nationalist Party (KMT), identifies with China instead of with Taiwan.
Tsao's remarks came after Ma said President Tsai Ing-wen (蔡英文) should stop using "Taiwan National Day" and that any such reference should be removed from promotional material and banners for the celebrations.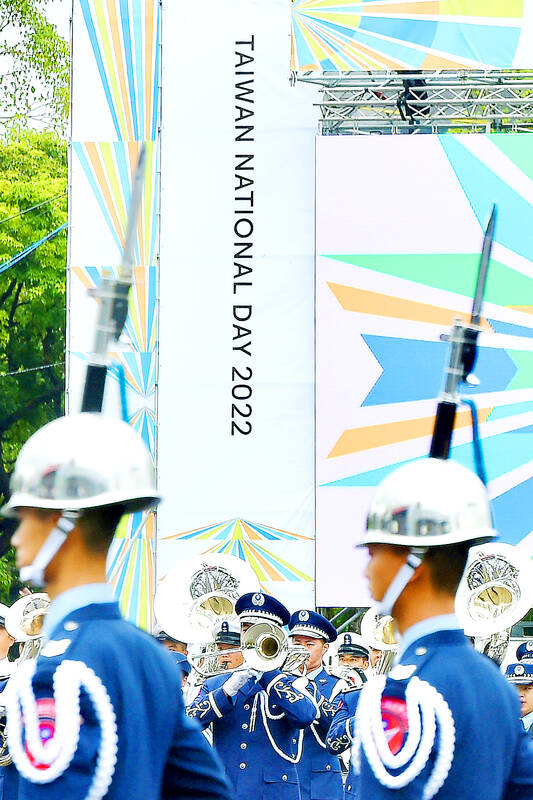 A decoration that reads "Taiwan National Day" is pictured in Taipei on Friday during the rehearsals for today's Double Ten National Day celebrations.
Photo: Tu Chien-jung, Taipei Times
"The term has not been used before by previous governments," Ma said. "I had no idea the name 'Republic of China' (ROC) has been changed to 'Taiwan.'"
Tsao wrote on social media that Ma believes "both sides of the Taiwan Strait belong to one China" and that "no territory can be separated from the motherland."
Tsao called the former president's view "obsolete."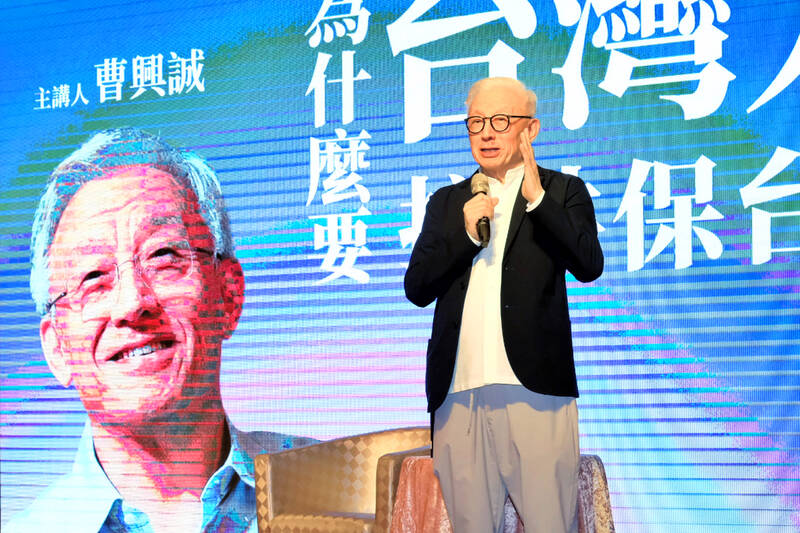 United Microelectronics Corp founder and former chairman Robert Tsao gives a speech on national defense in Taoyuan on Tuesday.
Photo: CNA
"I want to ask this Chinese person, Ma Ying-jeou, how much longer will you be bullying Taiwanese?" he wrote.
Ma is hostile toward Taiwanese independence, he added.
Tsao is the founder of semiconductor maker United Microelectronics Corp (UMC). He became a Singaporean national in 2011, in part because of lingering dismay over government restrictions on UMC's ability to invest in China.
However, he has recently become a vocal critic of Beijing.
In the wake of large-scale military drills China launched around Taiwan after a visit to Taipei by US House of Representatives Speaker Nancy Pelosi in August, Tsao vowed to donate NT$3 billion (US$94.7 million) to help Taiwan bolster its defenses, including by setting up local militia units — or "black bear warriors" (黑熊戰士) — who would be trained in combat tactics, guerrilla warfare, cognitive warfare and first aid. He also pledged to fund the domestic production of 1 million combat drones.
"Under the former KMT regime led by Chiang Kai-shek (蔣介石) and later his son, 'one China' referred to the ROC, and it was illegal to advocate for the People's Republic of China (PRC). Chiang viewed the PRC government as communist bandits and the sworn enemy who must be exterminated," Tsao wrote.
"Nowadays, the PRC is threatening to exterminate the ROC," Tsao wrote.
The hostility between the two governments stem from the Chinese Civil War, he wrote, adding that "Taiwanese have nothing to do with it."
Taiwan should refer to itself more often as "Taiwan," instead of using its official name, Tsao said.
It would help Taiwanese avoid falling "into the trap of the Chinese Civil War," he wrote.
Ma opposes using "Taiwan" to refer to the nation and has on multiple occasions used the argument that "there is only one China" against it, Tsao wrote.
"This shows Ma is Chinese and that he colludes with the Chinese government to bully Taiwan," Tsao added.
The ROC Constitution remaining in place in Taiwan "brings nothing but disaster," Tsao added, adding that Ma is against drafting a new constitution.
"I want to ask Ma: Do you have any moral conscience in you?" he asked
Separately, Premier Su Tseng-chang (蘇貞昌) said most foreign diplomats based in Taiwan and visitors to the nation refer to it as Taiwan, instead of the ROC.
"The international community distinguishes us from China," Su said.
When Taiwan refers to itself as the ROC in international forums, it might be mistaken as referring to China, he said.
As for Double Ten National Day, Su said there are multiple ways to refer to it.
Comments will be moderated. Keep comments relevant to the article. Remarks containing abusive and obscene language, personal attacks of any kind or promotion will be removed and the user banned. Final decision will be at the discretion of the Taipei Times.