Taiwan should drop mask mandate: academic
Wearing masks should only be required on public transportation and at crowded venues, National Taiwan University (NTU) College of Public Health professor Tony Chen (陳秀熙) said yesterday.
In his weekly online live broadcast on the COVID-19 pandemic, Chen said the virus is becoming endemic around the world and Taiwan should bring its policies in line with other countries, despite its success in curbing earlier outbreaks of COVID-19 and slowing its spread.
He said there should be an orderly transformation from a pandemic to an endemic phase to ensure that society can restore its normal operations.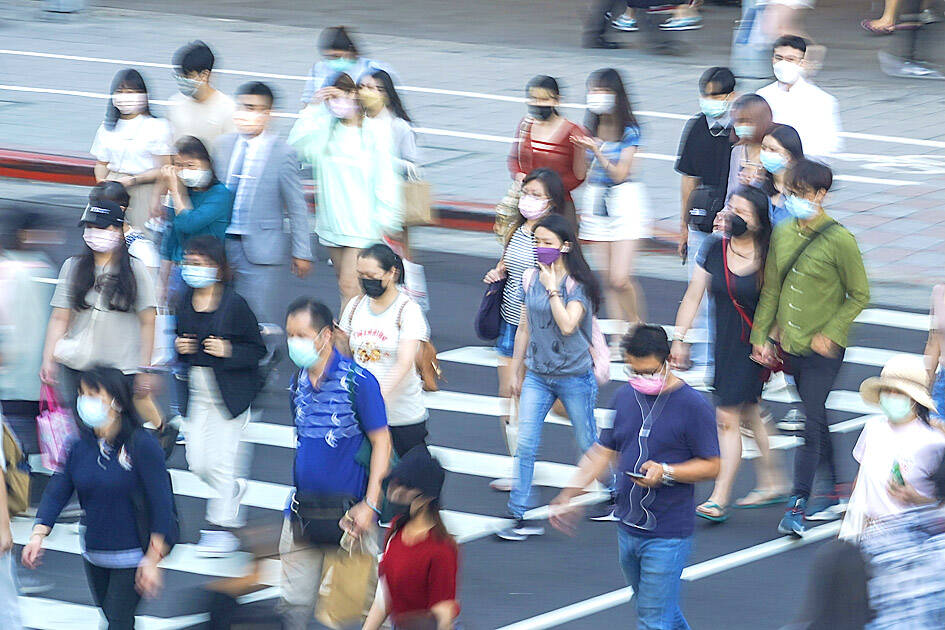 Pedestrians wearing masks cross a street in Taipei's Zhongshan District yesterday.
Photo: CNA
However, as respiratory viruses spread faster between October and February, Taiwan should first adopt a "semi-endemic" disease prevention model that includes four aspects, Chen said.
First, the focus should be on the "surveillance" of moderate and severe cases and deaths, instead of daily new cases, he said.
Second, Taiwan should focus on "vaccination and antiviral medication," with expanded eligibility for bivalent COVID-19 vaccines to all adults — a policy the Central Epidemic Command Center (CECC) later yesterday announced would be implemented from Tuesday — and a campaign to promote flu vaccinations to increase overall immunity, he said.
COVID-19 cases aged 50 or older and those with underlying health conditions should be eligible for antivirals, as long as a physician deems the drugs suitable for them, to reduce the risk of severe illness and death from COVID-19, he said.
Third, Taiwan should focus on "home isolation," with a shortened three-day isolation mandate for people who are younger than 65 and have received a booster dose of a COVID-19 vaccine, Chen said, citing a study that found that 95 percent of people had an "extremely low" viral load three days after the onset of symptoms.
As for people who live in the same household as a confirmed case, Chen said that those who have received a second booster dose should be exempted from the isolation and self-disease prevention mandate, while those who have not received it should monitor their health for seven days, but not be required to isolate.
Fourth, Taiwan should lift its mask mandate and only require people to wear a mask on public transportation and at crowded venues, while continuing to promote mask wearing when needed.
Asked about easing the mask mandate and isolation rules, Deputy Minister of Health and Welfare Victor Wang (王必勝), who heads the CECC, said the outbreak of the Omicron BA.5 subvariant of SARS-CoV-2 is still at a peak in Taiwan, so restrictions would be eased later.
Comments will be moderated. Keep comments relevant to the article. Remarks containing abusive and obscene language, personal attacks of any kind or promotion will be removed and the user banned. Final decision will be at the discretion of the Taipei Times.