NTA denies interfering in lottery tender for AIT
The government yesterday denied suggestions that the National Treasury Administration (NTA) interfered in a lottery tender at the request of the American Institute in Taiwan (AIT).
CTBC Financial Holding, which operates the national lottery, last week announced a lucrative worldwide tender for technical services.
A report published yesterday by the Chinese-language United Daily News said that an AIT official visited NTA Director-General Hsiao Chia-chi (蕭家旗) to give him information about the Nevada-based firm International Game Technology.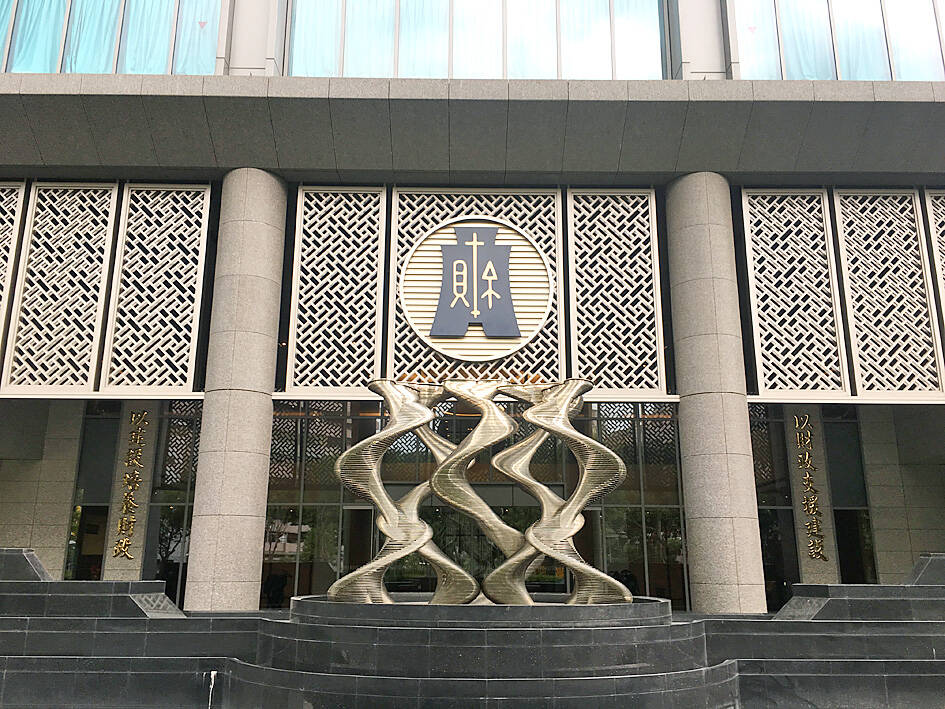 The Ministry of Finance logo is pictured in Taipei in an undated photograph.
Photo: Clare Cheng, Taipei Times
The NTA passed along the information to CTBC for "reference," the paper reported, quoting an unnamed former Ministry of Finance official as saying that the "inappropriate" action put pressure on the firm to choose the US company.
Hsiao said that the agency only gave the information to CTBC for reference, but did not make a recommendation or interfere in the tender process.
Any firm interested in tendering an offer may do so, he said, adding that he also reiterated to the AIT official that the agency cannot influence the selection process.
In a brief statement, an AIT spokesperson said that officials from around the world, including the US, have always advocated for their nation's business interests in a variety of ways.
Such forms of "regularized commercial engagement" promote trade and investment links in the global economy, and help strengthen global supply chains, the spokesperson said.
The Ministry of Foreign Affairs agreed, saying that it is natural for governments to advocate for their nation's companies.
The NTA and AIT have responded clearly, emphasizing that the case is an example of "regularized commercial engagement," the ministry said in a statement.
No pressure was put on CTBC, nor was there any interference, it said, condemning "certain media" for spreading baseless rumors, vilifying the actions of the US and alleging that friendly relations between the two nations are reliant on profit.
After witnessing its many contributions to the international community over the past few years, countries want to deepen their relations with Taiwan, the ministry said.
As Beijing becomes more expansionist, like-minded nations are willing to stand up and defend peace and stability in the Taiwan Strait, it added.
Comments will be moderated. Keep comments relevant to the article. Remarks containing abusive and obscene language, personal attacks of any kind or promotion will be removed and the user banned. Final decision will be at the discretion of the Taipei Times.