Legislature passes bill to relax gun rules for police
The Legislative Yuan yesterday passed the third reading of an amendment to the Act Governing the Use of Police Weapons (警械使用條例), to provide police officers with more flexibility and guidance in their use of firearms.
The Executive Yuan proposed the amendment after Railway Police Bureau officer Lee Cheng-han (李承翰) was stabbed in 2019 during a confrontation with a train passenger who had refused to pay the full fare.
The amendment was sent to the legislature in May 2020 and passed a preliminary review at the legislature's Internal Administration Committee in December 2020, after which the process came to a halt.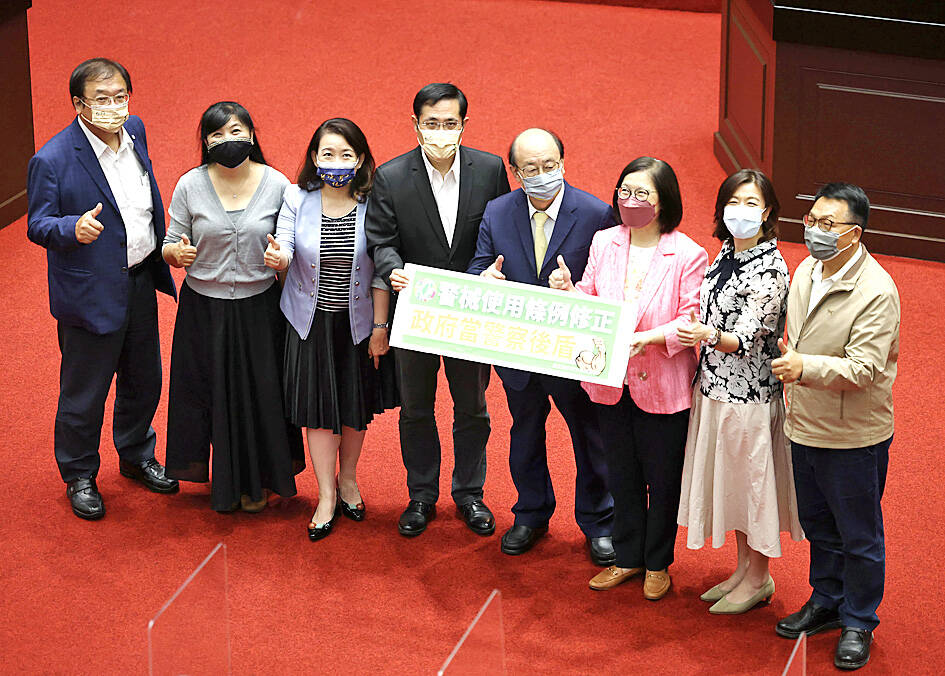 Democratic Progressive Party caucus whip Ker Chien-ming, fourth right, poses with other legislators at the Legislative Yuan yesterday.
Photo: CNA
Pressure to pass the amendment was revived after two Tainan police officers in August were stabbed to death by an inmate who failed to return following his temporary leave from a minimum-security prison.
The amended act relaxes rules governing weapon use for police, stipulating that if officers are unable to use firearms in the course of duty, they can use other items that can serve as weapons.
Police officers are allowed to use firearms if a person uses lethal weapons, dangerous objects or vehicles to attack, harm, seize or coerce officers or others, the amended act says.
Firearm use is also allowed if a person intends to grasp police firearms or other equipment that could cause casualties, or when police officers or others are in immediate danger, it says.
When police use of firearms causes casualties or controversy, the Ministry of the Interior should form a committee of experts and representatives from relevant agencies to investigate the timing and details of the incident, it says.
When firearm use causes an injury or a casualty, police officers should call for emergency medical care or send the injured person to a hospital, it says.
Police management should investigate the case and provide litigation aid and counseling services to the officers involved upon receipt of the committee's report, it adds.
The State Compensation Act (國家賠償法) applies if an officer's use of firearms on duty contravenes regulations and infringes on a person's freedom or right, it says.
If the firearms use complies with the regulations but causes damage to a person's life, body or property, compensation can be requested, it says.
Minister of the Interior Hsu Kuo-yung (徐國勇) thanked legislators and legislative caucuses across party lines for passing the amendment, adding that the act is now more flexible and practical.
The ability to investigate incidents by committee, along with the compensation mechanism, can further protect police officers' rights and interests, he added.
Additional reporting by Wu Su-wei
Comments will be moderated. Keep comments relevant to the article. Remarks containing abusive and obscene language, personal attacks of any kind or promotion will be removed and the user banned. Final decision will be at the discretion of the Taipei Times.