Twins born in nation's first tailless sperm conception
Taipei Veterans General Hospital (TVGH) yesterday announced the first successful case of artificial insemination using acaudate or tailless sperm in Taiwan, with twin girls being born to a man in his 40s and his wife in May last year.
The man, surnamed Chung (鐘), and his wife had tried for three years to conceive, and had nearly given up after consultations at three different hospitals, TVGH doctors told a news conference.
The couple traveled from their home in Penghu County with their twins to attend the news conference.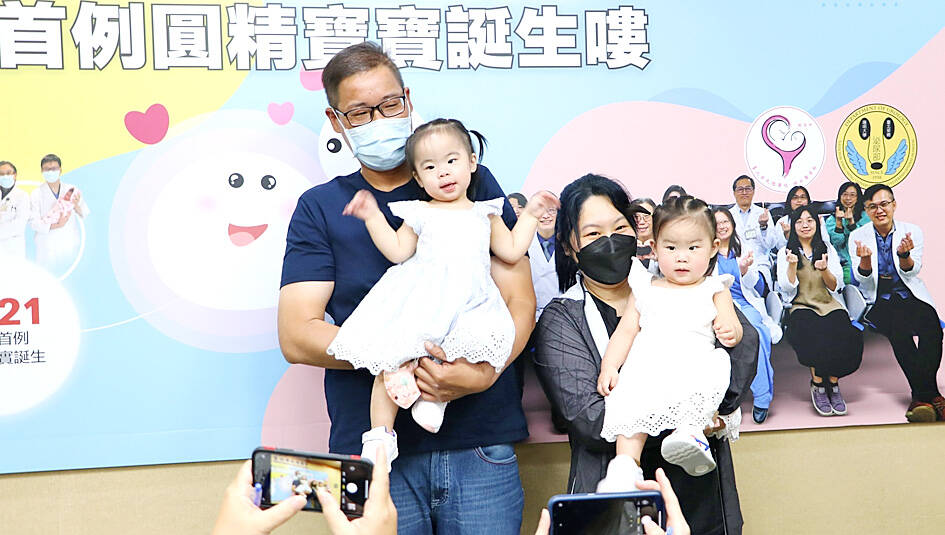 A man surnamed Chang, left, and his wife pose for a photograph with their twin daughters at a news conference at Taipei Veterans General Hospital yesterday.
Photo courtesy of Taipei Veterans General Hospital
"There are greater challenges with tailless sperm, because there is no way for them to activate the egg," TVGH urology department director Huang Chih-hsien (黃志賢) said. "The pregnancy success rate of the embryo after fertilization is very low."
Doctors performing such a procedure face three challenges, Huang said.
First is effectively screening the sperm cells under a microscope, which requires sharp eyes and rich experience, he said.
Second, the sperm must be specially treated to give it the ability to activate the egg, he said, adding that round sperm are prone to chromosomal abnormalities that affect embryonic development and implantation, which is the third challenge to a successful procedure.
"Mr Chung and his wife had been trying to conceive since 2018, before they finally succeeded last year. Other hospitals had told them that Chung had azoospermia," obstetrician Ho Chi-hung (何積泓) said.
Including Chung and his wife, the hospital has treated 33 couples with difficulties conceiving, ranging in age from 29 to 44, with three couples successfully conceiving, he said.
The hospital's success rate of 9 percent is higher than the world average of 3.7 percent, he said.
Chung said the successful procedure took him completely by surprise.
"I thought for sure I would never become a father. Watching my daughters grow has been the happiest thing in my life," he said.
Comments will be moderated. Keep comments relevant to the article. Remarks containing abusive and obscene language, personal attacks of any kind or promotion will be removed and the user banned. Final decision will be at the discretion of the Taipei Times.