Taiwan Mobile defends 'extra bandwidth'
Nearly 10 million telecom subscribers would be affected if Taiwan Mobile were to return "extra bandwidth" following its proposed merger with Taiwan Star Telecom, Taiwan Mobile yesterday said at an administrative hearing at the National Communications Commission (NCC).
The proposed merger, if approved, would allow the nation's second-largest telecom to own 60megahertz (MHz) of bandwidth at frequency bands below 1 gigahertz (GHz), which would exceed one-third — or 50MHz — of the total auctioned spectrum of 150MHz. Regulations require the telecom to give the extra bandwidth back to the NCC.
Yesterday's hearing focused on whether Taiwan Mobile should return the extra 10MHz, given that all telecoms have exceeded the legal limits in different frequency bands by varying degrees.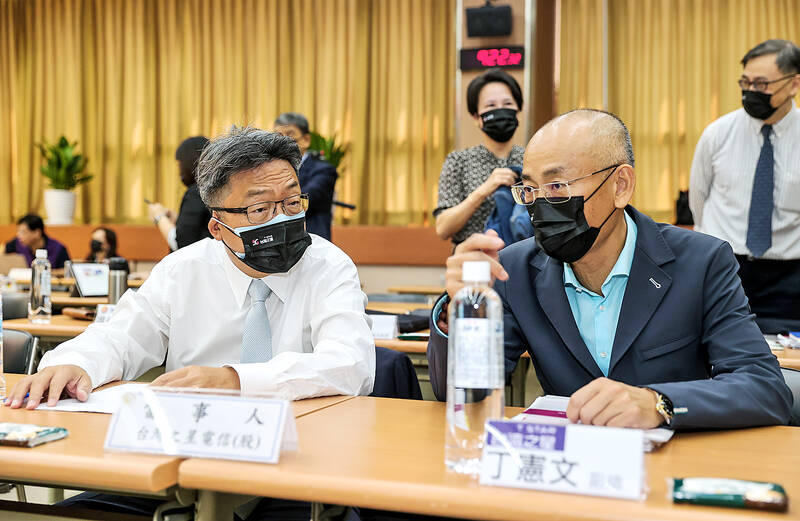 Taiwan Star president Cliff Lai, left, and vice president Ting Hsien-wen talk during a meeting on their company's merger with Taiwan Mobile at the National Communications Commission in Taipei yesterday.
Photo: CNA
Taiwan Mobile has 7 million subscribers to its 700MHz frequency band, while Taiwan Star serves 2.68 million subscribers on 900MHz, Taiwan Mobile president Jamie Lin (林之晨) told the hearing.
"We will lose 6 percent of the total bandwidth if we are forced to return the extra bandwidth following the merger, which would affect the quality of service to nearly 10 million subscribers," Lin said.
Returning the bandwidth would also lead to a huge waste of telecom systems that have been built, he said.
The company further pledged to retain 97 percent of the employees at Taiwan Star after the merger, offer more and better service plans to Taiwan Star customers and install more base stations in rural areas.
Taiwan Star Telecom president Cliff Lai (賴弦五) said the company made the difficult decision of merging with Taiwan Mobile, but that it was a deal it simply had to take.
"We have invested more than NT$80 billion [US$2.51 billion] to build up the service network since the company was founded eight years ago. However, we have not been able to turn a profit even though we tried our best to raise our subscriber numbers to 2.8 million," Lai said, adding that the company has accumulated financial losses of NT$39.3 billion in the past eight years.
Lai said that his experience of participating in auctions for 3G, 4G and 5G spectrum taught him that owning bandwidth at frequency bands below 1GHz is not the only factor to stand out in the competition in the telecom market.
Rather, the aggregate bandwidth below 3GHz is key to excelling in the market, he said.
Chunghwa Telecom and Far EasTone Telecommunications (FET) are the nation's largest and second-largest owner of bandwidth at the frequency band of 1.8GHz, making them top two players in the field, he said.
"We have been using the bandwidth at the frequency band of 900MHz to serve our customers. Returning half of our bandwidth would be a complete waste of resources and hurt telecom service quality, which we cannot accept," Lai said.
Chunghwa Telecom and FET said that Taiwan Mobile should fully comply with regulations by returning the extra bandwidth.
Vivian Lee (李合音), senior vice president of FET's legal and procurement division, said that the NCC limited the bandwidth that each telecom can have at frequency bands below 1GHz because they are relatively scarce resources, upon which signals can be launched from a long distance with strong diffraction.
Telecom networks that are built on these frequency bands can be accessed by subscribers living in rural areas or while they are indoors, Lee said, adding that they are the driving force for building extensive and affordable networks.
Allowing Taiwan Mobile to keep the extra bandwidth would contravene telecom regulations and the auction rules set for 4G and 5G spectrum, she said.
Extra bandwidth should be returned based on the principle of trust and maintaining fair market competition, she said.
Wei Huei-jen (魏惠珍), vice president of Chunghwa Telecom's legal department, said that no telecom should use mergers as an excuse to own extra bandwidth, nor should they be allowed to keep it to "avoid wasting telecom resources."
The bandwidth can be auctioned again for telecoms to develop networks in economically disadvantaged areas and for public services, Wei said.
Institute for Information Industry president Cho Cheng-ho (卓政宏), who has been recruited by the NCC to serve as an arbiter, said the two merging telecoms failed to make an convincing argument as to why they should be granted an exception to the rule.
"I do not think that the merger would lead to unfair competition in the market, but I did not hear from the statements from both companies that there is a clear and major public interest involved that would warrant an exemption from the rules," he said.
Comments will be moderated. Keep comments relevant to the article. Remarks containing abusive and obscene language, personal attacks of any kind or promotion will be removed and the user banned. Final decision will be at the discretion of the Taipei Times.