KMT Keelung candidate Hsieh accused of fraud
RELIANCE SCANDAL: The DPP called for a judicial probe into alleged links between Hsieh Kuo-liang and the indicted former chair of a securities firm
The Democratic Progressive Party (DPP) yesterday called for an investigation into allegations of fraud and money laundering involving Chinese Nationalist Party (KMT) Keelung mayoral candidate Hsieh Kuo-liang (謝國樑).
At a news conference, Keelung City Councilor Chang Hao-han (張顥瀚) presented materials alleging that Hsieh had transferred US$3.2 million from three companies under his control to the accounts of Lin Kuan-pai (林冠百), former chairman of Taipei-based Reliance Securities.
Chang, together with DPP Legislator Kuo Kuo-wen (郭國文), said that based on the financial transaction records, Hsieh had contravened the Company Act (公司法), and was involved in money laundering, tax evasion, fraudulent asset transfers, forgery and using shell companies to gain illegal benefits.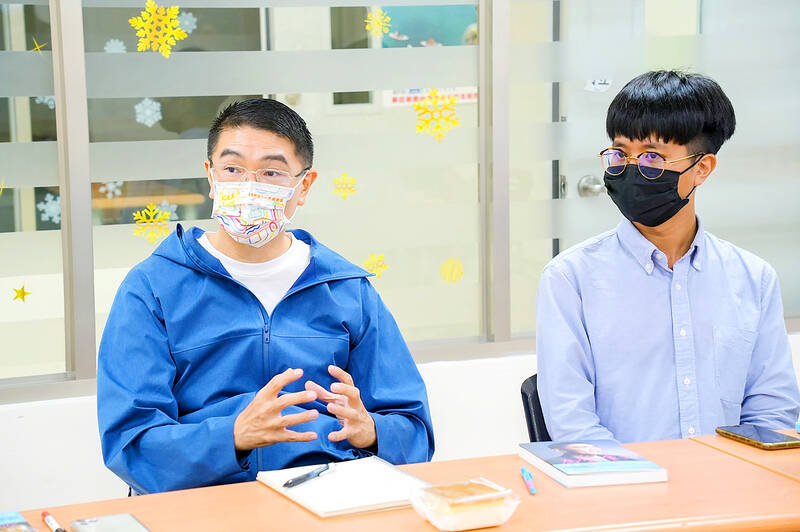 Chinese Nationalist Party (KMT) Keelung mayoral candidate Hsieh Kuo-liang, left, speaks to a reporter at his campaign office in the city on Wednesday.
Photo courtesy of Hsieh Kuo-liang via CNA
The records show Hsieh's close links to the Reliance Securities scandal, Chang said.
Taipei prosecutors last month indicted Lin and two other business associates on money laundering and breach of trust charges for illegally transfering NT$152.5 million (US$4.8 million at the current exchange rate).
The scandal took place in 2018, with Lin allegedly using several companies to evade taxes and hide his assets from regulators, while Hsieh allegedly colluded with by lending him US$3.2 million and later collecting a NT$3 million interest payment, Chang said.
Initial reports on the report said that Hsieh admitted that he had lent money in US checks issued by Keelung-based Gold Star International Co. Hsieh used to control Gold Star, but its ownership registration was earlier this year changed to that of his mother, Lin Man-li (林曼麗).
Hsieh has refused to name the two other family-owned companies involved in questionable money transfers, Chang said.
However, Chang said he had received documents from concerned citizens, saying the two entities are Vantage Metro and Kong Cheng Enterprise, both of which are linked to San Kong International, which is owned by the Hsieh family.
Hsieh rejected the accusatons, saying that all the financial transactions were legal and that he would sue Chang and other DPP politicians for defamation and contravening election laws.
Chang said he had run a check on the companies owned by the Hsieh family, including Gold Star, Vantage Metro, Kong Cheng and San Kong, which all have one registered address.
"In fact, a total of 15 companies are registered at this same address in Keelung," he said.
"Records show that Hsieh owned most of these companies, but this year he had them registered under his mother's name. We suspect that he did so to evade judicial investigation ... as he planned to join the mayoral election, and wanted to avoid media attention and negative publicity," Chang said.
"Hsieh also allegedly had registered other overseas shell companies, in the Cayman Islands and the Virgin Islands. These are well-known havens for evading taxes and for money laundering," he said.
Kuo said Hsieh comes from a political dynasty in Keelung, with his father, Hsieh Hsiu-ping (謝修平), serving as a city councilor in the 1970s and council speaker in the 1980s.
Hsieh's family have used their political clout and connections to build a local business empire, Kuo said.
Comments will be moderated. Keep comments relevant to the article. Remarks containing abusive and obscene language, personal attacks of any kind or promotion will be removed and the user banned. Final decision will be at the discretion of the Taipei Times.