What visitors should know about updated entry rules
Taiwan from Thursday is to reinstate visa exemptions for passport holders from 65 countries. Mandatory quarantine for arriving travelers is to be lifted on Oct. 13 , when restrictions on inbound and outbound tour groups are also to be lifted. The following is a list of answers to common questions regarding how the new regulations are to affect inbound international visitors
Which passports will have visa-free entry privileges?
Eleven more countries on Thursday are to join 54 countries that were given visa-free privileges on Sept. 12. Passport holders from Japan, South Korea, Chile, Israel and Nicaragua can stay in Taiwan for up to 90 days without a visa.
Taiwan is also to resume 30-day visa-free stays for citizens of the Dominican Republic, Singapore and Malaysia.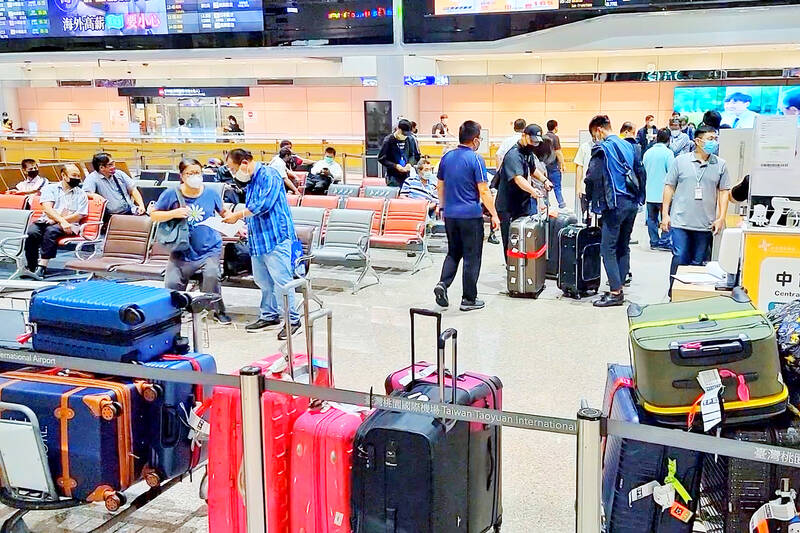 People wait in the arrivals hall of Taiwan Taoyuan International Airport yesterday.
Photo: CNA
Passport holders from Thailand, Brunei and the Philippines are to be allowed to stay in Taiwan for 14 days visa-free.
Taiwan on Sept. 12 resumed 90-day visa-free entry for passport holders from the US, the UK, Ireland, Canada, Australia, New Zealand, Austria, Belgium, the Czech Republic, Denmark, Estonia, Finland, France, Germany, Greece, Hungary, Iceland, Italy, Latvia, Liechtenstein, Lithuania, Luxembourg, Malta, the Netherlands, Norway, Poland, Portugal, Slovakia, Slovenia, Spain, Sweden, Switzerland, Andorra, Bulgaria, Croatia, Cyprus, Monaco, North Macedonia, Romania, San Marino and nine of Taiwan's 14 diplomatic allies: Tuvalu, Eswatini, Guatemala, Haiti, Honduras, the Marshall Islands, Palau, Paraguay and the Holy See.
Thirty-day visa-free visits are allowed for citizens of five other diplomatic allies: Belize, Nauru, St Kitts and Nevis, Saint Lucia, and Saint Vincent and the Grenadines.
How long should a passport be valid for?
With the exception of passport holders from the US and Japan, people from visa-exempt countries must have a passport that is valid for six months from the date of entry. Passports of citizens from the US and Japan only need to be valid for the duration of the planned stay.
Are there any specific groups of people from visa-free countries that are not be eligible for visa-free entry?
People born in China with Honduran passports must still apply for a visa before entering Taiwan.
Additionally, those who hold passports from Belize, Eswatini, Nauru, St Kitts and Nevis, Saint Lucia and Tuvalu, but whose place of birth was China, Iran, Iraq, Afghanistan, Libya, Nigeria, Pakistan, Syria or Yemen, must also apply for a visa.
One country that was previously part of Taiwan's visa-waiver entry program that was not included in the updated list is Russia.
Russian nationals could previously visit Taiwan for 21 days visa-free, but that program expired on July 31.
The new "3+4" quarantine policy is to be in place from Thursday until Oct. 12. What does it entail?
Arrivals are no longer to be subjected to a saliva-based polymerase chain reaction test, but will be issued four rapid tests. The first test should be taken on the day of arrival, or the first day of quarantine, with the result to be reported to a case worker via telephone, the Central Epidemic Command Center said.
The second test is to be taken on the third and last day of quarantine, while the third test is to be taken during a self-monitoring period.
The last rapid test should be taken if COVID-19 symptoms appear during quarantine or the monitoring period.
What are the rules for the four-day self-monitoring period?
Travelers during this period are to advised remain at home as much as possible. Work, buying necessities and eating out should be limited at each person's discretion.
Travelers in the self-monitoring period must show a negative result from a rapid test taken within two days of leaving quarantine before going outside. They must also wear masks at all times when they go out, but they can remove their mask when dining out as long as social distancing measures are observed and dividers separate the individual from others.
These travelers can use public transportation during the four days.
However, if a positive rapid test result is shown and medical attention is necessary, transportation to a hospital must be via a designated COVID-19 taxi or a private vehicle.
Do visitors need to be vaccinated against COVID-19 prior to entry?
Tour group participants require three doses of a COVID-19 vaccine. Others can enter without being fully vaccinated, according to the British government's foreign travel advice. Travelers should verify requirements with their local Taiwan representaive office before departure.
Will the "3+4" policy be applied in the same way to all arriving passengers?
No. There are separate rules for migrant workers and foreign students.
The policy is to be similar to the "7+0" policy for migrant workers. Arriving migrant workers must stay in a quarantine hotel or dormitory, with only one person per room, and are not to be allowed to go out for a seven-day period, except for an emergency situation such as seeking medical attention, the Workforce Development Agency said.
For foreign students, schools are to arrange a three-day quarantine, either at a designated hotel or dormitory. A four-day self-monitoring period is to follow, although classes cannot be attended.
What is the "0+7" policy set to be introduced on Oct. 13?
On this day, Taiwan is to end the three-day quarantine for arriving travelers, to be replaced by a seven-day self-monitoring period. Public transportation can be used if no symptoms of illness are present.
Will the "0+7" policy also apply to arriving migrant workers and foreign students?
A decision has not been made. The Workforce Development Agency said it is studying the issue, while the Ministry of Education has not made an announcement.
What is the difference between the current self-monitoring protocols and the new scheme?
There are no noteable differences. Travelers should reside in private rooms with separated bathrooms from housemates. Going outside is permitted if wearing a mask and testing negative for COVID-19 prior to leaving the premises.
Comments will be moderated. Keep comments relevant to the article. Remarks containing abusive and obscene language, personal attacks of any kind or promotion will be removed and the user banned. Final decision will be at the discretion of the Taipei Times.