'Mirror Media' countersues TPP's Hsinchu candidate
Mirror Media executives have said they would countersue Taiwan People's Party (TPP) Legislator Ann Kao (高虹安), the party's Hsinchu mayoral candidate, after she filed a defamation lawsuit against the weekly magazine over its reporting about a plagiarism accusation against her.
Kao filed the judicial complaint at the Taipei District Prosecutors' Office against Mirror Media publisher Pei Wei (裴偉), editor-in-chief Liao Chih-cheng (廖志成), an editor surnamed Wu (吳) and a reporter surnamed Chou (周).
Speaking to reporters, Kao also accused the Democratic Progressive Party (DPP) and its "phalanx" of bullying her and tarnishing her reputation.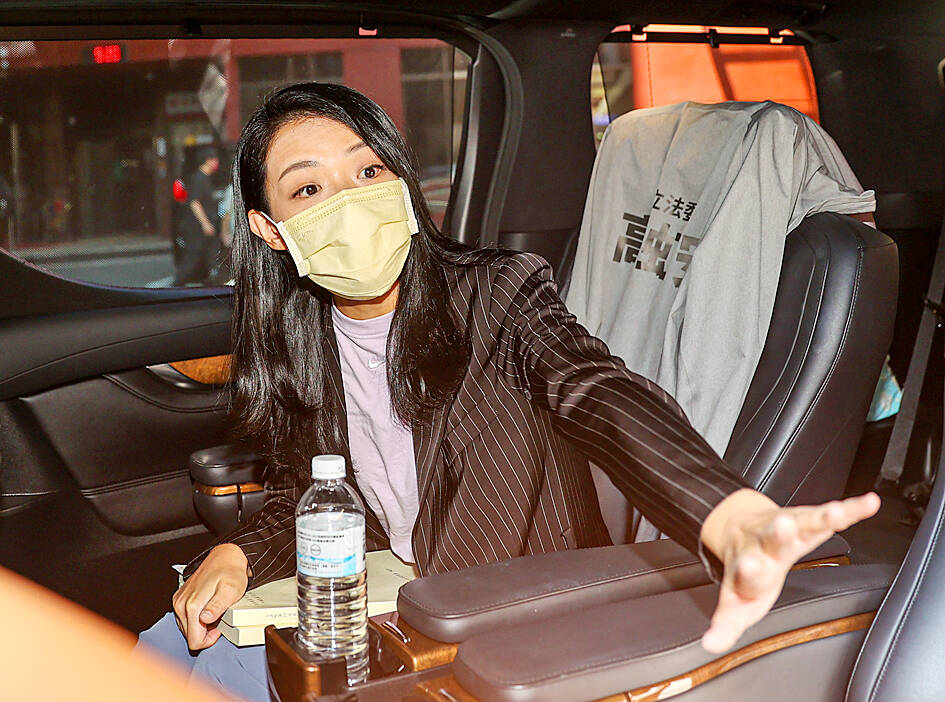 Taiwan People's Party Hsinchu mayoral candidate Anne Kao gestures toward reporters from a vehicle outside the Legislative Yuan in Taipei yesterday.
Photo: CNA
"Taiwan has entered the green terror era," she said
DPP caucus whip Ker Chien-ming (柯建銘) condemned the remark, saying that the TPP is engaging in manipulation of public opinion through its online presence.
The party is distorting the facts of the accusations and covering up questionable activities, Ker said.
Commenting on her "green terror" remark, Ker questioned whether Kao understands the nation's history during the White Terror era, when the then-Chinese Nationalist Party (KMT) regime prosecuted dissidents from 1949 to 1987.
"Does she know what transitional justice is? Does she know what the White Terror was all about?" he asked.
"If you have no understanding of the past … you should not talk nonsense," he said. "Kao should face what she has done, instead of covering it up and using her media clout to make deceitful remarks."
Mirror Media on Tuesday reported that Kao in 2012 enrolled in a doctorate program at the University of Cincinnati, where she in 2018 obtained the degree.
When enrolling, she worked at the government-affiliated Institute for Information Industry think tank, and remained on its payroll and received work-related bonuses until 2017, the magazine said.
Despite also receiving a subsidy, she at the time of enrollment proposed to conduct institute-related research in the US for a total of 547 days until 2017, it said.
Workers at institutions affiliated with the government are allowed to take leave to study degree programs and remain on their employer's payroll, but after obtaining a degree, they are expected to stay with their employer for at least the amount of time they spent studying, the report said, citing the pertaining regulations.
However, Kao in May 2018 started working at Hon Hai Technology Group's Industrial Big Data Office.
The report cited anonymous sources at the institute as saying that "Kao used public money for her work projects and for her studies in the US."
She obtained her doctorate by questionable means, it cited them as saying.
Kao denied the report, saying: "I paid the tuition fee by myself."
She only received subsidies from her employer for six months while enrolled in the US, under a program to foster "talent for international affairs," Kao said.
Political commentator Neil Peng (馮光遠) wrote on social media that Kao still owes the public an explanation over the plagiarism allegations.
Peng said institute sources accused Kao of plagiarizing reports from her former employer for her dissertation.
She also self-plagiarized previously published reports for which she received funding from the institute, Peng said.
Instead of explaining herself, she touted her academic achievements and displayed "elitist" views, he said.
"With Kao's past being examined, the public gets to see her as an arrogant, self-centered person who is full of greed," he said.
Her professors had links to Beijing's Thousand Talents Plan, which targets Chinese academics overseas and foreign researchers, he said.
Comments will be moderated. Keep comments relevant to the article. Remarks containing abusive and obscene language, personal attacks of any kind or promotion will be removed and the user banned. Final decision will be at the discretion of the Taipei Times.