Teachers awarded for encouraging outdoor activities
CREATIVITY VALUED: The Super Teacher Awards honored educators who have adapted their ways of teaching to their fields and their students' background
The annual Super Teacher Awards on Saturday honored two educators for encouraging their students in rural communities to enjoy the outdoors and experience farming first-hand.
The awards came ahead of Teachers' Day on Wednesday.
Kuo Hui-chuan (郭惠娟) won the award for Best Preschool/Kindergarten Teacher.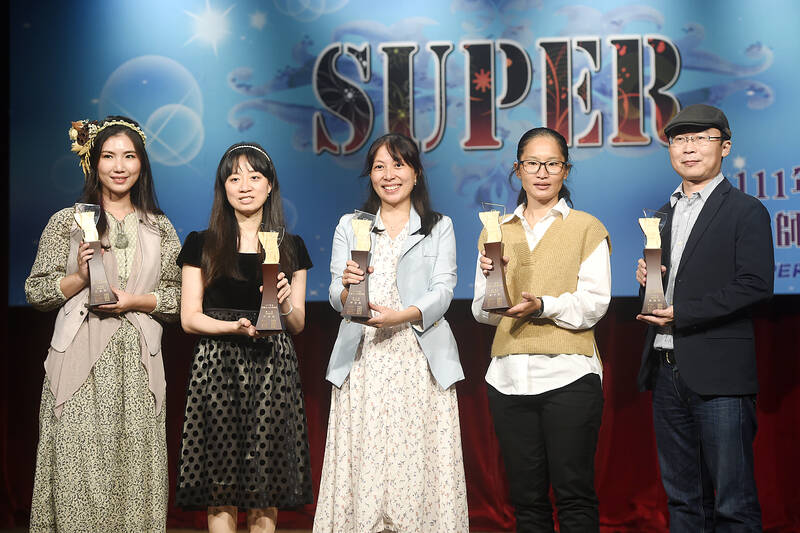 From left, teachers Kuo Hui-chuan, Hsu Yu-ya, Chen Chao-hsun, Huang Tzu-yu and Liu Wei-wu pose with their awards at the annual Super Teacher Awards in Taipei on Saturday.
Photo: George Tsorng, Taipei Times
Kuo, who teaches at the preschool affiliated with Jingmei Elementary School in New Taipei City, was recognized for cultivating an appreciation of aesthetics among her students for the past 10 years.
She said her teaching philosophy involves living closer to nature and that she has been taking her students outdoors for classes that often involve working the soil.
Kuo has enlisted the help of local residents to teach her students how to plant seeds, which she said helps build character and empathy.
Hsu Yu-ya (許游雅) won the award for Best Elementary School Teacher.
Hsu, who teaches at Nanhua Elementary School in Tainan, said she highlights the importance of outdoors in guiding her students.
As her school is in an agricultural area, Hsu has instructed her students to join their parents in the fields, such as mango plantations, to better understand their families and find new ways to engage with each other, she said.
Rural areas offer types of cultural stimulation and experiences that are different from those in urban areas, Hsu said.
The awards also recognized other teachers for using alternative ways to motivate their students.
Chen Chao-hsun (陳昭勛), who won the Best Junior-High School Teacher Award, started working as an English teacher at Mu Zha Junior High School in Taipei after returning from Australia, although it was not what she had in mind.
Chen has a background in traditional Chinese medicine and she originally hoped to become a medical intern in Taiwan.
However, due to a bureaucratic mistake, she ended up teaching at the school.
She teaches a special class in which she conveys her educational philosophy and ideas to other faculty as Taiwan strives to become a bilingual country.
For mixologist Liu Wei-wu (劉緯武), who won the Best Vocational School Teacher Award, teaching students about cocktails is more than just giving them the necessary skills; it is about passing on a certain lifestyle.
Liu teaches his students about the value of self-cultivation, being humble and adopting the etiquette observed in cocktail bars.
He said he encourages them to avoid Taiwan's culture that values binge drinking more than savoring a beverage and to understand what they are drinking.
The awards were launched in 2003 by the National Teachers' Association to recognize educators.
Comments will be moderated. Keep comments relevant to the article. Remarks containing abusive and obscene language, personal attacks of any kind or promotion will be removed and the user banned. Final decision will be at the discretion of the Taipei Times.