Robert Tsao pledges money to make 1m combat drones
Tycoon Robert Tsao (曹興誠) has pledged funding for the domestic production of 1 million combat drones to defend Taiwan in the event of military conflict with China.
In an interview published by the Financial Times on Wednesday, Tsao said that he had spoken with drone manufacturers in Taiwan about setting up an industry alliance to research and develop combat drones at a lower cost.
The 1 million drones would be armed and the plan is to have them operational in the next two to three years, he said in the interview.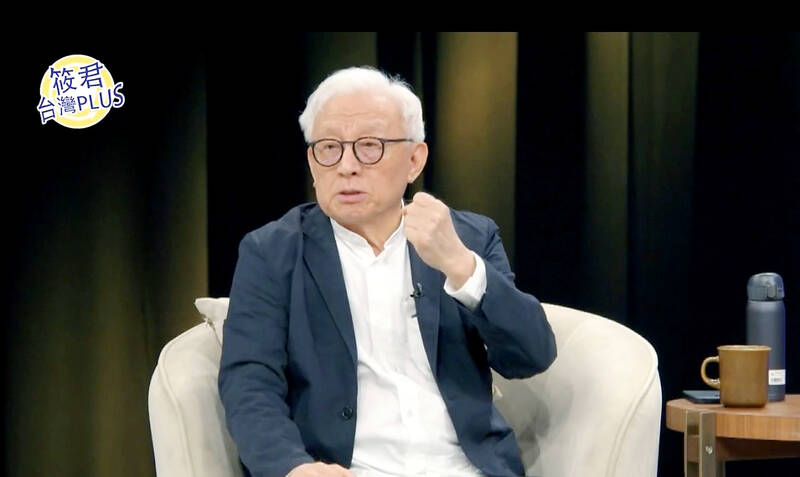 Businessman Robert Tsao is interviewed on YouTube channel Hsiao-chun Taiwan PLUS on Tuesday.
Photo: screen grab from Hsiao-chun Taiwan PLUS
The drones would be on the front line in Taiwan's defense if the Chinese military were to launch an amphibious assault, he said, adding that their weapons would target enemy troops and Chinese warships if they tried to land on Taiwan's beaches.
Tsao, who founded semiconductor maker United Microelectronics Corp (UMC), on Sept. 1 said that he would donate NT$3 billion (US$94.7 million) to bolster Taiwan's defense against the threat of a Chinese military invasion.
Among Tsao's plans were NT$600 million to fund the Kuma Academy to set up local militia units — or "black bear warriors" — training them in combat tactics, guerrilla warfare, cognitive warfare and first aid.
He also promised NT$400 million to train 300,000 "sharpshooters" as another line of defense against Chinese troops.
In a separate interview with Deutsche Welle published on Wednesday, Tsao said that when he conducted UMC business in China, he told top Chinese government officials that "talk of 'one country, two systems' is a plot to deceive" Taiwanese.
"Beijing's leadership touted the 'one country, two systems' formula for Taiwan, but they believed that the Republic of China was dead, so the rhetoric was essentially directed at a 'ghost,'" he said.
China pushed through an extradition law for Hong Kong in 2019 designed to allow suspects to be prosecuted in mainland China, prompting vehement protests among Hong Kongers, he said.
The law was ultimately not implemented.
"Beijing's leaders saw the protests as riots against Chinese authority," he said. "At that time, I had dinner with a top Chinese official. He told me the way to proceed was to hire hooligans to work with police officers to beat up protesters, then Hong Kongers would not defy the Chinese government."
"So this was done," he said. "On July 21, 2019, there was the Yuen Long attack, during which police deployed hooligans with batons and clubs who indiscriminately assaulted protesters."
"Before that, I did not believe they would do such a thing," Tsao said.
"Seeing what happened in Hong Kong and the violent suppression of the people was shocking," he said. "I felt ashamed to have kept company" with the Chinese officals.
"It showed the true face of the Chinese Communist Party, a hooligan regime conducting violence against ordinary people," he said. "If it cannot get its way, its solution is to hire hooligans to beat people up."
"People in Hong Kong used peaceful means at street events to express their views, but the Chinese government used cruel means of suppression, including beatings. It really made me angry. So I decided to never go to China, Hong Kong or Macau again," he said.
"Taiwanese must watch out," he said. "If we get into such a situation, then it will be too late, there is no way back to freedom and democracy."
China's nationalism defies the progress of civilization, while Taiwan has advanced with civilization, "as Taiwan values reason, science, progress, peace, human rights, the rule of law and democracy," he said. "That is why we cannot be unified with China."
Comments will be moderated. Keep comments relevant to the article. Remarks containing abusive and obscene language, personal attacks of any kind or promotion will be removed and the user banned. Final decision will be at the discretion of the Taipei Times.