Chinese devices ban not enforced: group
EYE ON DIGIFOCUS: Researchers said that a Taipei-based distributor of cameras and other devices has 'Taiwanese skin,' but is Chinese company Hikvision 'on the inside'
People's movements in public have been exposed and national security has been breached because ministries have failed to enforce a ban of Chinese-made electronic displays and video recording devices, the Economic Democracy Union said yesterday.
Video footage, information and photographs have probably been sent to China, making it a serious issue and a great threat to national security, Economic Democracy Union researcher Hsu Kuan-tze (許冠澤) told a news conference at the legislature in Taipei.
Officials at the Ministry of Economic Affairs and other ministries have neglected their duty, failing to enforce the regulations that prohibit the use of surveillance cameras, electronic displays, telecom devices and software produced in China, Hsu said.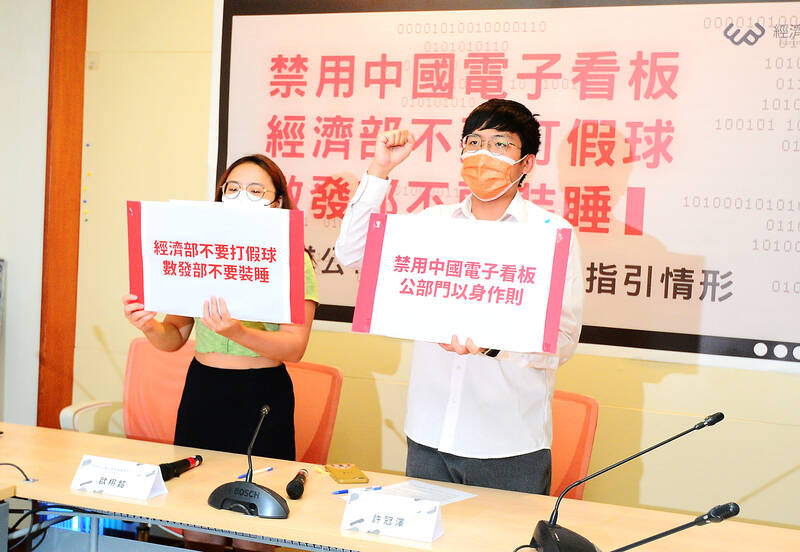 Economic Democracy Union researchers Ou Hsu-shao, left, and Hsu Kuan-tze at a news conference at the legislature in Taipei yesterday hold placards demanding that government agencies enforce a ban on Chinese-made recording devices.
Photo: Wang Yi-sung, Taipei Times
"Due to the well-documented threat to Taiwan's national security, the ban was put into effect in 2020," Hsu said. "Last month, the economy ministry revised the regulations to cover devices at businesses, including convenience stores, supermarkets, hypermarts, shopping malls and department stores," he said.
The revised regulations strictly banned Chinese-made software and apps, "but only asked that businesses avoid using Chinese-made devices," Hsu said, adding that while the changes were a step in the right direction by asking the private sector to cooperate, they did not go far enough.
However, Economic Democracy Union members have uncovered examples where the rules are not being followed, he said, adding that ministries have been negligent in enforcing the ban.
The University of Taipei, which is administered by the Taipei Department of Education, still has surveillance cameras from China's Hikvision Digital Technology Co, with a preliminary check of the university's administrative building showing that there were more than 50 Hikvision cameras installed, he said.
Most likely there are many more on campus, he added.
Hikvision circumvented the restrictions by using its distribution company in Taiwan, Taipei-based DigiFocus Co, Economic Democracy Union researcher Ou Hsu-shao (歐栩韶) said.
"DigiFocus secured a government contract of the economic ministry's Industrial Development Bureau to supply video cameras and other devices," Ou said.
"This was a clear contravention of the law, Ou said.
"DigiFocus has Taiwanese skin, but is China's Hikvision on the inside," she said. "We demand that the judiciary investigate this serious breach."
The electronic displays at Taiwan Railways Administration-run stations that were hacked to show messages denigrating US House of Representatives Speaker Nancy Pelosi during her visit early last month had Chinese-made software and were easily penetrated by Chinese hackers, Ou said.
"The lack of scrutiny and enforcement of the ban must be addressed," she said.
"When surveillance cameras and monitoring devices made by Chinese companies are installed in Taiwan, everyone might be under the eye of the Chinese government," she said.
"Such devices are installed at most buildings, at the entrances of residential communities, on school campuses, in shopping malls and stores, and on roads to record traffic events," she said. "If the data are transmitted to China, it is a grave risk to national security and the safety of all residents of Taiwan."
Comments will be moderated. Keep comments relevant to the article. Remarks containing abusive and obscene language, personal attacks of any kind or promotion will be removed and the user banned. Final decision will be at the discretion of the Taipei Times.