COA honors dozens for advances in rural economy
Thirty people yesterday received Rural Elite Awards from the Council of Agriculture (COA) for their contributions to the life, economy and ecology of rural areas.
Only 30 people were selected from 253 nominees for the award, now in its third year, council data showed.
Winners will have a chance to travel to rural areas in Japan to learn from their international peers, the council said.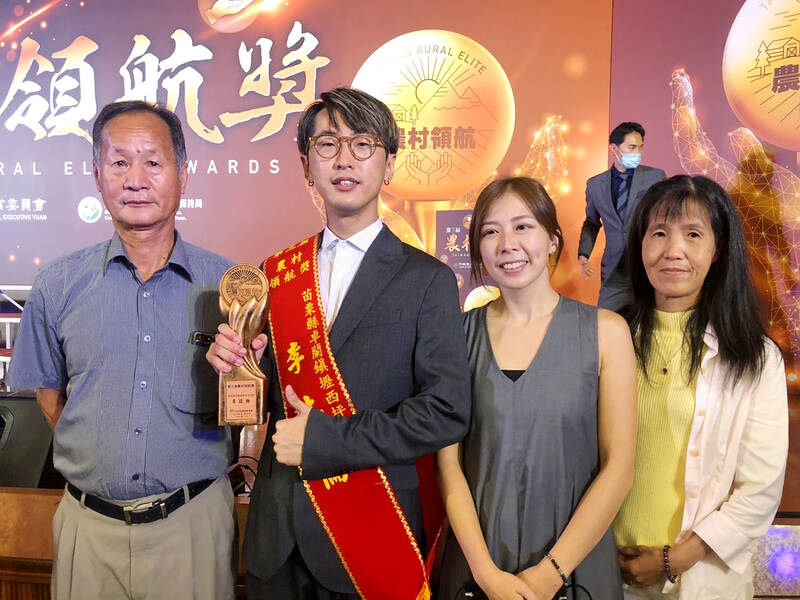 Lee Chih-lun, director of the Lisiping Community Development Association in Miaoli County's Jhuolan Township, second right, holds a Rural Elite Award from the Council of Agriculture yesterday.
Photo: Yang Yuan-ting, Taipei Times
The youngest honoree is 31-year-old Lee Chih-lun (李誌倫), part owner of an organic farm collective in Miaoli County's Jhuolan Township (卓蘭).
The son of two farmers, Lee nine years ago received support from the council's "Rural Up" youth competition to start planting bamboo, passion fruit, mushrooms and other crops.
Through the experience, he learned not just about agriculture, but also food processing and marketing, the council said.
A graduate of Chaoyang University of Technology's Department of Visual Communication and Design, Lee realized he could put his skills to use as convener of an agricultural collective.
He worked with 80 partners to create a farm where visitors can camp and experience rural life.
The farm produces more than 100 herbs, spices, fruits and vegetables every year that visitors can eat or use for cooking.
Since everything is produced organically with an eye to active ecological restoration, many protected animal species can be found there, including fireflies.
Most employees at the farm are in their teens or 20s, and come from a wide variety of backgrounds, offering a friendly atmosphere to visitors, Lee said.
Except for the level 3 partial lockdown last year, Lee said that the farm has seen about 30 percent more visitors on weekdays than before the COVID-19 pandemic.
Now that the borders are about to reopen, Lee said he is excited to introduce international tourists to rural Taiwanese culture.
Another recipient, Chen Yu-chai (陳玉釵), is the director of the Keliao (蚵寮) community in Yunlin County's Kouhu Township (口湖).
Apart from promoting local products and helping farmers develop clientele, Chen also set up a rural community center in her home's former pigsty.
Twelve years ago she converted the pigsty into the "Keliao School," providing afterschool care and counseling for children, as well as activities and meals for seniors.
The center has since become a collective home for children and seniors in the community, the council said.
Comments will be moderated. Keep comments relevant to the article. Remarks containing abusive and obscene language, personal attacks of any kind or promotion will be removed and the user banned. Final decision will be at the discretion of the Taipei Times.