Temple to unveil statue of Japan's Shinzo Abe
A life-size statue of former Japanese prime minister Shinzo Abe is to be unveiled on Saturday, ahead of his state funeral on Tuesday next week, a temple in Kaohsiung said.
Abe, the longest-serving prime minister in modern Japan, was fatally shot at close range during a campaign rally on July 8.
The statue is to stand in a garden of remembrance, which was created by Hongmaogang\'s (紅毛港) Baoan Temple (保安堂) in Kaohsiung's Fengshan District (鳳山) in memory of Abe.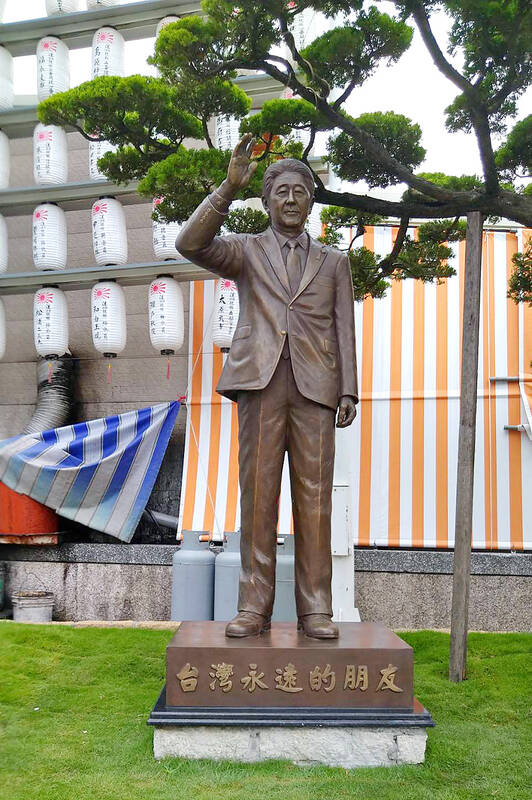 A statue of former Japanese prime minister Shinzo Abe stands in Kaohsiung's Fengshan District on Friday.
Photo courtesy of Chang Chi-hsiung
The phrase "always a friend to Taiwan" is engraved on the pedestal of the statue.
Temple administrators on Friday said that the statue and its pedestal, which took about two months to make, were delivered to the temple on Friday last week and erected in the garden, next to a stone where Abe's handwriting of the phrase "Taiwan jia you" (台灣加油) is engraved. Jia you is a Mandarin expression of encouragement.
On the other side of the statue is a cypress tree donated by Lee Ming-chuan (李明傳), board chairman of Woen Jinn Harbor Engineering Co (穩晉港灣), they added.
Temple president Chang Chi-hsiung (張吉雄) said that Abe's family was informed on Thursday last week about the statue and they were invited to the ceremony through a diplomatic channel.
The temple, the only one in Taiwan to worship Japanese naval officers, has a close relationship with Japan and once welcomed a visit by Yoji Koda, a former Japanese Maritime Self-Defense Force vice admiral.
Temple administrators added that a number of Taiwanese dignitaries have also been invited to attend the unveiling ceremony, where an orchestra is to perform Japanese music to commemorate Abe.
Comments will be moderated. Keep comments relevant to the article. Remarks containing abusive and obscene language, personal attacks of any kind or promotion will be removed and the user banned. Final decision will be at the discretion of the Taipei Times.