Rail repairs could take up to a month, minister says
HELPING Hand: The government is to provide NT$30,000 in disaster relief to displaced people, while those who have been severely injured would receive NT$250,000
Contingency bus services are transporting rail passengers between Hualien and Taitung counties on the nation's east coast after a magnitude 6.8 earthquake damaged facilities on Sunday, the Taiwan Railways Administration (TRA) said yesterday.
Until normal train services resume, the bus services would be provided every hour from 6am to 8pm between Hualien and Taitung railway stations, with stops in Jian (吉安), Shoufong (壽豐), Fonglin (鳳林), Guangfu (光復), Ruisuei (瑞穗), Yuli (玉里), Fuli (富里), Chihshang (池上), Guanshan (關山) and Luye (鹿野), the TRA said.
While most of the damaged railway tracks would be repaired by today and others by Sunday, Minister of Transportation and Communications Wang Kwo-tsai (王國材), who visited a railway station in Hualien County yesterday, said that parts of the tracks seriously buckled during the quake and would take up to a month to repair.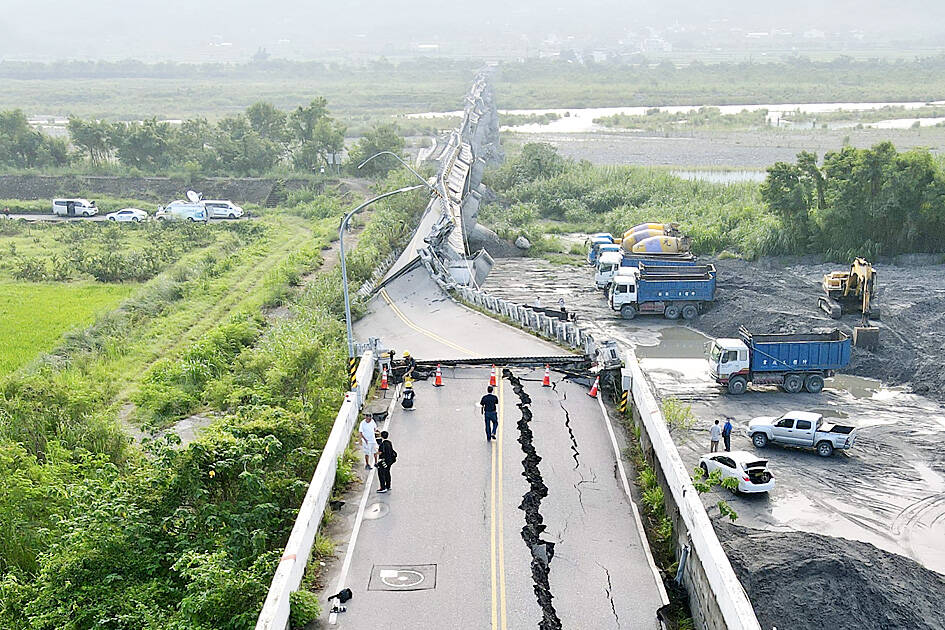 Kaoliao Bridge, which collapsed after a magnitude 6.8 earthquake hit Yuli Township in Hualien County, is pictured yesterday.
Photo: Ritchie B. Tongo / EPA-EFE
A displaced bridge and about 40 damaged electricity poles near Dongli Railway Station, as well as a broken cushion block under Wanlisi Bridge (萬里溪橋), are being repaired by technicians, the TRA said.
The Taiwan Transportation Safety Board is to launch an investigation into the derailment of Tzuchiang Express No. 402 at Dongli Station, with the six derailed carriages expected to be removed by Friday next week.
Meanwhile, about 400 tourists who were stranded on a mountainside when the earthquake hit have descended safely, as the nation yesterday continued to repair the damage caused by the quake.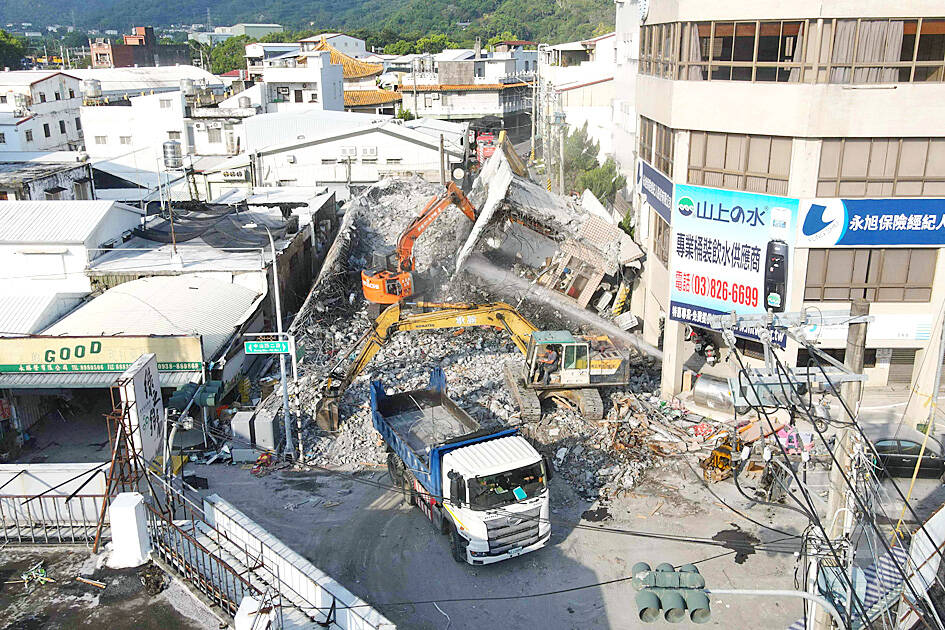 An aerial view shows workers yesterday taking down a collapsed building in Hualien County following a 6.8 magnitude earthquake on Sunday.
Photo: Sam Yeh / AFP
The stranded tourists descended from the mountain throughout the night, with the last 90 making it down yesterday.
The magnitude 6.8 earthquake, the worst to hit Taitung County in 49 years, occurred at 2:44pm on Sunday and caused destruction to roads, at least one building and other infrastructure.
A magnitude 6.4 earthquake had hit Taitung at 9:41pm on Saturday.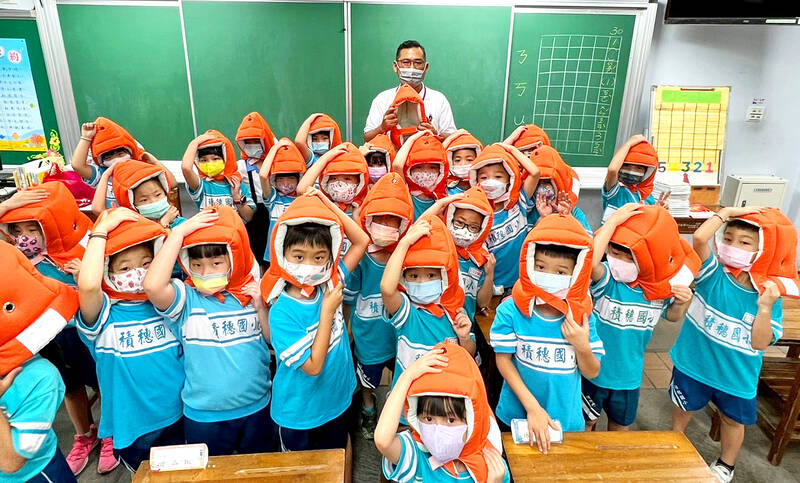 Students at Jisui Elementary School in New Taipei City's Jhonghe District wear protective hoods during an earthquake drill yesterday ahead of National Disaster Preparedness Day tomorrow.
Photo courtesy of the New Taipei City Education Department
The Central Emergency Operation Center yesterday said that the number of injuries sustained during a series of earthquakes at the weekend had risen to 164, while the death toll remained at one.
The government is to provide NT$30,000 (US$956.94) in disaster relief funding to displaced people, while those who have been severely injured would each receive NT$250,000, and the relatives of the dead and missing would be given NT$800,000, the center said.
The earthquake also caused an estimated NT$63.01 million of damage to 417 schools, with Taitung schools accounting for NT$14 million, the Ministry of Education said.
As of 11am yesterday more than 70 aftershocks had been recorded, with the largest reaching magnitude 5.9, the Central Weather Bureau's Seismological Center said.
The epicenter of the magnitude 5.9 aftershock, which occurred at 10:07am yesterday, was in Hualien's Jhuosi Township (卓溪) at a depth of 13.4km, the Seismological Center said.
There could be more earthquakes exceeding magnitude 5 in the next few days, Seismological Center Director Chen Kuo-chang (陳國昌) said.
Aftershocks of more than magnitude 4 are also possible for the rest of this week and they could occur over a longer period of time, although they would be smaller, Chen said.
After the magnitude 6.4 earthquake on Saturday, Chen said he had originally expected that the aftershocks could last for about a month, but the frequency of the aftershocks was not as intense as expected so he predicted that they would likely decrease.
For instance, there was an aftershock about every 10 minutes following Saturday's magnitude 6.4 quake, but then the frequency fell and is likely to drop further in the next five to seven days, he said.
Additional reporting by AP
Comments will be moderated. Keep comments relevant to the article. Remarks containing abusive and obscene language, personal attacks of any kind or promotion will be removed and the user banned. Final decision will be at the discretion of the Taipei Times.