Taiwanese in New York march for UN inclusion
ASSEMBLY: The group started the march in front of the Chinese consulate to express their opposition to Beijing's aggressive moves against Taiwan, the organizer said
A group of about 250 Taiwanese on Saturday marched along the streets of New York City calling for Taiwan's inclusion in the UN, which met for its general assembly on Tuesday last week.
The Taiwanese American Council of Greater New York, Taiwanese American Association of New York and Keep Taiwan Free, a grassroots movement, organized this year's "Keep Taiwan Free March & Rally," which was suspended for the past two years due to the COVID-19 pandemic.
During the march, a plane pulling a banner that read "Taiwan in UN now" flew above the Hudson River.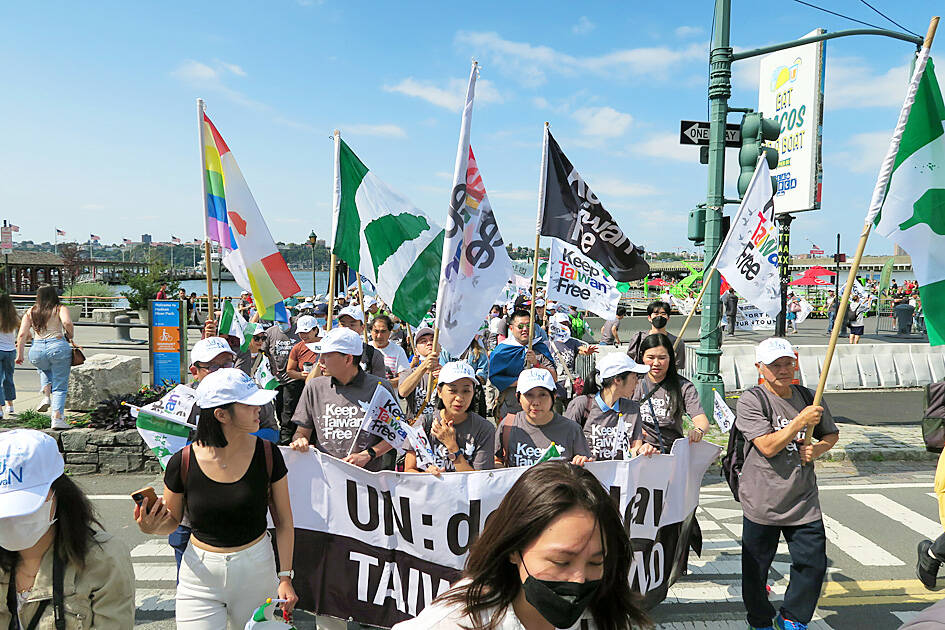 US-based Taiwanese and their supporters march in New York City on Saturday, calling for Taiwan's UN membership.
Photo: CNA
Participants gathered outside the Consulate General of the People's Republic of China and marched along West 42nd Street before reaching Union Square, traversing the 4.5km route in about 1.5 hours.
China launched a series of live-fire exercises and economic sanctions against Taiwan following US House of Representatives Speaker Nancy Pelosi's visit to Taipei last month, event organizer Wu Cheng-chun (吳丞峻) said.
The organizers chose the Chinese consulate as the starting point of the march to express their opposition to Beijing's aggression toward Taiwan, he said, adding that they hoped walking through the downtown area of Manhattan would attract more attention.
At Union Square, the group played songs familiar to Taiwanese, including Yearning for Spring (望春風), a classic Hoklo (commonly known as Taiwanese) song, and Island's Sunrise (島嶼天光), a song that has become one of the anthems of Taiwanese protest movements.
Visiting Democratic Progressive Party Legislator Fan Yun (范雲) and New Power Party Legislator Claire Wang (王婉諭) joined the march, chanting slogans such as "Keep Taiwan free," "UN for Taiwan" and "Taiwan is Taiwan."
Taipei Economic and Cultural Office in New York Director James Lee (李光章) and foreign representatives of allied nations also gave speeches at Union Square.
While leaders from around the world gather in New York to find solutions to complicated challenges the world is facing, "Taiwan's voice should be heard," Lee said.
"We sent a clear message to the world through today's march — it is now time for Taiwan to join the UN," he said.
Belizean Ambassador to the UN Carlos Fuller said that Belize, a diplomatic ally of Taiwan, "will always stay with you [Taiwan] and fight with you to ensure your voice is heard."
Taiwan lost its seat at the UN in 1971 when the global body recognized the People's Republic of China as the sole representative of China, and has since been excluded from its special agencies.
Comments will be moderated. Keep comments relevant to the article. Remarks containing abusive and obscene language, personal attacks of any kind or promotion will be removed and the user banned. Final decision will be at the discretion of the Taipei Times.