Forecast revised; typhoon sea warning more likely
UNCERTAINTY: An expert said Tropical Storm Muifa would move northwestward and linger to the east of Taiwan, but conditions mean certainty is impossible
A sea warning is likely to be issued tomorrow or Monday for Tropical Storm Muifa, which has been picking up strength and is likely to develop into a typhoon, the Central Weather Bureau (CWB) said yesterday, backtracking on a forecast a day earlier that said a sea warning was unlikely.
At 8am yesterday, the tropical storm was 1,010km southeast of Oluanpi (鵝鑾鼻), Taiwan's southernmost point, the bureau said.
The storm is expected to slow down starting tomorrow and linger in waters off eastern Taiwan due to a lack of air currents steering it, making a path difficult to predict, it said.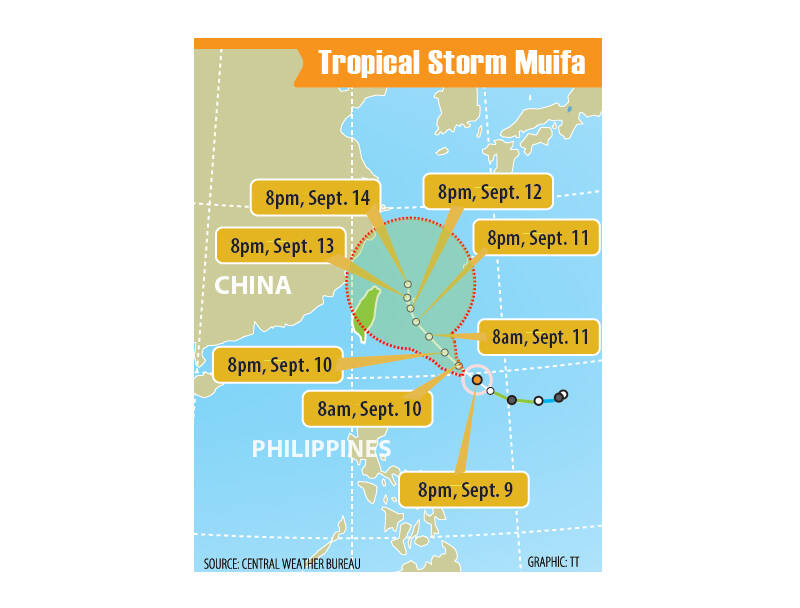 The storm is expected to travel just south of Japan's Ryukyu Islands and then veer north toward Ishigaki by about Wednesday, it said.
Bureau forecaster Chang Cheng-chuan (張承傳) said there was a high probability that a sea warning would be issued, but was not yet sure whether a land warning would be necessary.
Muifa's periphery could bring heavy rain to eastern and northeastern Taiwan, and the northern coast, Chang said.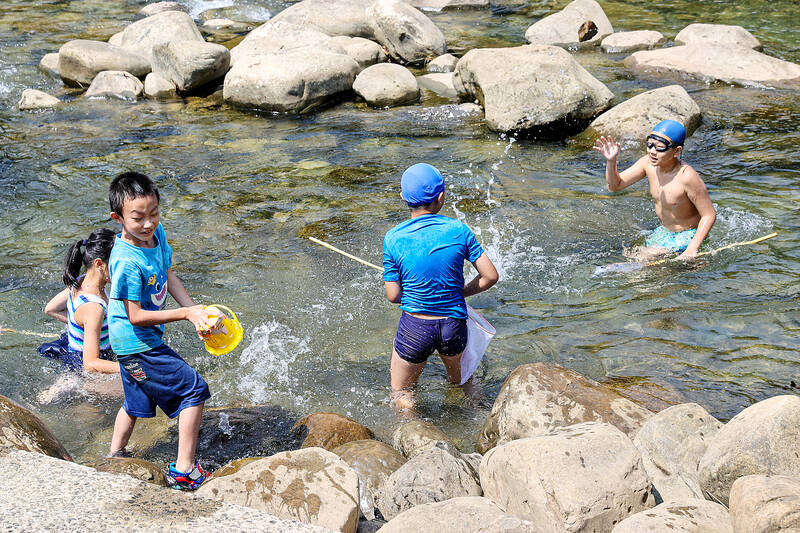 Children play in a river in New Taipei City's Sindian District yesterday.
Photo: CNA
Wu Der-rong (吳德榮), an associate professor of atmospheric sciences at National Central University, said forecasts he conducted using two different methods both showed that Muifa would move in a northwesterly direction and would linger in waters east of Taiwan, but complex atmospheric conditions meant it was impossible to be certain about anything except the general direction it was headed.
CWB forecasts show that the storm could develop into a typhoon, Wu said, adding that there were too many uncertainties to rule out the possibility of adverse weather effects on Taiwan.
Yesterday's sunny weather is likely to continue into today, the CWB said, although residents of northern and eastern Taiwan should expect brief and localized showers from this evening to Wednesday.
Comments will be moderated. Keep comments relevant to the article. Remarks containing abusive and obscene language, personal attacks of any kind or promotion will be removed and the user banned. Final decision will be at the discretion of the Taipei Times.