WRA eases Keelung water restrictions after typhoon
The Water Resources Agency (WRA) on Monday said it eased water usage restrictions in Keelung because of rainfall from Super Typhoon Hinnamnor and expected precipitation.
The typhoon brought about 35.7cm of rain to the city between Thursday and Monday, replenishing the Keelung River (基隆河), which enabled Taiwan Water Corp to divert water from the river into the Sinshan Reservoir (新山水庫), the agency said in a statement.
More rain is expected from northeasterly weather patterns, the Central Weather Bureau said, which should further boost water reserves.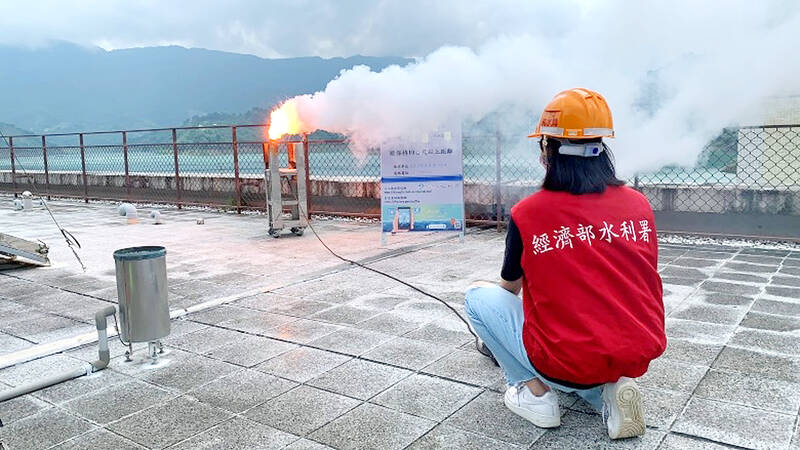 A Water Resources Agency employee yesterday oversees a cloud-seeding operation over Zengwen Reservoir in Chiayi County, as the water level remained at about 53 percent despite rain brought by Super Typhoon Hinnamnor.
Photo courtesy of the Ministry of Economic Affairs
However, as the reservoir, which primarily serves Keelung, remains at less than 60 percent capacity, water restrictions imposed on the city would only be eased and not lifted, the WRA said.
A "yellow" water supply alert in Keelung and New Taipei City's Sijhih District (汐止) that went into effect on Saturday — under which water pressure was reduced from 11pm to 5am — was on Monday lowered to "green," which means residents should conserve water.
A green alert imposed in Tainan on Aug. 27 would remain in place, as the typhoon had little effect on Chiayi County's Zengwen Reservoir (曾文水庫), which remains at below 50 percent capacity, the WRA said.
Hinnamnor brought approximately 420 million tonnes of water to Taiwan's reservoirs, the agency said.
The Shihmen Reservoir (石門水庫) and the Feitsui Reservoir (翡翠水庫) in northern Taiwan received the most water from the typhoon among the nation's reservoirs, ensuring that Taipei and New Taipei City should have enough water until the end of the year.
Comments will be moderated. Keep comments relevant to the article. Remarks containing abusive and obscene language, personal attacks of any kind or promotion will be removed and the user banned. Final decision will be at the discretion of the Taipei Times.