New Moderna vaccine to be given in 2 phases
HOLIDAY CAUTION: Long-term care facility residents should follow virus prevention measures after visiting family during the Mid-Autumn Festival, the CECC said
Moderna's bivalent COVID-19 vaccine is to be administered in two phases, with the recommended interval between booster shots revised to at least three months, the Central Epidemic Command Center (CECC) said yesterday, as it reported 36,393 new local infections.
The Advisory Committee on Immunization Practices made the recommendation for Moderna's second-generation bivalent vaccine after a meeting on Monday, when it also expanded eligibility for the Novavax vaccine to include adolescents aged 12 to 17, said Centers for Disease Control (CDC) Deputy Director-General Chuang Jen-hsiang (莊人祥), who is the CECC's spokesman.
People aged 65 or older, long-term care facility residents and those aged 18 or older who are immunocompromised or immunosuppressed are eligible for Moderna's updated vaccine in the first phase, he said.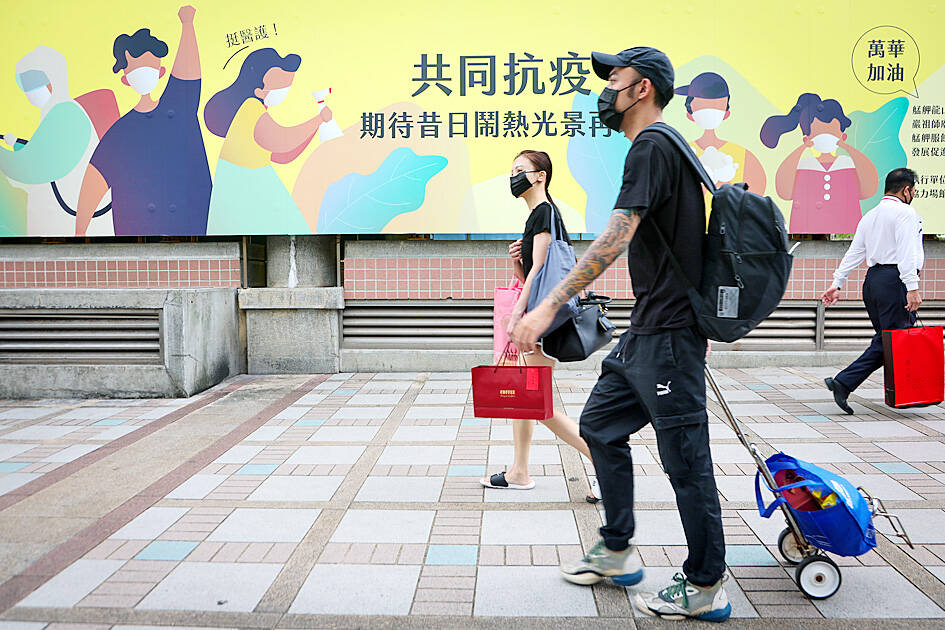 People walk past a banner promoting COVID-19 prevention measures in Taipei's Wanhua District yesterday.
Photo: CNA
The second phase would cover people at high risk of COVID-19 infection, including medical workers, airport and port workers, airline crews, quarantine-related workers, care facility workers, people aged 50 to 64, and those aged 18 or older who need to travel abroad for diplomatic, public affairs or business reasons, he said.
People from the eligible groups who have received two doses of a primary series of a COVID-19 vaccine and two booster shots, with the latest administered more than three months ago, are allowed to receive a bivalent vaccine as a fifth dose, but cannot take the current first-generation booster shots as a fifth dose, he said.
The committee also revised the recommended minimum interval between boosters to three months, including between the last dose of the primary series and the first booster, he said.
Regarding the Novavax vaccine, the primary series is two doses administered at least four weeks apart, he said, adding that it can be used as a booster or as part of a mix-and-match regimen with the primary series consisting of another brand.
Dates for vaccinations would be announced later based on vaccine supply and local governments' plans, he said.
The center yesterday confirmed 36,393 new local COVID-19 cases, 314 imported cases and 21 deaths, he said, adding that local cases increased by 16.7 percent compared with Tuesday last week.
CDC Deputy Director-General Philip Lo (羅一鈞), deputy head of the CECC's medical response division, said the youngest fatality was a 16-year-old girl, who had a chronic neurological disease and was unvaccinated.
A total of 14 severe COVID-19 cases have been reported among adolescents, including five deaths, and eight of the cases, including four of the deceased, developed pneumonia and had chronic diseases, mostly neurological disorders, he said.
The center said that residents of long-term care facilities preparing to visit family at their homes should follow COVID-19 prevention measures, including getting tested seven days before returning to a facility if they had any "high-risk exposure."
Lo said high-risk exposure includes having direct contact with a confirmed case; someone under home isolation, quarantine or self-disease prevention; or someone who has suspected COVID-19 symptoms.
Long-term care residents must test negative before returning to their facility; take two more tests on the third and fourth day, as well as the seventh day after they returned; and avoid attending group activities within seven days of returning, he said.
Those who do not spend the night outside the long-term care facility would not need to test for COVID-19 upon returning, Lo said, adding that they are advised to use the Taiwan Social Distancing (台灣社交距離) app.
Comments will be moderated. Keep comments relevant to the article. Remarks containing abusive and obscene language, personal attacks of any kind or promotion will be removed and the user banned. Final decision will be at the discretion of the Taipei Times.