MOFA eyes more exchanges next year
GLOBAL OUTREACH: The ministry plans to host more international dignitaries and eyes cooperation with foreign governments, especially those in eastern Europe
The Ministry of Foreign Affairs (MOFA) has proposed a budget of NT$30.4 billion (US$993.6 million) for fiscal 2023, an increase of NT$1.52 billion from this year, due to an increase in planned international exchanges, the ministry said in its budget report to the Legislative Yuan.
The ministry laid out plans for more international collaboration, as well as greater participation in international conferences and exchanges — the latter seeing an increase of NT$176 million in projected spending for a total of NT$2.14 billion.
The money would go toward participation in international organizations, the hosting of and participation in international exchanges, and the hosting and reception of international dignitaries, the report said.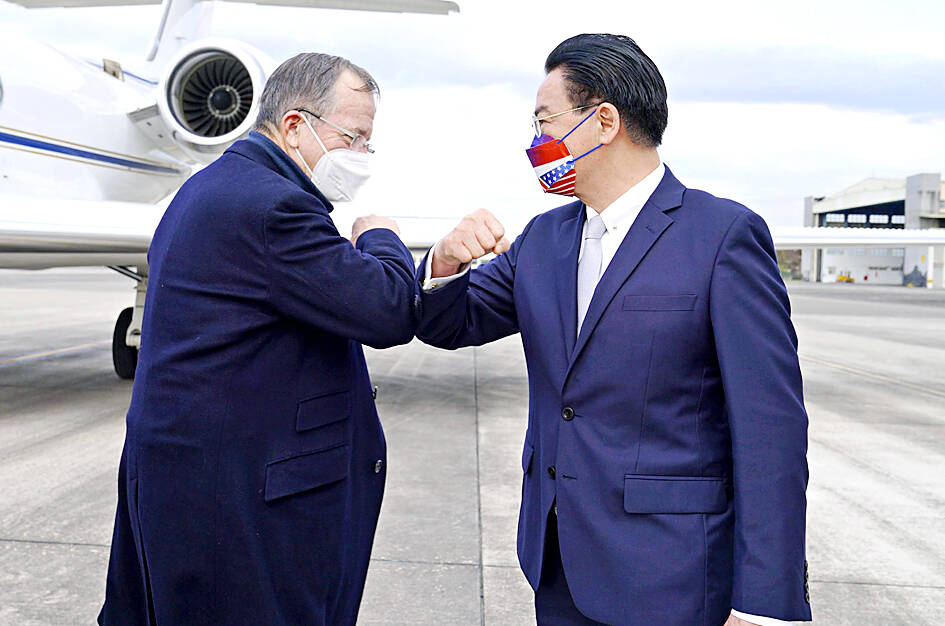 Minister of Foreign Affairs Joseph Wu, right, greets former US Joint Chiefs of Staff chairman Mike Mullen as he arrives at Taipei International Airport (Songshan airport) on March 1.
Photo: AP
The ministry expects to host 2,368 meetings with foreign guests next year — 304 more than this year.
The planned meetings would involve 185 visits from Africa, 420 visits from the Asia-Pacific region, 444 visits from Europe, 843 visits from the US or Canada, and 253 visits from Central and South America.
The ministry also plans to host 38 people from UN-affiliated organizations, eight from the WTO, 135 from international media, 34 representatives of foreign non-governmental organizations, and eight on visits related to improving the nation's information-security infrastructure.
The budget for visiting dignitaries would be spent on airline tickets, meals and accommodation, transportation within Taiwan, insurance and other related costs, it said.
The budget for cooperation with and assistance for foreign countries would account for NT$14.43 billion — roughly half of the proposed budget and an increase of NT$1.75 billion over this year.
New areas of spending in this field would include projects with Lithuania, Slovakia, the Czech Republic and other countries on bolstering democratic resilience, as well as training semiconductor talent.
A total of NT$2.1 billion has been allocated for international aid and reconstruction assistance in response to major disasters.
The ministry has proposed a special budget of NT$1.8 billion to assist Ukraine with refugee resettlement and post-war recovery.
In related news, the Cabinet's Ill-gotten Party Assets Settlement Committee has submitted a budget of NT$51.67 million for next year — a decrease of NT$460,000 from this year.
The committee submitted its budget last week alongside other government bodies, ahead of a legislative review, which is to take place this month.
The committee's proposed budget comprises NT$38.68 million for general administrative expenses, NT$11.56 million for handling ill-gotten party assets it finds in its investigations, a reserve fund of NT$400,000, an overseas travel budget of NT$425,000 and a budget of NT$600,000 for incentives to aid investigations.
The committee said it plans to visit countries in Europe next year to "observe how other countries have dealt with ill-gotten party assets, and how they have promoted transitional justice efforts."
It said it would "learn from the experiences of governments and civic organizations in different countries and their design of laws and implementation of policies related to" the issues.
Each country in Europe handled its democratization process differently, so it would be useful to observe those differences and learn from them, it said.
The proposed budget includes NT$600,000 for incentives to help the committee investigate ill-gotten party assets, which it said is in accordance with Article 13 of the Act Governing the Settlement of Ill-gotten Properties by Political Parties and Their Affiliate Organizations (政黨及其附隨組織不當取得財產處理條例).
The committee from January to June investigated 15 cases following tip-offs from whistle-blowers and petitions, Executive Yuan data showed.
Comments will be moderated. Keep comments relevant to the article. Remarks containing abusive and obscene language, personal attacks of any kind or promotion will be removed and the user banned. Final decision will be at the discretion of the Taipei Times.