UMC founder faces defamation suit for CTiTV quip
'TRAP QUESTIONS': Robert Tsao said that the television network spreads rumors and disinformation as he announced a fund to create a militia to protect Taiwan
United Microelectronics Corp (UMC) founder Robert Tsao (曹興誠) on Thursday called CTiTV a "bandit network" during a news conference in which the news channel said he bullied one of its journalists, later saying that it would sue Tsao for defamation.
Tsao, 75, said at the conference that he would donate NT$1 billion (US$32.67 million) to train a militia of 3.3 million people to help defend against a Chinese attack.
Tsao had a dispute with a CTiTV reporter at the conference, and the station later reported that Tsao bullied the journalist.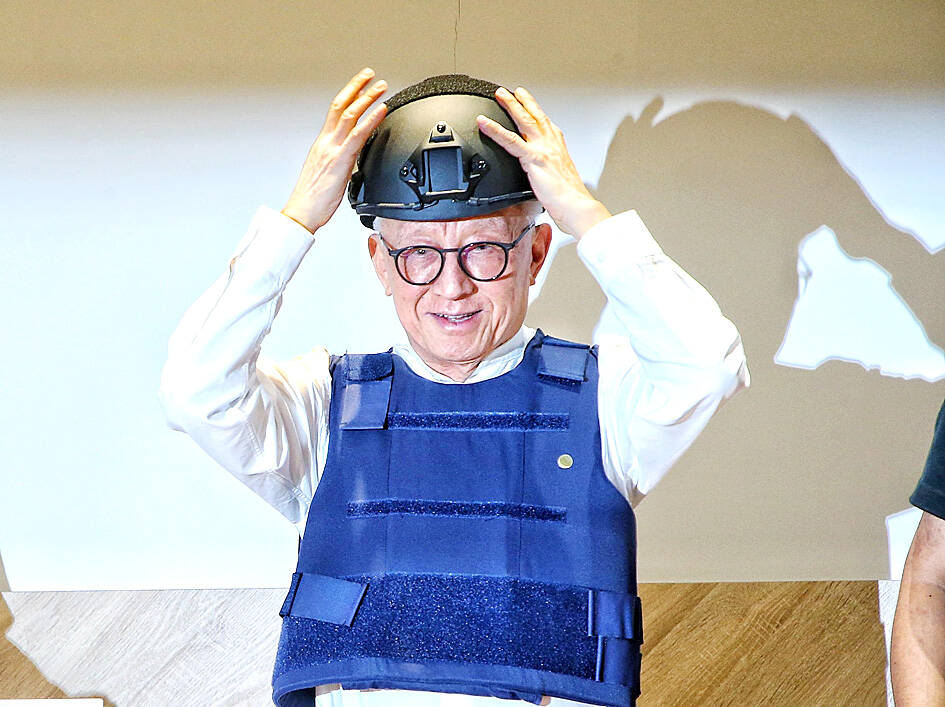 United Microelectronics Corp founder Robert Tsao on Thursday wears protective combat gear at a news conference in Taipei.
Photo: CNA
Tsao had criticized China's "zero COVID" policy as foolish, saying that the virus is impossible to eradicate, and that Chinese leadership had "muddled thinking" in its approach to managing the disease.
"Former minister of health Chen Shih-chung (陳時中) also initiated 'zero COVID' measures," a reporter said. "Are you questioning Chen's policy?"
"This question is a trap," Tsao said, then he asked which media outlet the reporter worked for.
Upon learning that the reporter was from CTiTV, Tsao said that it was a "bandit network," adding that he would not respond to the question.
The term "bandit" once referred to Chinese communists in Taiwanese politics.
"So, CTiTV cannot ask questions? Is this news conference now for only one voice?" the reporter asked.
"CTiTV can say whatever it wants. You can spread rumors," Tsao said, adding: "Why should I waste my time?"
He also urged people not to watch CTiTV.
Lawyer Chen Yi-kai (陳怡凱) rejected CTiTV's accusation that Tsao was wielding undue power as a prominent business figure to intimidate a journalist.
"No media outlet has the authority to demand that Tsao respond to questions. Tsao has no obligation to do so," he said.
"It was not bullying, as there was no infringement on any person's rights," he said.
Government officials might have a duty to answer questions from the media, but not private citizens, he said.
Chinese democracy activist Wuer Kaixi, who lives in exile in Taiwan, defended Tsao on Facebook.
"Tsao refused to answer because he thought the CTiTV reporter had asked a hostile question. Tsao went on to say that CTiTV had often spread rumors and disinformation, and urged people to boycott the outlet. This absolutely did not violate the principle of media freedom," he said.
Wuer Kaixi serves as an honorary board member for Reporters Without Borders in Taiwan.
"Robert Tsao made a NT$1 billion donation. Does that give him the power to put himself in a media spotlight for a news conference and reject reporters at will?" CTiTV said in a statement.
"Calling CTiTV a 'bandit network' is obviously spiteful defamation. We shall take legal action to protect the reputation for all staffers here at CTiTV," it said.
Comments will be moderated. Keep comments relevant to the article. Remarks containing abusive and obscene language, personal attacks of any kind or promotion will be removed and the user banned. Final decision will be at the discretion of the Taipei Times.