Simon Chang denies plagiarism allegations
Chinese Nationalist Party (KMT) Taoyuan mayoral candidate Simon Chang (張善政) yesterday denied plagiarizing Council of Agriculture (COA) reports during his time at Acer Inc, weeks after his opponent withdrew from the race over separate plagiarism allegations.
COA Minister Chen Chi-chung (陳吉仲) said that the council would look into allegations involving research sponsored by the agency.
While working as vice president at Acer, Chang applied to serve as principal investigator in a COA research project from 2007 to 2009, Chinese-language Mirror Media reported.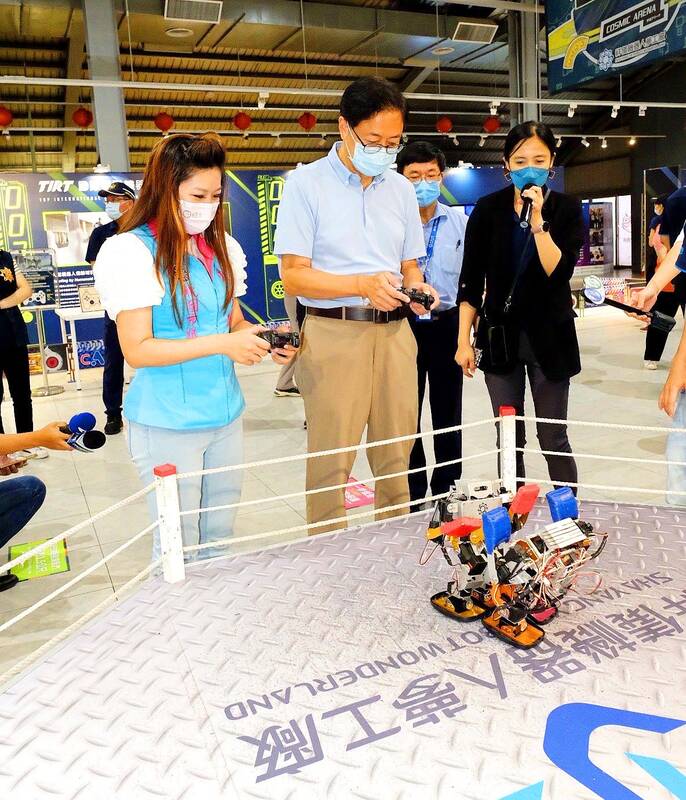 Chinese Nationalist Party (KMT) Taoyuan mayoral candidate Simon Chang, center, visits Sha Yang Ye Robot Wonderland in Taoyuan yesterday.
Photo: Chen En-huei, Taipei Times
The council approved his request and provided funding of NT$57.36 million (US$1.88 million at the current exchange rate), it said.
The reports prepared by Chang's team fail to cite the sources of some translated texts, and contain content copied directly from media reports, journals and the council's own publications, although the final report was never made public, Mirror Media said.
When Chang's former opponent in the Taoyuan mayoral race, former Hsinchu mayor Lin Chih-chien (林智堅), faced allegations that he plagiarized his two master's theses, Chang said that "one should drop out of the election when one loses one's integrity," it said.
Although the council is not academia, research commissioned by the government should adhere to certain regulations and be checked by the Directorate-General of Budget, Accounting and Statistics before the project is closed, Chen said.
The council would explain the case to the public once everything has been clarified, he added.
In response, Chang said he was commissioned by the council's information management center to provide information on the development of e-agriculture in other countries to research institutions in Taiwan.
Researchers collected information from journals and media reports to introduce new technologies to Taiwan, which is different from writing a thesis, he added.
His team members worked hard to gather the information, he said, adding that while there might not be a list of sources at the end of the report, "for example, one of our presentations listed the main Japanese sources."
The project also involved holding seminars at agricultural research institutions across Taiwan to promote e-agriculture information, he said.
He is "very proud" of the project's results, Chang said, adding that it is regrettable that this contribution to the nation's e-agriculture development is being used to defame him.
Chang said he is also sorry for affecting Acer and Google, where he worked as chief operating officer for Asia-Pacific infrastructure.
"Our opponents should pursue a more positive way to compete instead of attempting to discredit a job that has been beneficial to the nation's development by comparing it to a thesis plagiarism issue," he said.
Taipei City Councilor Wang Hung-wei (王鴻薇) of the KMT told a news conference that if the whistle-blower's accusations are well-founded, they should report the case, otherwise the incident would "merely be a political act."
It is impossible to spend NT$57.36 million on a research project only to have a professor gather information, Democratic Progressive Party Legislator Kuo Kuo-wen (郭國文) said.
Chang "should be well aware of what plagiarism is, as he was an academic and a professor at National Taiwan University," he said.
He added that Chang "is not qualified as a candidate" and asked him to "think twice before officially entering the election," or the case might affect elections across the country.
Acer in a statement said that the project summarized agricultural development in Taiwan, applications of technology in various agencies and outcomes of e-agriculture implemented abroad.
Researchers also conducted experiments to test new technologies, such as radio frequency identification and wireless sensor networks, it added.
Additional reporting by Shih Hsiao-kuang,
Hsieh Chun-lin and CNA
Comments will be moderated. Keep comments relevant to the article. Remarks containing abusive and obscene language, personal attacks of any kind or promotion will be removed and the user banned. Final decision will be at the discretion of the Taipei Times.