KMT says Hsia spoke up for Taiwan
CHINA THREATS: Criticisms of the KMT vice chair's China trip continued, with some saying the party has lost touch with the public and is left groveling at China's feet
As his China visit continued to spark controversy at home, the Chinese Nationalist Party (KMT) yesterday said that KMT Vice Chairman Andrew Hsia (夏立言) spoke up for Taiwan's rights and received positive feedback during his meeting with China's Taiwan Affairs Office (TAO) Vice Minister Chen Yuanfeng (陳元豐) on Thursday.
Hsia and his delegation left for China shortly after Beijing launched large-scale military exercises around Taiwan following a visit by US House of Representatives Speaker Nancy Pelosi.
Hsia dined with a delegation led by Chen in Shanghai, during which he also met with TAO Minister Zhang Zhijun (張志軍).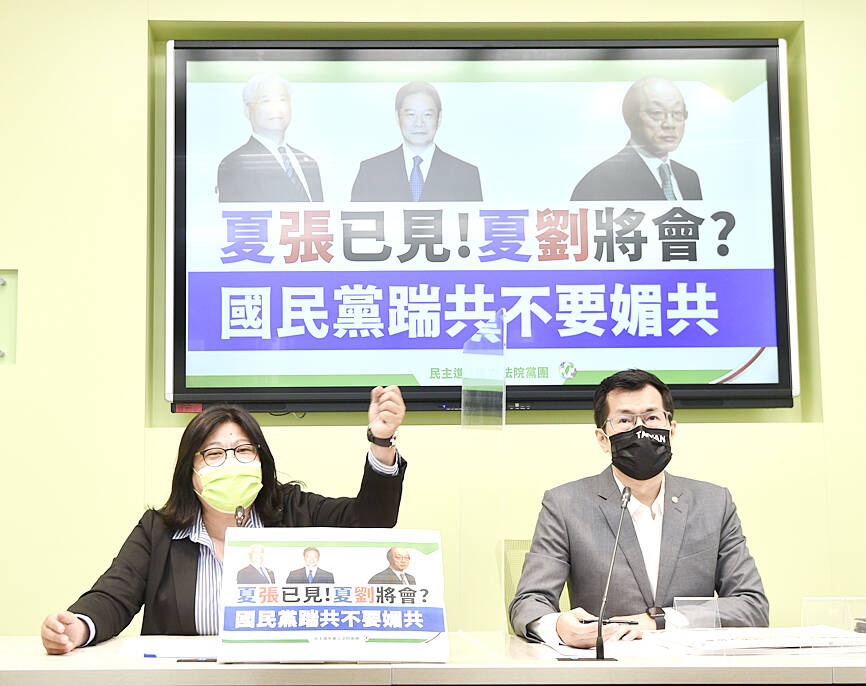 Democratic Progressive Party legislators Wang Mei-hui, left, and Lo Chih-cheng at a news conference in Taipei on Thursday condemn Chinese Nationalist Party (KMT) Vice Chairman Andrew Hsia's meeting with Chinese officials.
Photo: Lo Pei-te, Taipei Times
Chen said that tensions across the Taiwan Strait are a result of the Democratic Progressive Party's (DPP) provocations and outside forces' attempts to use Taiwan to contain China, China's state-run Xinhua news agency reported.
He added that the "countermeasure" taken by China was "a legitimate and justified act," it reported.
The Mainland Affairs Council in Taipei yesterday reiterated that it had tried to dissuade the KMT from visiting China at this time and that Taiwanese public opinion is strongly opposed to Chinese military threats.
It also protested China's new round of military exercises in recent days, as well as Hsia's delegation for failing to bring up the issue during talks with Chinese officials.
The KMT said that Hsia and Chinese officials discussed issues including human trafficking to Cambodia, the "early harvest list" of the Economic Cooperation Framework Agreement (ECFA), the "small three links" between China and Taiwan and the inspection and quarantine of agricultural products.
Beijing said it would provide assistance to Taiwanese stranded in Cambodia and welcomed the reopening of the "small three links," the party said.
Unwilling to see that the strained relationship with Taiwan affects the ECFA or its early harvest list, China hopes to boost exchanges and collaborations with Taiwan in all aspects and bring prosperity to both sides of the Strait, it said.
Hsia said that he experienced firsthand the difficulty of traveling across the Strait during his trip, adding that he hoped both sides could maintain effective communication and work together toward peace and stability.
In Taipei, politicians continued to criticize his trip.
DPP caucus deputy secretary-general Wang Mei-hui (王美惠) said the KMT has no right to represent Taiwan in talks with China, and in doing so, Hsia has undermined Taiwan's national interests.
"The KMT has lost power and is no longer the ruling party because the mainstream public do not agree with its political stance and policies," Wang said. "Now it has turned to groveling, becoming subservient to China. In doing so, it has degraded the dignity of Taiwanese."
DPP Legislator Chao Tien-lin (趙天麟) said that even before Hsia left for China, the trip had already drawn a strong reaction in Taiwan and abroad, so Hsia made a promise that the delegation "would not meet with high-ranking Chinese officials or discuss politics."
However, "based on what has happened, people can no longer trust the KMT, as it once again broke its promises," he said.
The Taiwan Statebuilding Party said in a news release: "As they [the delegation] are now visiting China, we have to ask Hsia and his KMT colleagues: Do you have the guts to tell Chinese officials that Taiwan does not belong to China?"
The statement said the KMT is conducting secret negotiations to sell out Taiwan, and that Hsia and his delegation are competing against other KMT officials to curry favor with Beijing, seeking to become proxy representatives for China.
Additional reporting by Chen Cheng-yu
Comments will be moderated. Keep comments relevant to the article. Remarks containing abusive and obscene language, personal attacks of any kind or promotion will be removed and the user banned. Final decision will be at the discretion of the Taipei Times.