'Liberty Times' invites Pompeo to Kaohsiung event
Former US secretary of state Mike Pompeo has been invited to give a speech on Sept. 27 at the first Global Taiwan Business Forum, which is organized by the Liberty Times (the Taipei Times' sister newspaper).
The event in Kaohsiung is to welcome more than 300 Taiwanese businesspeople from around the world and business leaders based in Taiwan.
The topic of Pompeo's speech would be: "Seeing Taiwan's post-COVID-19 pandemic business opportunities from the perspective of international economic and trade trends."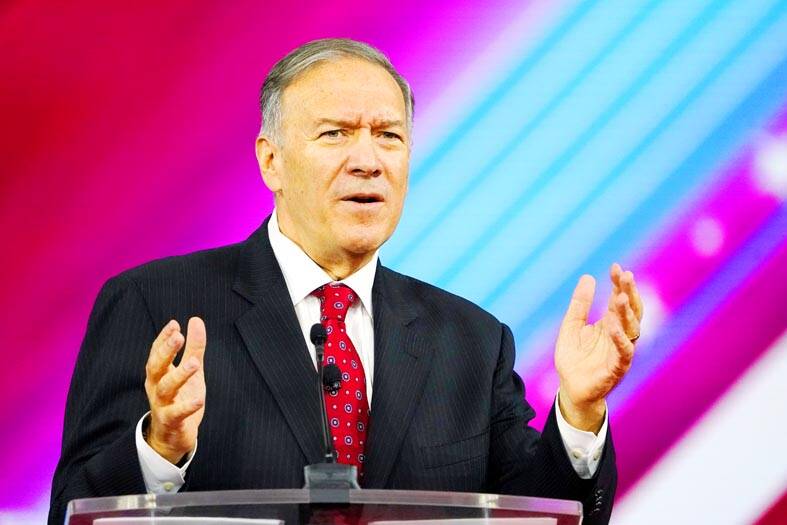 Former Secretary of State Mike Pompeo speaks at the Conservative Political Action Conference on Feb. 25.
Photo: AP
Pompeo is also to give the opening speech at the annual meeting of the World Taiwanese Chambers of Commerce on Sept. 28, as well as visit some Taiwanese businesses.
Leaders of Taiwanese technology companies and firms in conventional industries have been invited to share their views at the Sept. 27 forum, which is themed: "Leading Taiwan's economic and trade development from a macroeconomic point of view."
Topics are to be international expansion, rebuilding supply chains and industry innovation.
Participants are to exchange views on how Taiwanese companies can deal with global central banks' rate hikes and inflation while seeking to expand their businesses.
The forum aims to bring Taiwanese industry, technology and talent to the world stage by enabling business leaders from Taiwan and elsewhere to share ideas on industrial development and the economy.
As a bridge between Taiwanese businesspeople around the world and local companies, the forum seeks to create collaboration opportunities and expand the global market for local businesses.
The forum is to take place from 9am to 12pm at the Kaohsiung Marriott Hotel.
Comments will be moderated. Keep comments relevant to the article. Remarks containing abusive and obscene language, personal attacks of any kind or promotion will be removed and the user banned. Final decision will be at the discretion of the Taipei Times.