Draft act to regulate freedoms: NPP
The government intends to regulate online speech by introducing a draft digital intermediary services act, the New Power Party (NPP) caucus told a news conference in Taipei yesterday.
Although issues of Internet governance are nothing new, the question is how such laws should be designed and enforced to curb cybercrime and other problems while preventing the government censoring online speech in the name of fighting disinformation and crime, NPP caucus whip Chiu Hsien-chih (邱顯智) said.
If laws related to Internet governance are not stipulated carefully, freedom to criticize the government would be lost, which could be the death knell for freedom and democracy, Chiu said.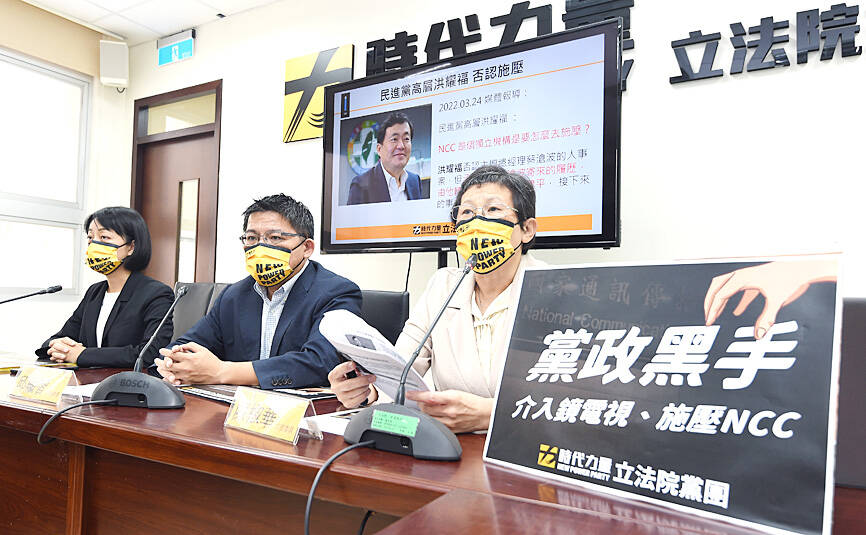 From left, New Power Party (NPP) Legislator Claire Wang, NPP caucus whip Chiu Hsien-chih and NPP Chairwoman Chen Jiau-hua yesterday attend a news conference in Taipei on the digital intermediary service draft act.
Photo: Liang Cheng-hui, Taipei Times
In 2013, before she became president, Tsai Ing-wen (蔡英文), the Democratic Progressive Party's chairperson, opposed the then-Chinese Nationalist Party (KMT) government's proposed amendment to Article 9 of the now-defunct telecommunications act, declaring that "diverse and innovative online platforms would lose their power to enliven society if administrative authorities use unclear laws to restrict people's activities on the Internet," he said.
"Has President Tsai forgotten what she said in 2013? Has she changed her mind since she took on the top job?" Chiu asked.
Based on the draft digital act, online platform operators must place an alert next to a message if administrative agencies consider it to be unsubstantiated or illegal, Chiu said.
If a court agrees that an information restraining order should be issued, it must do so within 48 hours of receiving a request from a government agency, Chiu said, adding that the rules would allow administrative agencies to arbitrarily restrict online activity.
The National Communications Commission (NCC) told the public that it had consulted similar regulations in the EU and UK when drafting the bill, but the EU's Digital Services Act requires platform operators to enhance users' ability to discern the credibility and quality of information they consume, rather than putting alerts next to content at the request of government agencies, Chiu said.
The UK's draft online safety bill does not require courts to rule within 48 hours whether online content should be taken down, he said, adding that the conditions under which an information restraining order can be requested are clearer and stricter than the ones stipulated by the NCC.
The NCC should draft a feasible act that would not infringe on freedom of speech by adopting a bottom-up approach, while communicating with platform operators and civil groups, he said.
"Instead, the commission adopted a top-down approach, which generates concerns for impeding speech and is not consistent with legislation in other countries," Chiu said. "People have reason to believe that the government is extending its tentacles into the Internet."
NPP Legislator Claire Wang (王婉諭) said that the draft act would have little to no effect on platform operators if they do not have offices in Taiwan.
The NCC should not work behind closed doors, nor should it formulate unrealistic and unenforceable regulations, Wang said.
Comments will be moderated. Keep comments relevant to the article. Remarks containing abusive and obscene language, personal attacks of any kind or promotion will be removed and the user banned. Final decision will be at the discretion of the Taipei Times.