KMT calls for aid for trafficking victims
'TRASH TALK': The government is deflecting responsibility by blaming victims of trafficking and criticizing a Youtuber for discussing a case in Dubai, the KMT said
Minister of Foreign Affairs Joseph Wu (吳釗燮) should not cite "the legacy of China's Belt and Road Initiative" as a cause for human trafficking job scams in Cambodia, the Chinese Nationalist Party (KMT) caucus said yesterday, urging the government to propose measures to help Taiwanese victims of overseas deception.
The KMT caucus also called on the Ministry of Foreign Affairs (MOFA) to support Youtuber Hao-pang Bump (好棒Bump) in his efforts to rescue Taiwanese victims.
Hao-pang Bump in March said in a video that the Taipei Commercial Office in Dubai refused to help a Taiwanese surnamed Lin (林) who went to work for a Chinese gambling company and ended up in an illegal job in Dubai.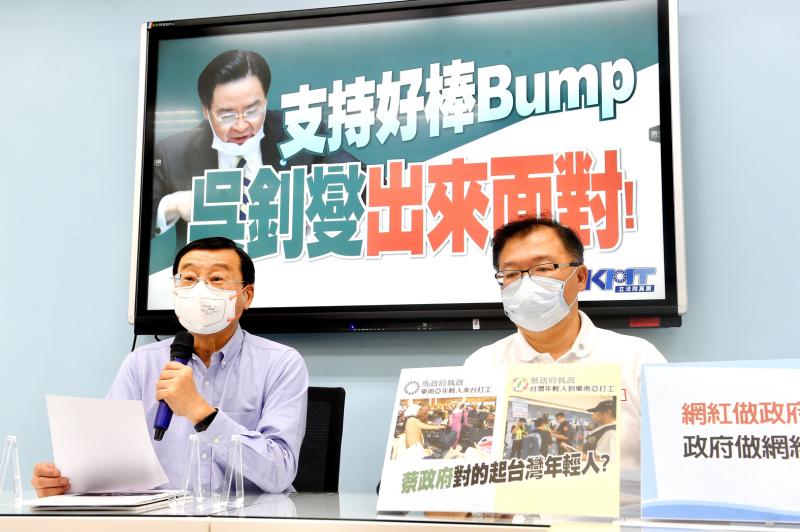 Chinese Nationalist Party (KMT) Legislator William Tseng, left, and KMT Legislator Lee De-wei attend a news conference in Taipei yesterday.
Photo: George Tsorng, Taipei Times
More recently, he shared videos showing him helping rescue Taiwanese in Cambodia.
The ministry issued a statement on Tuesday saying that the office assisted Lin upon receiving the report that he was trapped in Dubai, and asked the Youtuber not to "spread rumors to mislead Taiwanese."
However, the ministry thanked Hao-pang Bump for his efforts two days later.
KMT caucus whip William Tseng (曾銘宗) at a news conference yesterday said the ministry was "arrogant and overbearing," and "bullied" the Youtuber after he contributed to the country.
Tseng thanked Hao-pang Bump for helping to save Taiwanese and promised that his caucus would make efforts to return more defrauded citizens.
Wu calling trafficking incidents "the legacy of China's Belt and Road Initiative" was "trash talk," Tseng said, adding that he should propose measures to rescue Taiwanese who become trapped overseas by job scams.
KMT caucus deputy secretary-general Lee De-wei (李德維) criticized Wu for attacking the Youtuber, and called on the government to thoroughly investigate the allegation regarding Lin and keep track of how many Taiwanese go missing overseas.
KMT Legislator Cheng Cheng-chien (鄭正鈐), who returned from Cambodia on Thursday seeking to free Taiwanese held against their will, said via videoconference that the ministry steered responsibility away from the government by "blaming the victims and the rescuers."
KMT Legislator Hung Meng-kai (洪孟楷), a member of Cheng's delegation, said there are not enough Taiwanese diplomatic personnel in Cambodia, and the director of the Taipei Economic and Cultural Office in Ho Chi Minh City, which concurrently heads Cambodian affairs, just took office last month.
The ministry should send envoys to Cambodia, he said.
The government is working to assist with the return of hundreds of Taiwanese allegedly being held by human traffickers in Cambodia, the ministry said.
Exercising consular jurisdiction overseas is "a job the Taiwan government will never outsource to another country," the ministry said after the Chinese embassy in Cambodia offered to help free Taiwanese victims.
The situation has been complicated by Cambodia being a close ally of China. Phnom Penh does not recognize Taiwan or engage in any official contact with Taipei.
Additional reporting by Lu Yi-hsuan and CNA
Comments will be moderated. Keep comments relevant to the article. Remarks containing abusive and obscene language, personal attacks of any kind or promotion will be removed and the user banned. Final decision will be at the discretion of the Taipei Times.