Sixteen arrested in push to stop human trafficking
CAMBODIAN OPERATIONS: Authorities said that police units in Taiwan have conducted sweeps targeting 20 criminal organizations, with 67 people detained recently
Police have arrested 16 people on suspicion that they colluded with foreign crime organizations to lure Taiwanese to Cambodia with false promises of high-paying jobs.
Taiwanese who have been rescued from confinement in Cambodia have reported being beaten or shocked, or physically abused in other ways by people running human trafficking operations at hotels and resorts in Sihanoukville, Cambodia.
One man surnamed Lin (林) reported that others had been sexually assaulted as well as accusations of organ harvesting.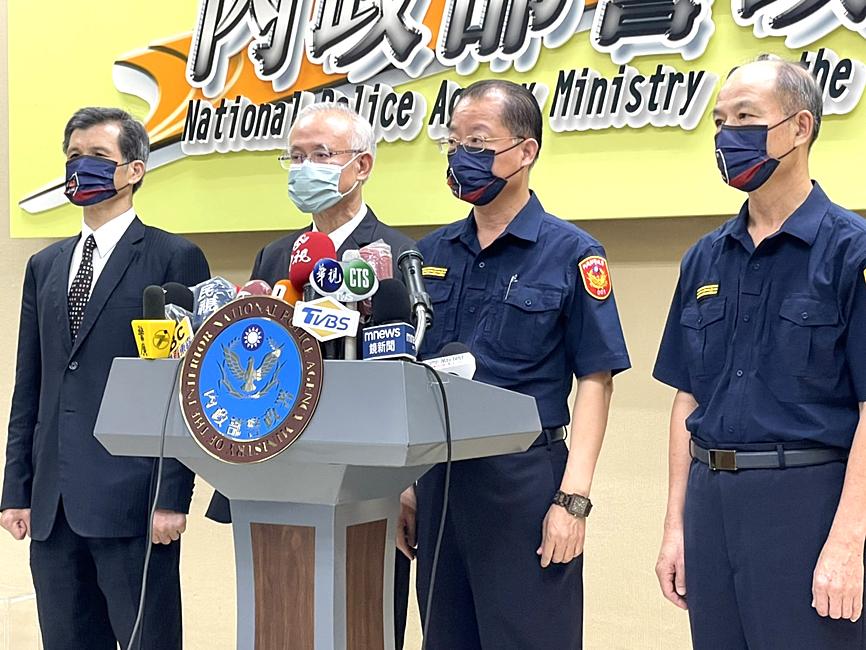 From left, Criminal Investigation Bureau Director Li Hsi-ho, Taiwan High Prosecutors' Office head prosecutor Chang Tou-hui, National Police Agency Director-General Huang Ming-chao and Aviation Police Bureau chief Cheng Ming-chung attend a news conference in Taipei yesterday.
Photo by Chiu Chun-fu, Taipei Times
Separately, a family in Hualien County told a news conference earlier this week that their 24-year-old son who went to Cambodia for work two months ago last month sent a message saying that he was being held by human traffickers.
His family said that they believe he has been killed for his organs and demanded that the government rescue others who might face similar treatment.
New Taipei City police officials yesterday said that 16 suspects have been detained, reportedly from three human trafficking rings with links to gangs.
One of the operations is allegedly run by members of the Heavenly Way Alliance triad.
Separately, the Criminal Investigation Bureau (CIB) said that it had detained six people as part of an investigation into another ring allegedly led by Lin Cheng-hao (李振豪), 34, a leader of a major chapter of the Bamboo Union.
Evidence shows that Lin Cheng-hao's group lured 82 Taiwanese jobseekers in the past three months, getting them on flights to Cambodia, where they were confined in prison-like conditions to make calls as telecommunications scammers, the CIB said.
Records show that the group received about NT$50 million (US$1.67 million) in commission for sending Taiwanese into "cyberslavery" in Cambodia, CIB officials said.
Authorities at yesterday's news conference said that police units across Taiwan have conducted sweeps targeting 20 criminal groups believed to be engaging in human trafficking, with 67 people detained in the past few weeks.
"There have been 420 cases reported of Taiwanese likely being held against their will in Cambodia, with 46 having returned to Taiwan," National Police Agency (NPA) Director-General Huang Ming-chao (黃明昭) said. "There are 374 people who still cannot be contacted by their families and friends. We have launched efforts to rescue them."
Work by airport police units to warn people about travel to Cambodia and cities elsewhere in Southeast Asia with placards and by speaking to people at departure gates dissuaded 28 people who had been planning to go abroad, he said.
Official data showed there are more than 4,600 Taiwanese in Cambodia, Huang said, although the majority are there on legitimate business or for personal reasons, he said, adding that local police stations have been asked to check household registration data for some people to confirm their whereabouts.
Huang said that reports have confirmed that organized crime syndicates in Taiwan are colluding with Chinese and Cambodian gangs.
Taiwanese law-enforcement agencies have contacted their foreign counterparts seeking assistance, including linking up with the FBI and police departments in Thailand, Huang said.
"Our police force and judicial agencies have made major efforts to communicate with local and foreign entities to rescue any Taiwanese affected by human trafficking in Cambodia, including cooperation with the private sector, Taiwanese business communities and religious organizations with a presence in Southeast Asia," he said, adding that they are "exploring all possible channels to rescue them."
Comments will be moderated. Keep comments relevant to the article. Remarks containing abusive and obscene language, personal attacks of any kind or promotion will be removed and the user banned. Final decision will be at the discretion of the Taipei Times.