Yen's Dajia temple role scrutinized
A community representative in Taichung yesterday scrutinized former Non-Partisan Solidarity Union legislator Yen Ching-piao's (顏清標) role as chairman of Dajia Jenn Lann Temple (大甲鎮瀾宮) in the city's Dajia District (大甲), which he has retained for more than two decades, despite having his registered residence in Shalu District (沙鹿).
This would disqualify him from the role, as the temple's charter requires the chairperson to reside in Taichung's northern districts of Dajia, Houli (后里), Daan (大安) or Waipu (外埔), said Yi Chin-jung (易錦隆), a local community representative on the temple's management committee.
The charter stipulates that the committee that controls the temple's finances be composed of 15 locals, among whom the chairperson would be elected, Yi said.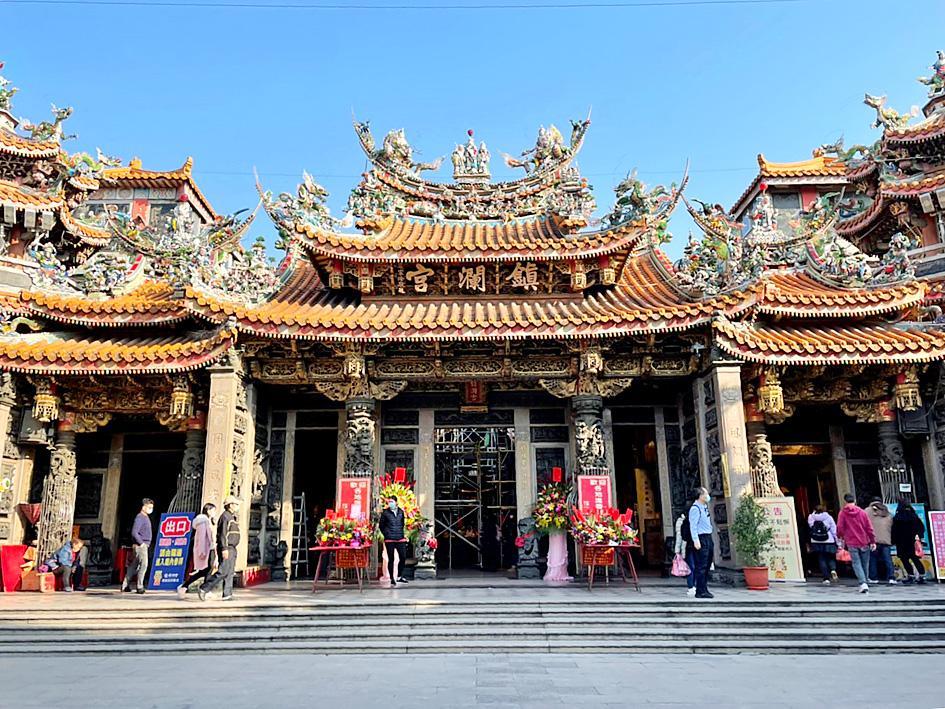 Worshipers visit Jenn Lann Temple in Taichung's Dajia District on Wednesday last week.
Photo: Chang Hsuan-che, Taipei Times
When the temple was founded in 1730, its head had to come from one of the surrounding 53 villages or hamlets, Yi said, adding that the rule has since been updated to require residency in one of the four districts.
"Yen, with his residency in Shalu, has no qualification to be the temple's community representative, serve on its board or be its chairman," Yi said, adding that Yen illicit tenure started in 1999.
Minister of the Interior Hsu Kuo-yung (徐國勇) said he has sent an official letter to the Taichung City Government, asking it to clarify the matter and requesting a copy of the temple's charter.
Taichung Civil Affairs Bureau Director Wu Shih-wei (吳世瑋) said that the charter does not clearly state a residency requirement, turning down Hsu's request for a copy.
Business Weekly magazine has reported that Yen's long-standing role has been widely scrutinized, citing legal requirements as saying that for a position such as temple chairperson, elections must be held every four years and office holders would be barred from seeking re-election.
The chairpersonship at Dajia Jenn Lann Temple is a lucrative position, as the temple's annual pilgrimage can generate revenue of about NT$5 billion (US$180.92 million), it said.
Yi said that challenges to Yen have not succeeded so far, citing his family's political clout in Taichung.
Comments will be moderated. Keep comments relevant to the article. Remarks containing abusive and obscene language, personal attacks of any kind or promotion will be removed and the user banned. Final decision will be at the discretion of the Taipei Times.