Existing vaccines 'might protect against Omicron'
HOPE: Wong Chi-huey said an Academia Sinica research center has created a vaccine that has proven in animal trials to protect against various SARS-CoV-2 variants
Initial assessments show that existing COVID-19 vaccines are likely to provide a considerable degree of protection against the Omicron variant of SARS-CoV-2, former Academia Sinica president Wong Chi-huey (翁啟惠) said on Monday.
Although most Omicron cases are mild, the variant still needs to be watched closely, said Wong, who is also president of the Institute of Biotechnology and Medicine Industry (IBIM).
Describing the appearance of the new variant as "worrisome," he said that more time is needed to understand whether Omicron is more transmissible compared with other variants.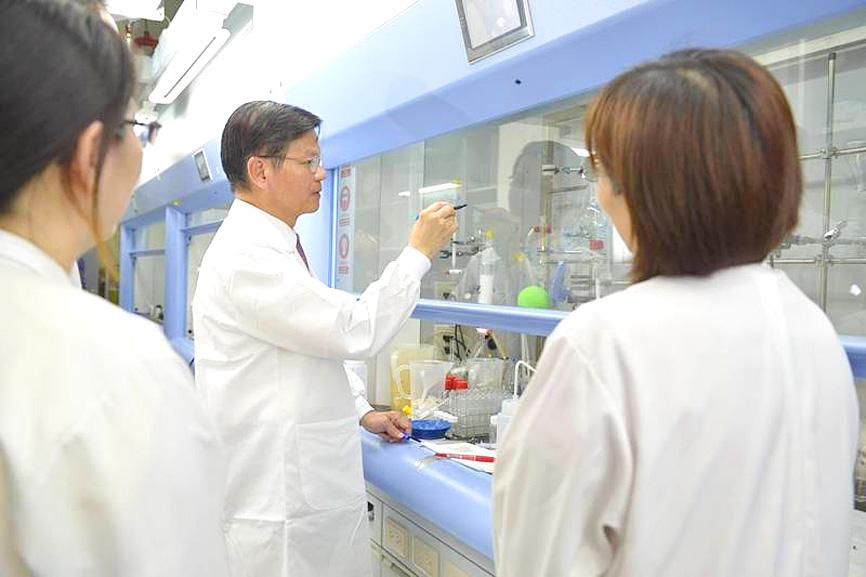 Former Academia Sinica president Wong Chi-huey, center, works in a lab in Taipei in an undated photograph.
Photo courtesy of Wong Chi-huey
There are a small number of severe COVID-19 cases, but it is still not known whether people who had mild symptoms were helped by having been vaccinated, Wong said.
There are some early signs that COVID-19 vaccines might be effective against Omicron and the extent of the threat posed by Omicron might not be as great as people had thought, he said.
Nearly two years after the first COVID-19 cases were recorded, a large number of variants of SARS-CoV-2 — the virus that causes COVID-19 — have been detected, with five gaining the most attention: the Alpha, Beta, Gamma, Delta and Omicron variants, he said.
Currently, 90 percent of more than 265 million COVID-19 cases reported worldwide are attributed to the Delta variant.
Academia Sinica's Genomics Research Center has developed a messenger RNA (mRNA) vaccine that has proven in animal trials to provide protection against various variants and might also be effective against the Omicron variant, Wong said, adding that the center is applying for patents for its vaccine and is entering technology transfer negotiations.
The WHO has approved at least six COVID-19 vaccines for use and about 300 new vaccines are in development, Wong said, adding that about 50 percent of the world's population has so far received at least one dose of a COVID-19 vaccine.
However, less than 5 percent of the population in Africa has received one dose of a vaccine, and if vaccination rates continue to remain low on the continent, it could prove dangerous, he said.
Although COVID-19 breakthrough infections are on the rise, vaccination can prevent or reduce the severity of the disease, and is still the best tool to curb the COVID-19 pandemic, Wong added.
Comments will be moderated. Keep comments relevant to the article. Remarks containing abusive and obscene language, personal attacks of any kind or promotion will be removed and the user banned. Final decision will be at the discretion of the Taipei Times.