NCC sees 5G coverage reaching 80% by 2024
The 5G service coverage rate is expected to reach 80 percent by 2024, National Communications Commission (NCC) Chairman Chen Yaw-shyang (陳耀祥) said in a briefing to the legislature's Transportation Committee in Taipei yesterday.
The committee was scheduled to review the commission's budget plan for fiscal 2021.
Chen told lawmakers that the government received a total of NT$142.19 billion (US$4.92 billion) in February through a two-phase auction that it held for telecom carriers to bid for 5G spectrum, adding that the three major telecoms — Chunghwa Telecom, Taiwan Mobile and Far EasTone Telecommunications — started offering the service in June.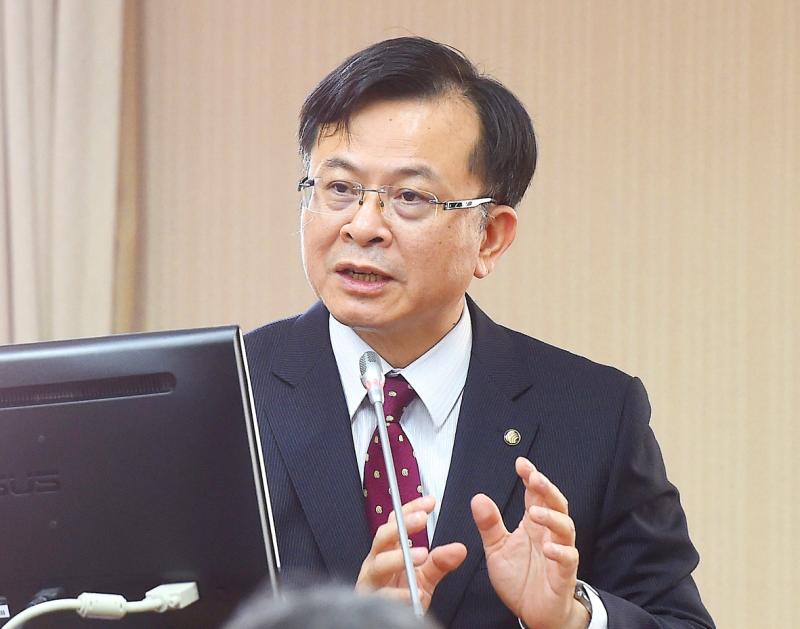 National Communications Commission Chairman Chen Yaw-shyang speaks at a meeting of the legislature's Transportation Committee in Taipei yesterday.
Photo: Chien Jung-fong, Taipei Times
Of the funds that the government obtained through the auction, NT$26.65 billion would be allocated to subsidize telecom carriers in building base stations for five years.
The rules governing the appropriation of subsidies to carriers would be publicly disclosed by the end of this year, Chen said.
"We are still discussing how the subsidies should be distributed among carriers," he said. "Some have suggested that the amount of subsidy that each carrier receives should be determined by where they build the cell stations — in rural or urban areas. Others have suggested that we appropriate the funds based on the bids they paid."
Part of the subsidies would help telecom carriers build 490 base stations in five years in remote townships, he said.
The 5G service coverage rate is at about 26 percent now, and the subsidies can help reinforce telecoms infrastructure in both urban and rural areas and accelerate the developments of applications using 5G systems, he added.
The commission also estimated that the nation's 5G service coverage rate would reach 80 percent based on the speed at which carriers are expanding their base station infrastructure.
Comments will be moderated. Keep comments relevant to the article. Remarks containing abusive and obscene language, personal attacks of any kind or promotion will be removed and the user banned. Final decision will be at the discretion of the Taipei Times.