FEATURE: Firm sets sights on heavens as space industry develops
'FLYING SQUIRREL': TiSPACE plans to test-launch a hybrid rocket later this month and start providing commercial launch services in the third quarter of next year
Taiwan is accelerating its progress in space technology after nearly three decades of development. Next year is to see the inauguration of the nation's first undergraduate department for space science and engineering, as well as the commencement of commercial operations of its first rocket company.
The Ministry of Science and Technology in January announced the start of the nation's third space program, which is to run until 2028. Led by the semi-official National Space Organization (NSPO), the program mainly focuses on developing high-resolution remote sensing satellites and synthetic aperture radar satellites, as well as fostering the domestic space industry.
While the NSPO had previously engaged in sounding rocket development, it did not continue related plans after 2014. Rocket scientists at National Cheng Kung University and National Chiao Tung University who were previously supported by the NSPO turned to crowdfunding or other means to support their research.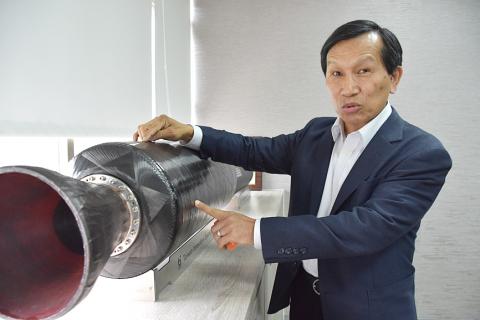 Taiwan Innovative Space Inc chairman Chen Yen-sen points to a model of the company's rocket at his office in Miaoli County on Nov. 22.
Photo: Lin Chia-nan, Taipei Times
A relatively weak area of Taiwan's space technology, rocket development seems more likely to succeed outside of government-led programs, especially as two domestic forerunners with complementary strengths have joined forces.
Taiwan Innovative Space Inc (TiSPACE), the nation's first commercial rocket supplier, and National Central University (NCU) on Nov. 11 signed a memorandum of understanding to promote satellite launch services and related technologies.
The faculty at the Taoyuan-based NCU Graduate Institute of Space Science and Engineering has played an essential role in previous satellite programs. Faculty members helped design, fabricate and test the advanced ionosphere probe installed on Formosat-5 — the nation's first domestically developed satellite, which was launched into orbit on a SpaceX Falcon 9 rocket in 2017.
In August next year, NCU is to start admitting undergraduate students for its newly established Department of Space Science and Engineering, previously a division of the Department of Atmospheric Sciences, institute professor Loren Chang (張起維) told the Taipei Times on Nov. 18.
Chang studied physics at the University of California, Irvine and obtained his master's and doctoral degrees in aerospace engineering at the University of Colorado Boulder.
NCU's plan to cultivate more space talent echoes the global trend, as many firms, including SpaceX, are planning to launch more small satellites as platforms to develop 6G communication and telemetry service networks, Chang said.
Next year, TiSPACE is to launch the institute's ionosphere scintillation package in a suborbital flight, he said.
While the flight is projected to last only about 10 minutes, it would allow them to test the package's functionality and stability in a space setting, he added.
Developed by institute director Chao Chi-kuang (趙吉光), the package is to measure ionospheric plasma bubbles that cause "scintillation" in satellite navigation and communications signals — events in which signal strength can fade rapidly and transmissions can be disrupted, Chang said.
Ordinary GPS has a precision level of nearly 5m, but autonomous vehicles and calibrators for buildings or railways require centimeter precision, he said.
Plasma bubbles are believed to be triggered by waves that cause atmospheric turbulence, Chang said.
Modeling the effects of turbulence is a difficult field in physics, as any marginal error would result in broad differences, which applies to space weather analysis as well, he said.
The institute has developed some space weather forecast models, but data collected at scales of 10km to 20km or smaller are beyond their current computing capacity, Chang said, adding that the limited number of space weather monitoring facilities also poses a challenge to the acquisition of near-real-time data.
While institute members have continued to upgrade and miniaturize ionosphere probes, over the past few decades they have had only one opportunity to install such a probe, on Formosat-5, which was approved by the NSPO after their long-standing requests, Chao said.
By collaborating with TiSPACE, the institute would have more opportunities to have its instruments launched into space, he said.
In addition to ionosphere probes, the institute also operates the Spacecraft Prototype Laboratory, which is managed by Chang, to develop small satellites.
It expects to work with the firm to develop more satellite and rocket technologies, while promoting student internships, Chang said.
Based in Miaoli County, TiSPACE was established in 2016 by Chen Yen-sen (陳彥升), who served at the NSPO for 11 years after leaving his job as a researcher at NASA's Marshall Space Flight Center, where he had worked for 21 years.
After returning to Taiwan in 2005, Chen was responsible for directing sounding rocket projects at the NSPO.
Chen said that he left the NSPO to start the company because he hopes to pursue the commercial applications of hybrid rockets and he has become familiar with official procedures to receive approval to launch rockets.
The firm has 104 employees, averaging 34.5 years old, including many engineers who previously worked at information and communications technology firms, the Chungshan Institute of Science and Technology, or Australian rocket firms, he said.
The firm earlier this year improved the efficiency of hybrid rockets to achieve Class-I rocket propulsion as defined by NASA, while keeping the cost much lower than similar products, he added.
Pointing to a model rocket inside his office, Chen said that it can generate more than 1,000 kilogram-force of thrust.
The company aims to start providing commercial launch services to global clients in the third quarter of next year and is already in discussions with other nations about renting launch sites, he said.
It also plans to set up a branch office in California, which is home to many aerospace giants and Vandenberg Air Force Base, he said.
The firm is to test-launch its Hapith I (Saisiyat for "flying squirrel") rocket later this month and Hapith V next year, followed by launches of university payloads, Chen said.
The trials are to be conducted on a private property on Taiwan's east coast and aim to send payloads into orbits of 250km to 300km, which would break the existing hybrid rocket launch record of 150km, he said.
In October, TiSPACE became the first Taiwanese firm to participate in the International Astronautical Congress in Washington, where Chen said he observed that the global rocket launch industry is booming.
Developers worldwide are lining up to launch satellites, aiming to gain the upper hand in 6G communications technology, with the US remaining the leader in the field, he said.
Due to the intense competition, the firm's strategy is to launch satellites weighing between 200kg and 400kg and reduce the number of satellites per launch so that clients would not have to wait long or negotiate with others about orbits, Chen said.
Asked about his expectations for the space industry, Chen said that he plans to build an industrial park for satellite technology and have more than 100 launches every year by 2023.
Overall launches worldwide averaged 100 annually over the past several years, and TiSPACE wants to exceed that benchmark alone, he said.
As the number of low-orbit communications satellites has continued to surge with more advanced capabilities, satellites would resemble consumer electronics products in the future, Chen said.
Taiwan should develop a dominant edge in certain space systems, while rocket technology is an indispensable piece to the entire picture, he said.
Comments will be moderated. Keep comments relevant to the article. Remarks containing abusive and obscene language, personal attacks of any kind or promotion will be removed and the user banned. Final decision will be at the discretion of the Taipei Times.