Postal workers to protest subsidies
DELIVERING A MESSAGE: Union members contended that employees hired before the reorganization of the post office receive higher subsidies than those hired later
Taiwan Postal Workers' Union members are to march in Taipei today over what they say are unequal subsidies between employees hired before Chunghwa Post's reorganization 16 years ago and those who joined later.
As of yesterday, more than 2,200 people had signed the union's online petition demanding equal subsidies for the same work, the union said, adding that more than 500 post office staff members nationwide would take part in the rally today, marching from the Ministry of Transportation and Communications to the Control Yuan and the Executive Yuan.
When Chunghwa Post was reorganized into a government-owned corporation in 2003, civil servants employed at the post office were deemed "transferred personnel," while those that were hired after the change were considered "hierarchical personnel," the union said.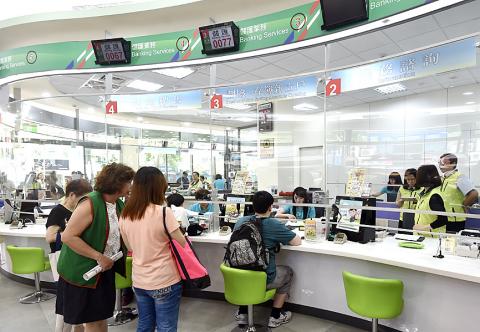 The Minsheng Post Office on Taipei's Minsheng E Road is pictured on June 7 last year.
Photo: Chien Jung-fong, Taipei Times
Currently, the postal service employees about 11,000 transferred personnel and 14,000 hierarchical personnel, it added.
Union deputy manager Chen Guang-chih (陳廣志) said the two types of employees have separate salary systems, in which the transferred personnel are regulated by a compensation system designed for transportation industry staff, while the hierarchical personnel are paid according to Chunghwa Post's salary system.
Postal staff have few complaints regarding the difference in salary and the use of different salary systems, given the two kind of personnel are different to begin with, Chen said.
However, many find it unacceptable that the work subsidy for the two sets of employees are different, despite doing similar work.
For example, a window clerk at a post office from the transferred staff received a NT$4,800 monthly subsidy, while a member of the hierarchical group received none, Chen said, adding that for field staff who are transferred personnel, they receive a NT$6,000 monthly subsidy, but those of the hierarchical personnel receive only NT$3,500.
In today's protests, the union is to call for an equal subsidy for the same work performed and a relaxation of the state-run company's system that regulates employee cost rate, Chen said, adding that a rigid restriction cannot reflect the employees' hard work and contributions.
It would take nearly 10 years for a hierarchical employee to have a monthly salary exceeding NT$40,000, assuming they have an annual raise of NT$950, while those working at other state-run companies, such as Taiwan Power Co (Taipower) and oil refiner CPC Corp, Taiwan could get a monthly salary exceeding NT$40,000 in about five or six years, Chen said.
This is why some working at Chunghwa Post would rather resign and work for Taipower or CPC when the opportunity arises, he said.
Comments will be moderated. Keep comments relevant to the article. Remarks containing abusive and obscene language, personal attacks of any kind or promotion will be removed and the user banned. Final decision will be at the discretion of the Taipei Times.