2020 Election: KMT's Han unveils his policy platform
STAY SAFE, GET RICH: The presidential candidate vowed to never lose sight of his goal of making the nation's people rich while bolstering national defense
Kaohsiung Mayor Han Kuo-yu (韓國瑜), the Chinese Nationalist Party's (KMT) presidential candidate in the Jan. 11 election, yesterday unveiled a campaign platform spanning 26 policy categories.
Accompanied by his running mate, former premier Simon Chang (張善政), and his campaign team, Han told a news conference in Taipei that he has over the past month discovered during campaign stops across the nation that Taiwanese generally feel "depressed, troubled and lost."
They feel depressed because the nation's predicament cannot be resolved; troubled, as the fruits of economic growth have not trickled down to the masses and more workers have been furloughed; and lost, because not a single industry can say that it is optimistic about the future, Han said.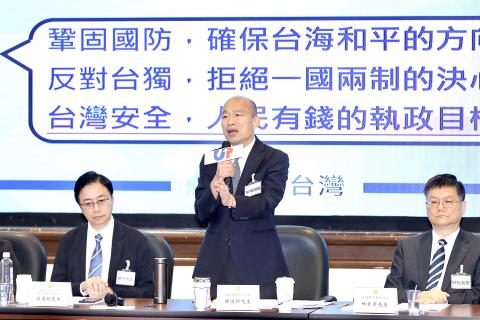 Kaohsiung Mayor Han Kuo-yu, center, the Chinese Nationalist Party's (KMT) presidential candidate, speaks at a news conference in Taipei yesterday.
Photo: Tu Chien-jung, Taipei Times
By putting forward his platform, Han said that he hopes to convince Taiwanese at home and abroad that his policies are substantial, as they were formed from the same logic and are backed by theory.
Han highlighted his "three nevers": To never change his stance on bolstering the nation's defensive capabilities and ensuring peace across the Taiwan Strait; never change his position on opposing a "one country, two systems" framework for Taiwan and Taiwanese independence; and never lose sight of his administrative goal of "making Taiwan safe and its people rich."
He also vowed that if elected he would not engage in cronyism and only recruit capable people; always abide by the law and not abuse his power; always listen to public opinion and not act willfully; increase government efficiency by eliminating procrastination; always act in a fair and just manner, and not protect wrongdoers; and lead an administration devoid of corruption.
Han reiterated his four credos: defend the Republic of China; admire Chinese culture; keep Taiwan free and democratic; and his "overarching" principle to never forget about the many people suffering.
Huang Chieh-cheng (黃介正), a spokesman for Han's defense policy team, said that if Han is elected, his administration would not overrule any arms sales Taipei has already secured from Washington, but would approach national defense "in a new light."
The team has drawn up 10 defense policies and explained them to Washington, which "has a clear understanding of them," he added.
If Han is elected, Huang said that he would suggest Han publish a summary on national security and strategy predicated on a "wise" cross-strait policy, adding that the four pillars of Han's defense policy would be close combat, war prevention, asymmetric warfare and resilient forces.
Defense policies would follow an overarching goal of strengthening the military's combat skills, which would require drills and the mobilization of reserves, he said.
The campaign team said that a Han administration would allow people attending military academies to study English, cover their tuition with state funding and guarantee them enlistment to allay the worries of their parents and expand their worldview.
Han's cross-strait policy would focus on "loving Taiwan, defending the Republic of China, filling stomachs and working hard for a bright future," the team said.
If elected, Han would seek to eliminate threats to cross-strait peace and resume dialogue; prioritize people's livelihoods and allow them to enjoy a share of the economic benefits from cross-strait trade and economic exchanges; promote exchanges between people and businesses on both sides of the Taiwan Strait; promote Chinese culture from the perspective of the zhonghua minzu (Chinese ethnic group, 中華民族); promote dialogue between the ruling and opposition parties to seek consensus; and prevent people from deciding for future generations whether Taiwan will be independent or unified with China, it said.
He would ensure that all corrupt officials be jailed, no Dong Chang (a Ming Dynasty secret police agency, 東廠) would be established by the government to persecute political opponents and referendum rules would be reformed, it added.
Han would promote a free-trade environment, strive to help the nation secure membership in the Regional Comprehensive Economic Partnership, ensure that the Economic Cooperation Framework Agreement with China is continued on the condition that it does not endanger national security and establish a digital and innovation committee under the Executive Yuan to create a friendly investment environment for innovative firms, the campaign team said.
He would solve the land and electricity shortages for businesses and cultivate talent, it said.
Han would also create a ministry of environmental and ecological protection, reduce air pollution, crack down on sources of pollution and build a carbon-neutral nation, as well as establish an ecological reserve fund of between NT$20 billion and NT$30 billion (US$655.5 million and US$983.2 million) and reform the environmental impact assessment system, it added.
Comments will be moderated. Keep comments relevant to the article. Remarks containing abusive and obscene language, personal attacks of any kind or promotion will be removed and the user banned. Final decision will be at the discretion of the Taipei Times.