INTERVIEW: Producers discuss first local political drama
HOUSE OF BRIDGE: The filmmakers said they would not disclose who is working on the series due to its sensitivity, after refusing funding that possibly came from China
Taiwanese TV audiences are ready for a political thriller grounded in the history of the 1990s, producer Issac Wang (汪怡昕) and executive producer Sylvia Feng (馮賢賢) of International Bridge Club (國際橋牌社) said.
The pre-production series would follow the turbulent political history of the era through characters including a presidential guard, a Japanese spy, a pro-independence restaurant owner, a newspaper reporter and a party worker, they said in an interview with the Liberty Times (sister newspaper of the Taipei Times).
Market research showed that potential viewers responded enthusiastically to a show based on Taiwan's period of democratization, Wang said.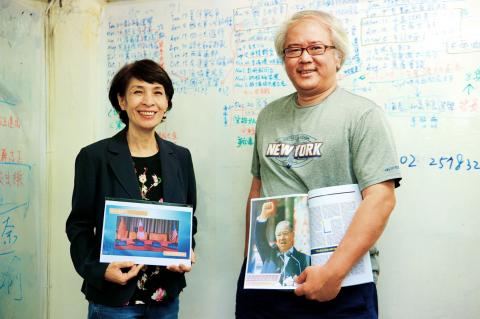 Executive producer Sylvia Feng, left, and producer Issac Wang of the television drama series International Bridge Club hold photographs related to the story in Taipei on Dec. 7.
Photo: Ho Tsung-han, Taipei Times
"This is an opening to make serialized political drama in Taiwan," he said.
That Taiwan has not produced political dramas has less to do with Taiwanese filmmakers' competence and more with self-imposed notions of what constitutes appropriate material for TV, he said.
"A well-made show that sees commercial success would create an original Taiwanese property," Wang added.
He said the idea for the show came when he interviewed former president Lee Teng-hui (李登輝) for a documentary.
During the course of the interview, which took more than 100 hours, he began to realize that international politics shaped many important domestic political events of the past few decades, Wang said.
The US, China, Japan and South Korea often tried to push Taiwan in opposite directions, which influenced history in tangible ways, he said.
"We were thinking about our own cards, but were also a card in other players' hands," he said. "There is high drama to the high-stakes game that was played."
Wang said he was "born a rebel."
Growing up, his father would give him books and take him to speeches of the dangwai (黨外, "outside the party") movement, and he later joined the farmers' march of 1988 as a high-school student, he said.
"I have long been puzzled by our country's inability to confront its own history," he said. "Why would people stop others from telling a story? If everyone else chooses to be cowards about it, then it is on me to do it."
"The forerunners of democracy paid with their freedom, even their lives. What is the worst that can happen these days? At most, they would slap me with some label and I make less money. So what?" he asked.
US political thrillers are sophisticated, but they still follow a certain stereotypical formula, while Taiwan's real and "unique democratic experience" does not, Feng said.
"Taiwan achieved rapid democratization after a long history of colonial rule and martial law. There have been three peaceful transitions of power" and the world has something to learn from the nation's experience with democracy, she said.
"For example, the UN had to send officials to Taiwan to say human rights are not issues appropriate for referendums to decide," she said. "Our little local elections had a global impact."
Bruce Knotts, executive director of the Unitarian Universalist Association's UN office, a non-governmental organization with a presence at the UN in New York, on Dec. 4 in a speech in Taipei said that issues such as same-sex marriage "should never be put to a vote as Taiwan has just done."
The appeal of a story is in the telling, Wang said when asked about the show's entertainment value.
"If the viewer sees something called Two Decades in Taiwanese Politics, I guarantee you they are going to switch channels, but if you title it Is Democracy Right for a Chinese Society? then you have their attention," he said.
The international community worries about the US-China trade dispute and Taiwan, as the only Chinese-speaking democracy in the world, would certainly interest the world, he added.
To have commercial success, a product definitely needs to be commercialized — not by making it kitschy, but by finding elements and angles of storytelling that most people can accept, Feng said.
If the local film industry is not profitable or predictable, investors will not create a business environment and local players will be relegated to contractor status, she said.
Pre-production has cost NT$30 million (US$974,000) in research alone, Wang said, adding that he turned up about 1,000 documents from the US Congress, US Department of Justice and CIA archives, as well as those of the Japanese Cabinet and Australian Secret Intelligence Service.
Among the documents he found is a secret contract that former Chinese Nationalist Party (KMT) treasurer Liu Tai-ying (劉泰英) signed with US-based public relations firm Cassidy and Associates, he said.
International Bridge Club is not about good versus evil, but follows the nation's democratization through the rise and fall of politicians who contributed to the process, while adding entertaining side-plots of romance, espionage and intrigue, he said.
"Shouting slogans at young people achieves nothing; rather we want our show, which hints at real events, to make the audience think about history," he said. "We build fictional characters to reconstruct real-life stories in a setting that accurately reflects the era."
Even though the series depicts real events and people, the makers changed the characters' and political parties' names, because political drama shows are not common in Taiwan, Feng said.
Leaving out the real names would prevent litigation and leaves more room for interpretation and creativity, she said.
An audience familiar with the period and the events should understand what is being referred to even with the name changes, Wang added.
He said the directors and actors they approached for the show "loved the script, but were hesitant when considering the possible political backlash."
That hesitance is why the show has kept a low profile as it prepares for production, he said, adding that the actors, director and screenwriters are not to be disclosed until the show is about to air.
The show could become an international hit and Taiwanese actors are in need of such a stage and opportunity, Feng said.
"If we continue to restrict ourselves to the Chinese market, we will forever be chained to it, deprived of our freedoms and the chance to tell stories that reflect on ourselves," she added.
"Taiwan's most important value is our freedom. If we gave that up, why would we be in the [film] industry?" Feng said.
Wang said he had been contacted by a Taiwanese businessperson in China one month after he announced in June that he was looking for partners or investors to fund production.
"When I said I was planning an eight-season show, with at least NT$800 million in funding, they agreed immediately without batting an eyelash, saying that the show was very meaningful and they would not hesitate to provide more funding should it be required," Wang said.
"When I pressed them for the source of funding, they admitted in a roundabout way that the source was China's Taiwan Affairs Office," he said.
"The offer shows that China is keeping close tabs on Taiwanese cultural industries and they were eager to buy us out when they heard that we were only to receive NT$30 million in funding from the Ministry of Culture," Feng said.
"If China succeeds, Taiwan would lose its freedom and autonomy to tell stories about itself," she said. "Such is the invasive ubiquity of China's cultural strategy."
The Chinese Political Warfare Department is said to be willing to spend NT$10 billion per year on attempts to infiltrate Taiwan and has used every method it could think of, Feng said.
"Does Taiwan have countermeasures? How is Taiwan going to combat such attempts?" she asked.
It is not clear that the government is aware that should it fail to fight back in the cultural war being waged through film and movies, Taiwan might be forced onto the defensive, Feng said.
Fundraising is the greatest obstacle that the show has yet to overcome, Wang said.
The ministry has offered NT$30 million in subsidies, but he has conflicting emotions seeing how government agencies and media companies that have stated their support for original Taiwanese digital content are refusing to fund the venture, he said.
"Many claim to 'love Taiwan' for their own benefit, but come the time to financially support such endeavors, they shift responsibility," Wang said.
However, Feng said she is optimistic about the series' future.
These issues — which have long been considered political taboos, forbidden by unwritten rules or suppressed by Chinese influence — should be intellectual property that Taiwan should prioritize, she said.
The ministry should redefine its subsidy criteria, withholding subsidies from projects that apply for subsidies yet focus on the Chinese market, creating products that decontextualize Taiwan and negate the nation's sovereignty, she added.
Wang said he hopes to raise NT$20 million for the show based his experience and the expected profit once it is aired.
Hong Kong film director Wong Kar-wai (王家衛) has said that in 1990s Taiwan you could truly see how freedom developed after the lifting of martial law, Feng said, adding that the mood among the Taiwanese public throughout the 1990s was one of optimistic change and people felt that any change were possible.
It led to some chaos, at times to the extent that it felt like the nation was disintegrating, but the period was nonetheless inspiring, she said, adding the process that was started then was difficult, but led to where Taiwan is now.
"Taiwan is a great place and we hope to retell its story to create a common memory shared by everyone," Feng said.
Hopefully, such a collective memory could give people a renewed sense of purpose and instill new confidence in the nation's leaders, she added.
Comments will be moderated. Keep comments relevant to the article. Remarks containing abusive and obscene language, personal attacks of any kind or promotion will be removed and the user banned. Final decision will be at the discretion of the Taipei Times.