Han's inauguration could bring in NT$100 million
Kaohsiung mayor-elect Han Kuo-yu's (韓國瑜) inauguration on Dec. 25 is expected to generate more than NT$100 million (US$3.24 million) in tourism revenue, local businesses said yesterday.
Han is to board the Love Boat at Kaohsiung Port Warehouse No. 2 near the Ambassador Hotel Kaohsiung, said Anne Wang (王淺秋), Han's nominee for Kaohsiung Information Bureau director-general.
Organizers are to allow 120 street vendors to operate along the Love River while the ceremony takes place nearby, she said.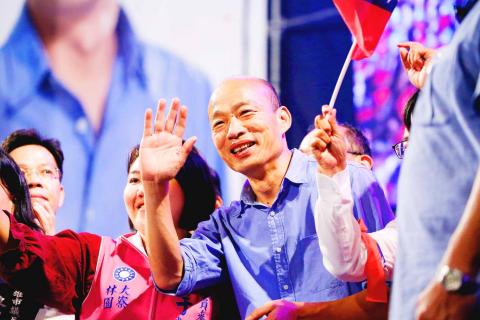 Kaohsiung mayor-elect Han Kuo-yu waves at a campaign rally in the city on Nov. 17.
Photo: Ann Wang, Reuters
The vendors are to be selected tomorrow via a draw and would be allowed to operate from 2pm on Dec. 24 to noon on Dec. 25, she said.
The Kaohsiung Social Affairs Bureau would also select 30 charities to set up booths at the event, Wang added.
Instead of signing his first official document at the city government's offices like his predecessors, Han is to sign it near the Soaring Dragon Fish Statue on the east bank of the Love River at the intersection of Minsheng and Hedong roads, she said.
Han's inauguration is also an opportunity to highlight the river as a tourist attraction, Wang said.
Although the inauguration is on a Tuesday, local businesses said that NT$100 million is a conservative estimate of the revenue to be generated from food, hotel and transportation expenditure.
Hotels near the river are almost fully booked, sources said.
While the capacity of the inauguration site is 14,000, between 20,000 and 30,000 people have already signed up to attend, they added.
Former mayors and representatives of disadvantaged groups are among the guests who have been invited to attend the inauguration, Wang said.
Namchow Chemical Industrial Co chairman Alfred Chen (陳飛龍), Far Eastern Group chairman Douglas Hsu (徐旭東), Taiwan Cement Corp chairman Nelson Chang (張安平), philanthropist Chen Shu-chu (陳樹菊) and film director Lee Hsing (李行) have also been invited, she added.
Aboriginal groups and other entertainers are to perform, Wang said, adding that details of the ceremony are being finalized.
Comments will be moderated. Keep comments relevant to the article. Remarks containing abusive and obscene language, personal attacks of any kind or promotion will be removed and the user banned. Final decision will be at the discretion of the Taipei Times.