Lawmakers deny funding for artificial tourist sites
Lawmakers yesterday asked the Tourism Bureau to stop funding the construction of artificial tourism facilities and focus on helping local governments attract visitors with unique cultural attractions and specialties.
The nation has many similar artificial tourism facilities, which people often visit only once because of their lack of originality, Democratic Progressive Party (DPP) Legislator Lin Chun-hsien (林俊憲) said at a meeting of the legislature's Transportation Committee to review the bureau's budget for next year.
The nation has 80 villages decorated with colorful murals, 13 skywalks and four glass churches, Lin said.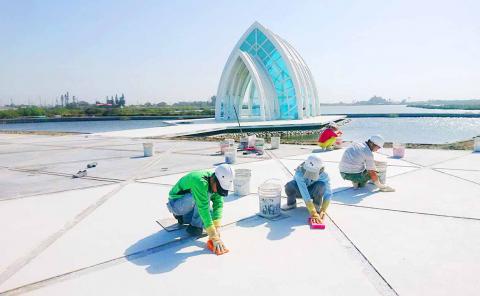 Workers carry out repairs at Beimen Crystal Church in Tainan on Dec. 4 last year.
Photo: Yang Chin-cheng, Taipei Times
These places might have drawn huge crowds initially, but public interest quickly fades, he said.
The committee unanimously passed a resolution proposed by Lin to freeze 20 percent of the budget allocated to develop, build and manage national scenic areas.
The budget might be unfrozen after the bureau submits a report on how it plans to address the attractions issue, the resolution says.
With temples across the nation hosting carnivals and pilgrimages year round, the bureau should design package tours featuring traditional religious events and promote them to international tourists, DPP Legislator Yeh Yi-jin (葉宜津) said.
The bureau's subsidy for religious events could be used to integrate religious activities and local events, such as combining celebrations at Tainan's Guandi Temple with the Yanshui Beehive Fireworks Festival, she said.
Tourism Bureau Director-General Chou Yung-hui (周永暉) said that the agency would no longer build artificial tourist attractions like skywalks and would next year focus on promoting tours to "special towns."
The bureau hopes that a "special town campaign" would draw more visitors to destinations in central and southern Taiwan, he said.
The bureau has rejected three applications to build scenic bridges, Technical Division Director Huang Shi-fang (黃勢芳) said, adding that it would no longer fund murals for villages and attractions.
The Directorate-General of Highways would be in charge of building bridges for transportation purposes, Huang said.
The bureau has allocated about NT$1.83 billion (US$59.3 million) to develop, build and manage national scenic areas in the next fiscal year, Huang said, adding that most of the budget would be used to build or maintain tourism facilities.
The funding would be used to market facilities that have already been built, he said.
As some newly elected mayors and county commissioners are looking to increase exchanges with China, the committee asked the bureau to ensure that problems, such as zero or low-cost tour groups, would not recur.
Travel agents offering such tours seek to make a profit by turning them into shopping tours, they said.
The bureau hopes to attract more independent Chinese travelers, while those traveling with groups would be encouraged to join customized and in-depth tours rather than low-cost tours, Chou said.
Comments will be moderated. Keep comments relevant to the article. Remarks containing abusive and obscene language, personal attacks of any kind or promotion will be removed and the user banned. Final decision will be at the discretion of the Taipei Times.