Rights not subject to voting: NGO head
POPULIST DEMOCRACY: Bruce Knotts said the referendums against same-sex marriage were reminiscent of 1930s Germany, which passed the Nuremberg Laws democratically
Human rights issues should never be put to a vote, a visiting human rights advocate said yesterday, adding that the passage of three referendums on LGBT rights on Nov. 24 was comparable to laws passed in Nazi Germany.
In his opening address at the International Forum on Freedom and Democracy in Taipei, Bruce Knotts, executive director of the Unitarian Universalist Association's UN office, a non-governmental organization (NGO), said that such issues "should never be put to a vote as Taiwan has just done with regard to same-sex couples."
The Constitution guarantees the rights of same-sex couples to marriage equality, but Protestant Christian churches in Taiwan organized referendums in opposition to an interpretation issued by the Council of Grand Justices, Knotts said.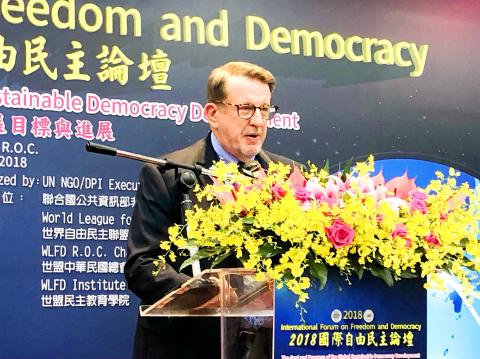 Bruce Knotts, executive director of the Unitarian Universalist UN Office, delivers the opening address at the International Forum on Freedom and Democracy in Taipei yesterday.
Photo: Lu Yi-hsuan, Taipei Times
"This is called democracy because it asks for a democratic process to rule on whether a group of people should enjoy equal protection under the law or not?" he asked, adding that in 1930s Germany, the Nuremberg Laws that stripped citizens identified as Jewish of their civil rights were also passed by a parliamentary vote.
"The road to the death camps started with the trappings of populist democracy," he said.
Knotts' remarks came after Taiwanese voted on four questions related to LGBT rights, including a question defending the Civil Code's definition of marriage as being between a man and a woman, which was backed by 72.5 percent of voters who cast a ballot, while another on protecting the rights of same-sex couples through legislation other than amendments to marriage laws in the Civil Code passed with 61.1 percent support.
The third question, against including homosexuality in gender education at schools, was supported by 67.4 percent of ballots cast.
Two other proposals, submitted by LGBT rights advocates, were rejected by similarly large margins.
Those two proposals called for the Civil Code to be amended to allow same-sex marriage and for the inclusion of education on gender equality, including subjects related to homosexuality, in school curriculums.
The council in May last year ruled that the definition of marriage in the Civil Code was unconstitutional and ordered that legislation be passed within two years to allow marriage between "two people," not just a man and a woman.
If such regulations are not enacted within two years, same-sex couples are to be allowed to marry under the law by the same process as laid out in the Civil Code, the council said.
The one-day forum was organized by the World League for Freedom and Democracy.
The league is a Taipei-based international non-governmental organization that evolved from the Anti-Communist League and was initiated by Taiwan, South Korea and the Philippines in 1954.
It was renamed in 1990 in an effort to adjust to "global political realities and to attract more people to the freedom and democracy movement."
Comments will be moderated. Keep comments relevant to the article. Remarks containing abusive and obscene language, personal attacks of any kind or promotion will be removed and the user banned. Final decision will be at the discretion of the Taipei Times.