Han Kuo-yu key to KMT victory
The Chinese Nationalist Party's (KMT) landslide victory in Saturday's nine-in-one elections appears to owe much to Kaohsiung mayor-elect Han Kuo-yu (韓國瑜), whose meteoric rise gave the party momentum and connected frustrated voters eager to punish the administration of President Tsai Ing-wen (蔡英文).
Prior to the elections, the KMT said that winning 1.5 times the number of cities and counties the party had — six — and flipping Taichung would constitute victory, KMT Culture and Communications Committee deputy director-general Hung Meng-kai (洪孟楷) said.
"The results are definitely beyond our expectations. Not only did we grab Taichung, we also took Kaohsiung, constituting a historic victory," Hung said, referring to success in mayoral and commissioner elections in 15 out of 22 cities and counties, including three of the six special municipalities.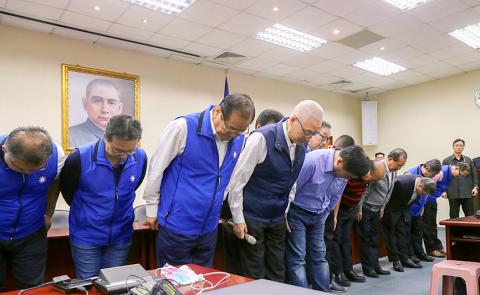 From third left, Chinese Nationalist Party (KMT) Secretary-General Tseng Yung-chuan, KMT Chairman Wu Den-yih and KMT Vice Chairman Hau Lung-bin bow at a news conference in Taipei on Saturday night to thank supporters.
Photo: CNA
Hung said the effect of the so-called "Han tide" spread to other cities and counties, allowing the party's candidates to secure victory in elections initially expected to be tight, such as Yunlin County and Taichung.
It also helped narrow the gap between the KMT and the Democratic Progressive Party (DPP) in traditionally pan-green constituencies like Tainan and Pingtung County, he said.
In the 2014, then-Tainan mayor William Lai (賴清德) crushed his KMT rival, then-National University of Tainan president Huang Hsiu-shuang (黃秀霜), by a margin of 447,021 votes. That gap shrank to just 54,644 on Saturday.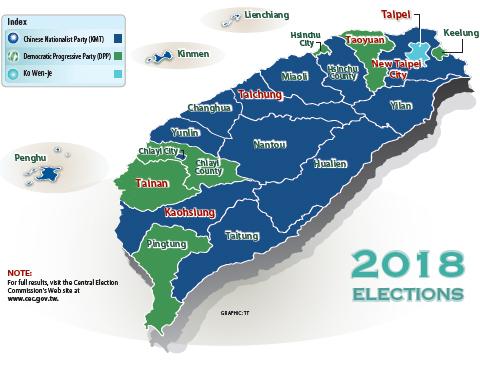 Eric Yu (俞振華), an associate research fellow at National Chengchi University's Election Study Center, also said that Han was a major factor in the KMT's victory.
He was the glue for different groups of voters who were dissatisfied with the performance of Tsai's administration, Yu said.
"Rather than thinking that Saturday's results were because the KMT did a good job in opposition, it is more accurate to say they were due to voters' overwhelmingly negative perception of the DPP," Yu said.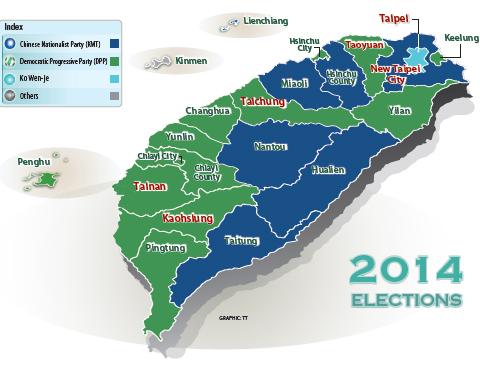 Another key factor in the KMT's wins was the DPP's adoption of a "value-centered" campaign strategy, despite Tsai winning the 2016 presidential race by painting herself as a pragmatist and centrist, Yu said, citing the ruling party's tactic of painting a vote for the KMT as a vote against democracy and reform.
The DPP administration's effort to push for transitional justice was also a factor, as fewer than 5 percent of Taiwanese would list it as a priority in opinion polls, he said, adding that the public clearly places the economy above values.
Han's call for love and tolerance, and his decision to act on those values by not suing talk show host Cheng Hung-yi (鄭弘儀) over allegedly false accusations against him spoke volumes, National Sun Yat-sen University professor of political science Liao Da-chi (廖達琪) said.
However, the KMT's overwhelming victory should not be interpreted as voters being fond of the party, as it only reflected growing impatience with unsatisfactory leadership, Liao said.
While its momentum is likely to last until the 2020 presidential election, it is too early for the DPP to give up, Liao said.
"Voters want to see local elections revolve around matters of the economy, not independence or unification, while for presidential races, the focus is more on national sovereignty," she said.
When asked about the 2020 race, Hung said that the KMT would try to produce a result like Saturday's, but would keep a cautious attitude.
The KMT could begin its presidential nomination process next year, Hung said, adding, however, that its next goal was to win by-elections to be held within three months to fill vacancies left by five lawmakers who have resigned.
Comments will be moderated. Keep comments relevant to the article. Remarks containing abusive and obscene language, personal attacks of any kind or promotion will be removed and the user banned. Final decision will be at the discretion of the Taipei Times.