ELECTIONS: IOC sends third warning on name change
JURISDICTION: The International Olympic Committee said that the 1981 agreement remains fully applicable and that going against the board's decision might bring corrective measures
The International Olympic Committee (IOC) has reiterated for the third time that it would not approve any change to the name of the Chinese Taipei Olympic Committee (CTOC), adding that the title was determined by an agreement signed in 1981 in Lausanne, Switzerland.
National Olympic Committee (NOC) Relations and Olympic Solidarity director Pere Miro sent a letter, dated Friday, to CTOC president Lin Hong-dow (林鴻道) and Sports Administration Director-General Kao Chin-hsung (高俊雄).
The nation on Saturday is to vote in a referendum that asks whether the name of the national team competing at the 2020 Tokyo Olympic Games should be changed from "Chinese Taipei" to "Taiwan."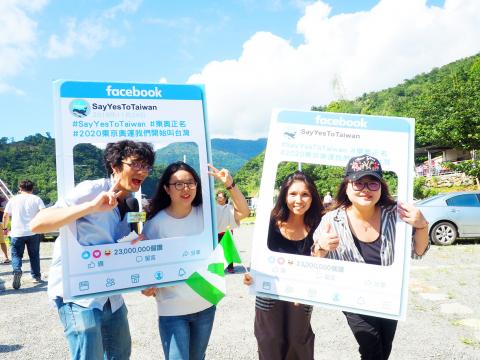 People who support changing the name of the nation's team at the 2020 Tokyo Olympic Games from "Chinese Taipei" to "Taiwan" hold cardboard cutouts of mock Facebook posts in Taitung County yesterday.
Photo: Wang Hsiu-ting, Taipei Times
The IOC Executive Board said in a letter in May that it would not allow the Taiwanese delegation to attend the Olympic Games under a different name.
Last month, it sent another letter to express its concern about the name-change referendum.
Unlike the first two letters, which were sent only to the CTOC, Friday's letter was sent to the CTOC and the Sports Administration.
The letter said that the IOC does not interfere in local procedures and fully respects freedom of expression, but added that the committee was reiterating that the matter fell under its jurisdiction to avoid unnecessary expectations or speculation.
"The name of the Chinese Taipei Olympic Committee is determined by the agreement signed between the CTOC and the IOC in 1981, and any change to the name ... is subject to the approval of the IOC Executive Board, in accordance with the Olympic Charter," the letter said.
The IOC said its executive board examined the matter at its May meeting and confirmed that it would not approve any name change.
The 1981 agreement remains unchanged and fully applicable, it said, adding that breaching the agreement or going against the executive board's decision would expose the CTOC to corrective measures set out in the Olympic Charter.
The Sports Administration yesterday said that its priority is to protect the athletes' right to compete internationally and ensure that CTOC membership in the IOC does not breach the Olympic Charter.
Comments will be moderated. Keep comments relevant to the article. Remarks containing abusive and obscene language, personal attacks of any kind or promotion will be removed and the user banned. Final decision will be at the discretion of the Taipei Times.