ELECTIONS: 'We Care' rally planned in Kaohsiung
'HAN TIDE': Organizers said the march should counter the negativity that has dominated campaigns in the city, with KMT mayoral candidate Han Kuo-yu calling it 'old and poor'
A rally to be held in Kaohsiung today by civic groups is to call for an end to malicious attacks and ridicule, which they said have overshadowed the city's mayoral election.
The "1117 We Care" parade is to set out from the Kaohsiung Cultural Center at 1:30pm and continue along a 5km route ending at the Hamasen Railway Cultural Park. The march is to take an hour-and-a-half to two hours, with performances along the way.
The event would send a message that the Kaohsiung residents "reject smear campaigns, stand up against bullies, oppose intervention, and want to stop hatred and safeguard Kaohsiung," the organizers said.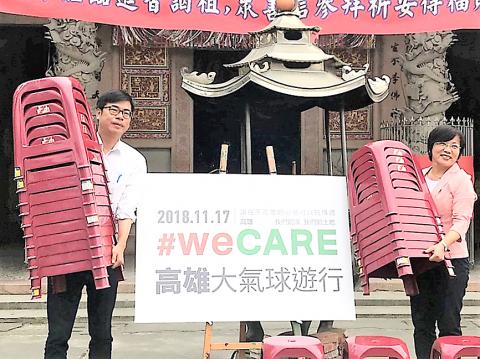 Democratic Progressive Party Kaohsiung mayoral candidate Chen Chi-mai, left, lifts a pile of chairs ahead of a news conference about the "We Care Kaohsiung" rally to be held in the city today.
Photo: CNA
The alliance was launched by civic groups and prominent figures in the city's culture and arts scene.
Alliance members said that in light of the demeaning rhetoric, spread of disinformation and online bullying that have overshadowed the city's mayoral election, they want to urge people to step out of the spiral of silence, abandon the so-called "Han tide" and instead express their love for Kaohsiung with concrete actions.
The "Han tide" refers to the popularity of Chinese Nationalist Party (KMT) mayoral candidate Han Kuo-yu (韓國瑜), who has made a name for himself with unpolished remarks, most notoriously his description of Kaohsiung as an "old and poor" city.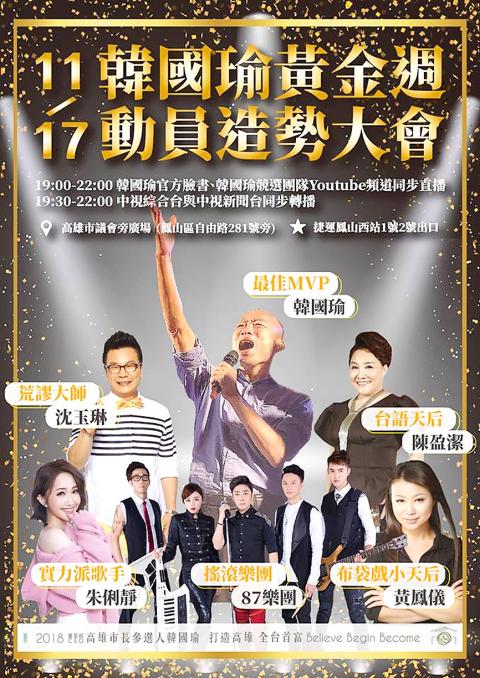 A poster promotes a campaign event in support of Chinese Nationalist Party (KMT) Kaohsiung mayoral candidate Han Kuo-yu, center, to be held tonight.
Photo: Wang Jung-hsiang, Taipei Times
Former Kaohsiung Cultural Affairs Bureau director-general Yin Li (尹立), who is to serve as the "commander-in-chief" of the parade, on Wednesday said that it would be open to city residents, but candidates and other politicians are also invited to join.
"We hope to create a joyous atmosphere that day and minimize the presence of campaign slogans," Yin said.
More than 10,000 had registered for the event yesterday, the organizers said, adding that they anticipated at least 30,000 participants today.
DPP Kaohsiung mayoral candiate Chen Chi-mai (陳其邁) said he would join the parade as an ordinary citizen to support Kaohsiung.
Meanwhile, Han's team on Thursday evening released a campaign video that features the stories of three so-called "northern drifters" and "underscores the sense of helplessness" felt by many young people from Kaohsiung.
To seize the last remaining weekend days to campaign for votes, Han is to hold a campaign event from 7pm to 10pm today in Fongshan District (鳳山).
The event is to feature several celebrities, including producer-turned-entertainer Shen Yu-lin (沈玉琳), but no political heavyweights were listed as special guests.
Chen Chi-mai is tomorrow to stage an evening campaign event in Gangshan District (岡山) that is to feature Representative to Japan Frank Hsieh (謝長廷), Presidential Office Secretary-General Chen Chu (陳菊) and Premier William Lai (賴清德).
Comments will be moderated. Keep comments relevant to the article. Remarks containing abusive and obscene language, personal attacks of any kind or promotion will be removed and the user banned. Final decision will be at the discretion of the Taipei Times.