Ang Lee attends plaque ceremony at late father's home
Oscar-winning director Ang Lee (李安) on Sunday attended a plaque-hanging ceremony in Tainan at his father's, Lee Sheng (李昇), former home.
The New York-based director is in Taiwan to attend the 55th Golden Horse Awards on Saturday.
Ang Lee, who has previously served on the Taipei Golden Horse Film Festival jury, is chairing its executive committee for the first time this year.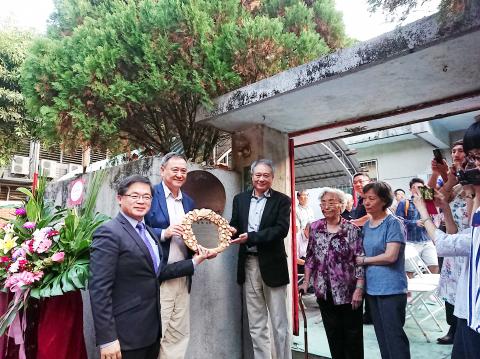 From left, Acting Tainan Mayor Li Men-yen attends a plaque-hanging ceremony at the former residence of educator Lee Sheng on Sunday, together with Lee's sons, Khan Lee and Ang Lee, widow Yang Ssu-chuang and one of the couple's daughters.
Photo: Hung Jui-chin, Taipei Times
After arriving in Taiwan, he headed straight to Tainan, where he was greeted by his 92-year-old mother, Yang Ssu-chuang (楊思莊).
At the ceremony, which was hosted by the Tainan City Government, Ang Lee was joined by his two sisters, his brother, Khan Lee (李崗), who is also a director, and Acting Tainan Mayor Li Men-yen (李孟諺).
His father, an educator, was strict, but he also loved his students, Ang Lee said, adding that his father had told him before his passing in 2004 that while he was part of a "lost generation" who moved to Taiwan from China, he had found a place to settle down.
His father wanted to be buried at sea so that he could see Tainan, but could also look into the distance at China, he said.
Lee Sheng was a knowledgeable and experienced educator, Li said.
He taught many students who later became successful, and at home, his parenting style, which was both strict and attentive, gave rise to two famous directors, Li said.
Lee Sheng, who is listed as a historical figure in the field of academia and education by the city government, moved to Taiwan with the Chinese Nationalist Party (KMT) government in 1949.
He served as the principal of National Taitung Girls' Senior High School, National Tainan Second Senior High School and Tainan First Senior High School, the president of the predecessor of National Hualien University of Education and the chairman of the China Youth Corps' Hualien County branch, among other roles.
Shortly after becoming the principal of Tainan First Senior High School in 1969, Lee Sheng relaxed the school's hair regulations, the Tainan Cultural Affairs Bureau said.
In about 1977, when the school was promoting blood donation, it discovered that half of the students who had donated blood had been infected with hepatitis B, the bureau said.
Concerned by the finding, Lee Sheng began searching for the cause of the infection and suspected that the food that the students were buying from outside was not sanitary, it said, adding that he then built a cafeteria at the school to ensure food safety and improve the students' health.
Sunday's event was the 22nd plaque-hanging ceremony that the city government has hosted for a local historical figure.
To date, the city has recognized 108 historical figures across various professions.
At the request of family members, Lee Sheng's former residence is not to be open to the public.
Comments will be moderated. Keep comments relevant to the article. Remarks containing abusive and obscene language, personal attacks of any kind or promotion will be removed and the user banned. Final decision will be at the discretion of the Taipei Times.