Artist paints Formosa's beginnings
'INLAY OF EMERALD': Since the Portuguese named the island 'Formosa' 474 years ago, there have only been written accounts, artist Hou Shou-feng said
Artist Hou Shou-feng (侯壽峰) has completed a 12m-long painting recreating the arrival of Portuguese sailors on the island in 1544, on view at Taichung's Dadun Cultural Center, which he said is the first of many paintings he hopes to create depicting Taiwan's 400-year history.
Since the Portuguese named the island "Formosa" 474 years ago, there have only been written accounts, no paintings, Hou said.
Hou said he discovered from Hermosa: Maritime Taiwan and Spain (艾爾摩莎:大航海時代的臺灣與西班牙), published by the National Taiwan Museum, that Portuguese sailors came across the island on their way from Macau to Japan and described its forests as being "as beautiful as an inlay of emerald in the ocean."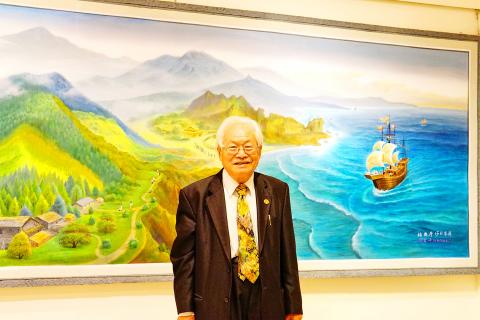 Artist Hou Shou-feng stands in front of his painting of the first arrival of a Portuguese ship in Taiwan in 1544 at the Dadun Cultural Center in Taichung's West District on Thursday last week.
Photo: Ho Tsung-han, Taipei Times
The information helped him deduce that the sailors had landed at present-day Houbihu Harbor (後壁湖港) in Pingtung County's South Bay (南灣), he said.
In his painting, Hou pictured a carrack sailing in the Bashi Channel, a traditional Paiwan wedding ceremony taking place on the shore and other scenes unfolding against a backdrop of Pingtung County landscapes, including Beidawushan (北大武山), Dajianshan (大尖山) and the cat-shaped rock at Maobitou Park (貓鼻頭公園).
He painted an emerald-green Siaoguanshan (小關山) to represent the forest described in the book.
To provide a more comprehensive view of the island, he extended the painting beyond the scene of the sailors' arrival and painted 13 different mountains more than 3,000m tall, including peaks as far north as Hsinchu County's Dabajianshan (大霸尖山).
The painting took him 13 months — from May last year to June — to complete, Hou said, adding that he used photography books as references.
Born in Chiayi County's Lioujiao Township (六腳), Hou worked more than 30 years painting backdrops for films and stages.
In 1956, Hou participated in the set design for Taiwan's first 35mm film in Hoklo (commonly known as Taiwanese), Hsueh Ping-kuei and Wang Pao-chuan (薛平貴與王寶釧).
As the film had a limited budget, it adopted many of the techniques used in traditional theater to create the sets, said Hsueh Hui-ling (薛惠玲) of the Taiwan Film Institute's Collections Department, adding that Hou's painting also incorporates these techniques.
Hou's ability to apply the techniques of backdrop drawing to the fine arts is unrivalled, Hsueh said.
Instead of framing the painting, which would have made it difficult to transport due to its size, the "frame" was painted on the canvas so that it could be rolled up and carried, Hsueh said.
Although Hou is 81 years old, he said he hopes to live at least five more years to finish painting Taiwan's 400-year history.
While he focused largely on landscapes in this painting, he said he wants to portray political figures since the Dutch settlement, as well as the social history of Taiwan's Aboriginal communities.
The painting is on view at the center until Wednesday next week.
Comments will be moderated. Keep comments relevant to the article. Remarks containing abusive and obscene language, personal attacks of any kind or promotion will be removed and the user banned. Final decision will be at the discretion of the Taipei Times.