Gray-faced buzzard-eagle sightings hit 30-year high
The number of migratory gray-faced buzzard-eagles spotted in Pingtung County's Hengchun Peninsula this month has reached 59,500, the highest in three decades, the Raptor Research Group of Taiwan said on Wednesday.
Bird watcher Tsai I-jung (蔡乙榮) said that Kenting National Park, a wildlife preserve, was a key factor in the steep rise in the number of migratory birds in the area.
He said that 10,000 gray-faced buzzard-eagles were observed in the park in a single day this year as they passed through Taiwan on their way south.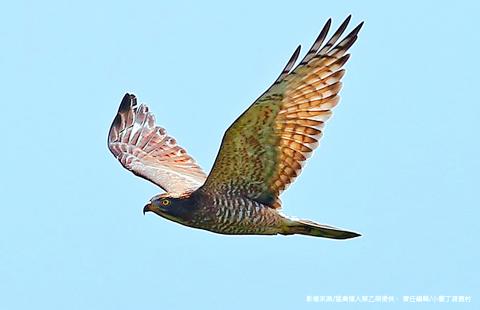 A gray-faced buzzard-eagle soars over Pingtung County's Hengchun Peninsula on Wednesday.
Photo courtesy of Tsai I-jung
When the Kenting National Park Administration started researching the eagle species in 1989, the highest number recorded in Taiwan was 10,504, Tsai said, adding that the number fluctuated only slightly between 1990 and 2003.
However, since then the number has been growing, from more than 20,000 birds 20 years ago to 53,200 last year, which then increased to 59,500 this year, he said, attributing the remarkable growth to good weather, as well as the national park's hunting ban and conservation efforts.
The eagles usually stop in Manjhou Township (滿州) on their southward migratory path.
Thanks to educational efforts by the Kenting National Park Administration, the township has been promoting eagle-viewing tours and many former hunters have transformed into informative guides.
Manjhou Township Mayor Yu Tseng-chun (余增春) said he plans to promote Manjhou as an eco-tourism hub to attract eagle watchers from around Asia.
He also plans to form sisterhood agreements with other townships in the Asia-Pacific region where gray-faced buzzard-eagles and Chinese sparrow hawks also pass through.
Comments will be moderated. Keep comments relevant to the article. Remarks containing abusive and obscene language, personal attacks of any kind or promotion will be removed and the user banned. Final decision will be at the discretion of the Taipei Times.