Universities use of contract hires abusive: union
LOOPHOLE: The number of contract teachers hired by U12 Consortium schools rose by 70 from 2016 to last year, and is rising again this year, the union said
An increasing number of private universities are hiring teachers as independent contractors to evade labor and education laws and exploit them, the Taiwan Higher Education Union said yesterday.
While contract teachers have long been hired for short-term projects, many universities now use them to fill regular teaching positions — such as those of instructors and tenured professors — to reduce personnel costs, union officials told a news conference in Taipei.
Statistics provided by the union showed that from 2016 to last year, the number of contract teachers at 12 of the nation's top private universities — known as the U12 Consortium — increased by 70, or 27 percent, while the number of teachers hired as regular employees dropped by 83.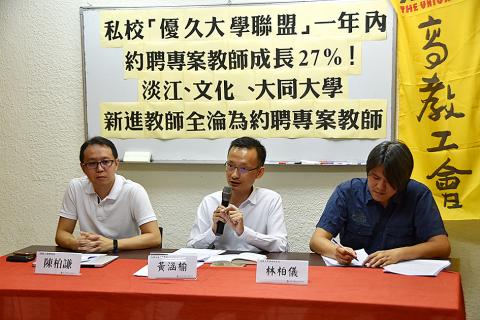 From left, Taiwan Higher Education Union researcher Chen Po-chien, Huang Han-yu, a professor of English at National Taiwan Normal University, and Taiwan Higher Education Union organization department director Lin Po-yi take part in a news conference yesterday in Taipei.
Photo: Wu Po-hsuan, Taipei Times
Many U12 Consortium members this year increased their percentage of contract teachers, the union said.
Tamkang University, Chinese Culture University and Tatung University planned to recruit 38 contract teachers for this academic year and no regulars, union researcher Chen Po-chien (陳柏謙) said.
Tamkang has new regulations stipulating that it would only hire independent contractors as instructors and assistant professors, Chen said.
"Contract teachers are usually hired on a one-year contract — or shorter — and have to renew their contracts annually. They are not protected by the Teachers' Act (教師法), since they are categorized as non-standard staff, nor by the Labor Standards Act (勞動基準法), which does not apply to teachers," he said.
"Schools can pressure them into doing anything, because there is no law to guarantee their work conditions and because they are afraid of losing their job," he said.
Wenzao Ursuline University of Languages requires contract teachers to teach at least 12 hours per week, attend all of its seminars and school events, and do four hours of work at its teaching centers, Chen said.
The Ministry of Education should stipulate that the Teachers' Act applies to independent contractors and offer concrete plans to help those whose rights have been infringed, he said.
"Protecting university teachers' rights is a way to ensure academic freedom and students' rights to education," union organization department director Lin Po-yi (林柏儀) said.
When teachers' rights are compromised, the quality of teaching and research also suffer, Lin said.
The increasing number of contract teachers is the result of the government's "self-contradictory" policy, which ignores local academics' needs while focusing on recruiting talent from abroad, he said.
"Taiwan has talent too. It is just that they are exploited and not given opportunities and resources. This must change, or we will never stop protesting," he said.
As of press time last night the ministry had not responded to a request for comment.
Comments will be moderated. Keep comments relevant to the article. Remarks containing abusive and obscene language, personal attacks of any kind or promotion will be removed and the user banned. Final decision will be at the discretion of the Taipei Times.