Buyer to restore historical hotel out of pocket, he says
NO TIME FOR RED TAPE: Hsu Yuan-shu, who owns a Christmas lights maker, said he preferred not to have to follow official heritage site restoration requirements
The proprietor of Pingtung City's colonial-era former Yamato Hotel (大和旅社) said he would be refurbishing the building without applying for public subsidies.
Built in 1935, the Yamamoto was a Japanese luxury hotel situated near Pingtung Railway Station that served the colonial military and business elite. The post-WWII slump hit the hotel hard and it closed its doors in 1999 after decades of decline, selling the property to a cake shop.
In 2014, the Pingtung County Government listed the former hotel as a cultural heritage site.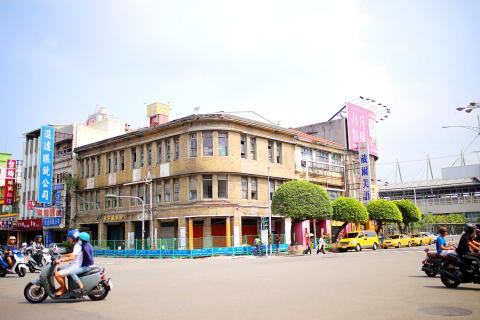 The former Yamato Hotel across from Pingtung Train Station is pictured on Monday.
Photo: Chiu Chih-jou, Taipei Times
Hsu Yuan-shun (許源順), chairman of Christmas lights manufacturer Yuanshuan Industries Co and a self-described lover of old buildings, said he purchased the deeds for NT$90 million (US$2.9 million) from the building's 30 owners.
Hsu said that while he could apply for a subsidy to cover 95 percent of the cost of restauration under the Cultural Heritage Preservation Act (文化資產保存法), prefers not to have to deal with government red tape and feels that following legal requirements for restoring a heritage site would impose unnecessary delays.
He said he would rather repair the structure as soon as possible on his own dime.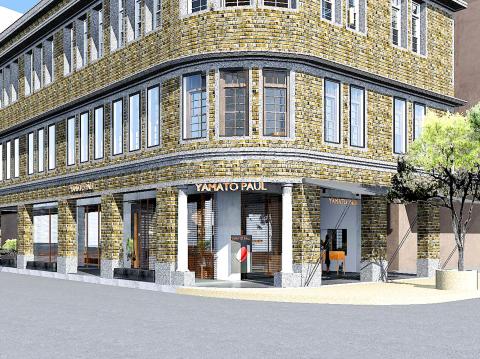 Yamato Hotel in Pingtung is pictured in a post-restoration simulation. Following restoration, it is to have a coffee shop on the first floor, rooms on the second and leisure space on the third.
Photo courtesy of Yamato Hotel
The restoration project began on Aug. 8 and would involve input from Divooe Zein Architects executive architectural designer Divooe Zein (曾志偉) and historical structure restoration expert Lin Shih-chao (林世超), he said.
Repairing the old structure has proved harder than anticipated, Hsu said, adding that installing modern elevators, bathing facilities and lighting has been a challenge.
The ceramic tiles used in the original structure, which he is trying to source, are mostly out of production and their manufacture has become something of a lost art, Hsu said.
After refurbishment, the building is to feature a coffee house on the first floor, a hostel on the second floor and an activity space on the first floor, he said.
"Restoring the hotel is not about earning money, but about leaving something for future generations," Hsu said, adding that he hopes the building will become self-sustaining.
Comments will be moderated. Keep comments relevant to the article. Remarks containing abusive and obscene language, personal attacks of any kind or promotion will be removed and the user banned. Final decision will be at the discretion of the Taipei Times.