Taiwanese in China warned of surveillance
The Mainland Affairs Council (MAC) yesterday warned Taiwanese living in China of a potential risk of government surveillance, after Beijing announced that it would allow people from Taiwan, Hong Kong and Macau to apply for residence permits starting on Sept. 1.
Taiwanese, Hong Kongers and Macanese who have lived in China for more than six months and are legally working, living or studying in the country would have the option of applying for a residence permit, the Chinese State Council Information Office announced at a news conference in Beijing yesterday.
They would be able to receive the permit 20 business days after submitting an application by taking a valid travel permit to their local public security agency, Chinese Deputy Minister of Public Security Shi Jun (侍俊) said.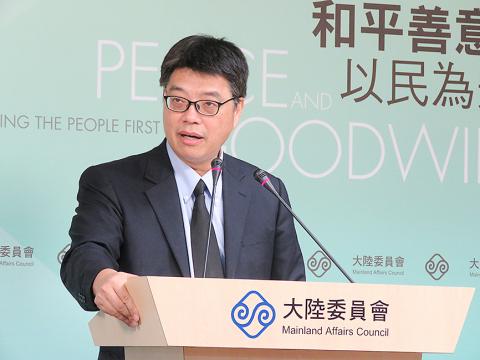 Mainland Affairs Council Deputy Minister Chiu Chui-cheng speaks during a news conference at the council in Taipei on July 27.
Photo: CNA
Taiwanese do not need to have permanent resident status in China or give up their permanent resident status in Taiwan to apply for the permit, China's Taiwan Affairs Office Deputy Director Long Mingbiao (龍明彪) said.
The rights and obligations they have in Taiwan would not be affected, he said.
The residence permit would be used to prove the identities of Taiwanese, Hong Kongers and Macanese in China, Long said.
It would adopt the same technical standards used in the production of Chinese resident identity cards and use an 18-digit identification number to ensure compatibility with all identification card readers in the Chinese public service system, he said.
The resident permit cannot be used to enter or exit China, Long said, adding that the Mainland Travel Permit for Taiwan Residents is the only travel document Taiwanese can use to enter or exit China.
MAC Deputy Minister and spokesperson Chiu Chui-cheng (邱垂正) called the move a part of China's "united front" strategy of giving Taiwanese equal treatment to Chinese citizens.
Along with 31 measures for Taiwanese hoping to work or study in China, the equal treatment Beijing gives Taiwanese residents and Chinese citizens in some provinces and cities is part of China's "united front" tactics, he said.
China currently issues temporary residence permits to Taiwanese living in China, he added.
The council would look into the difference between the temporary residence permit and the residence permit, as well as whether there is a substantial difference between obtaining the residence permit and registering a household in China after the details of the regulations are announced, Chiu said.
Over the past few years, Beijing has been creating its "Skynet Project," which uses surveillance cameras to monitor the movements of people and vehicles, he said.
Through the surveillance system, Beijing might already possess the facial recognition records of more than 1 billion people, he added.
As soon as it identifies someone who has challenged social order, the system activates its surveillance and tracking devices, and uses automatic facial recognition technology to record the incident, Chiu said, adding that the system also incorporates a social credit system to monitor the public.
Taiwanese who wish to work or study in China should beware of the potential risks involved with obtaining a residence permit, he said.
The council believes that Taiwanese studying or working in China all cherish the experience of growing up in Taiwan's democratic and free environment, and that China's "united front" strategy of issuing resident permits would not affect their love and sense of identity toward Taiwan, he added.
Comments will be moderated. Keep comments relevant to the article. Remarks containing abusive and obscene language, personal attacks of any kind or promotion will be removed and the user banned. Final decision will be at the discretion of the Taipei Times.